Demolition Man
Nintendo
CART ONLY. GOOD OVERALL CONDITION WITH SOME NORMAL WEAR FROM NORMAL USE. PINS HAVE BEEN POLISHED. TESTED/WORKING. ACTUAL ITEM PICTURED IS THE ITEM YOU WILL RECEIVE,
Donkey Kong Country
Nintendo
Cartridge only. Connections cleaned, tested and working (but may still require a little wiggling and TLC depending on the condition of your SNES). Label clean and bright. Exterior of cart shows a few very faint bumps and scuffs. See my other listings for more uncommon SNES titles.
Lemmings
Sunsoft
Mario Paint
Nintendo
COMPLETE - Everything in box as when first purchased. Box is in great shape with just small shelf wear, it has a little crush mark on one corner about the size of a dime and three small marks on the edges of the box. this is the original box not the million seller box. mouse shows some wear on bottom from use. cartridge, pad, manuals, advertisements are all in great shape.
Super 4 in 1 Multicart
Piko Interactive LLC
Games included: Uwol the Quest for Money Mazezam N-Warp Daisakusen Skip and Friends
Super Mario World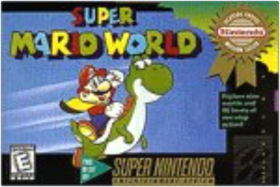 Nintendo
Super Mario World (Super Nintendo) Mario and his dinosaur companion, Yoshi, are looking for the dinosaur eggs Bowser has stolen and placed in seven castles. Many secret exits aid Mario in finding his way to Bowser's castle, completing 74 areas and finding all 96 exits. With multiple layers of 3-D scrolling landscapes, find items including, a feather that gives Mario a cape allowing him to fly. and a flower so he can shoot fireballs. For any Mario fan this game is a must.
Uniracers
Nintendo
In good condition, sticker on back.