Adventure Time: Explore the Dungeon Because I DON'T KNOW! 3DS
D3 Publisher
Princess Bubblegum summons Finn and Jake to the Candy Kingdom to investigate a rash of thefts and kidnappings that have plagued her kingdom. She thinks the cause lies within her Secret Royal Dungeon, where only the nastiest monsters and criminals are locked up. If they've found a way to escape, the Land of Ooo will be in danger! Following the mathematical, algebraic, and radical success of 2012's Adventure Time: Hey Ice King! Why'd You Steal Our Garbage?!!, show creator Pendleton Ward teams up with developer WayForward in the all-new action game Adventure Time: Explore the Dungeon Because I DON'T KNOW! Select from an assortment of fan favorite characters from the show, including Finn, Jake, Marceline, Cinnamon Bun, and as the Adventure Time world comes to life through beautiful pixel animations, and voiceover from the original cast. Fight through 100 floors of a massive dungeon, battling enemies and bosses from across the Adventure Time universe, using an arsenal of weapons and power-ups. Raid chests for treasure and booty that'll help you unravel the mystery of the dungeon!
Cave Story 3D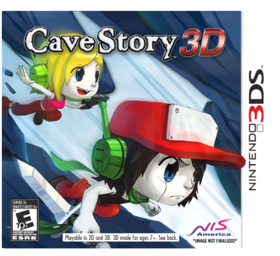 NIS America
Having received tremendous acclaim in its previous releases on PC and WiiWare, Cave Story, an indie side scrolling 2D action game, now makes its way into an all new dimension with Cave Story 3D for Nintendo 3DS. At once both a throwback to classic 2D action platformers and also the potential future of the genre, Cave Story 3D blends tight controls, superb level design, and excellent story and presentation to deliver a memorable, addicting retro experience!
The Legend of Zelda: A Link Between Worlds
Nintendo
The Legend of Zelda: A Link Between Worlds 3DS This game takes place after the events of and in the same world as The Legend of Zelda: A Link to the Past. Link can now become a drawing to move along walls. This opens up ways to explore and puzzle elements that give Link access to locations he could not otherwise reach.
Mario Kart 7
Nintendo
The newest installment of the fan-favorite Mario Kart franchise brings Mushroom Kingdom racing fun into glorious 3D. For the first time, drivers explore new competitive kart possibilities, such as soaring through the skies or plunging to the depths of the sea. New courses, strategic new abilities and customizable karts bring the racing excitement to new heights.
Puzzle & Dragons Z + Puzzle & Dragons: Super Mario Bros. Edition
Nintendo
Two puzzling RPG adventures-one has dragons. .. the other has Mario! Two puzzling RPG adventures await you! Rescue Princess Peach from Bowser or defeat the evil group Paradox by battling enemies with the awesome power of orbs. Drag and match orbs, or chain together combos to deal massive blows to your enemies. Then bolster your forces with hundreds of unique monsters in this two-in-one game pack. In Puzzle & Dragons Super Mario Bros. Edition, you get to travel to different worlds as you assemble a team of Mushroom Kingdom baddies, like Goombas or Koopa Troopas, and recruit much-loved Mario characters, including Toad and Yoshi! Or in Puzzle & Dragons Z, battle the 5 powerful sky dragons to rebuild the world and customize your team with a plethora of different monsters. Allies gained in both games have the chance to evolve into more advanced forms and learn powerful new skills.
Shovel Knight
Yacht Club Games
Prepare to taste Shovel Justice! With vibrant graphics and pitch-perfect gameplay, Shovel Knight breaks new ground in this 8-bit adventure! Become Shovel Knight, wielder of the Shovel Blade, as he runs, jumps, and battles in a quest for his lost beloved. Take down the nefarious knights of the Order of No Quarter and their menacing leader, The Enchantress. Uphold the virtues of Shovelry, earn relics and riches, and discover the true meaning of shovel justice!
Star Fox 64 3D
Nintendo
Fox McCloud is Back in a Re-mastered Nintendo Classic
Star Fox 64™ 3D invites players to take on the role of legendary Fox McCloud as they lead a fearless squadron of fighters in fierce aerial combat to battle the evil forces of Andross and save the galaxy from destruction. The rich 3D visuals provide a remarkable sense of depth, distance and position as players dodge meteors and blast enemy fighters out of the sky.

A complete graphical update brings a Nintendo classic into the era of portable 3D fun. The game makes effective use of the Nintendo 3DS system's dual screens: The top screen features 3D aerial combat, while the bottom screen displays characters and dialogue.There are two control methods for the player to experience. The Nintendo 64 Mode offers original controls, while the new Nintendo 3DS Mode uses the motion controls of the built-in Gyro Sensor of the Nintendo 3DS system. Trusted wingmen Peppy, Slippy and Falco are along for the ride – if one of them is chased or captured by an enemy, players must act to protect them in order to keep their team strong. Each mission takes players through a different planet of the Lylat system as they blast enemies, collect power-ups and fight powerful bosses on their way to the final battle. A new multiplayer option lets up to four players engage in fierce aerial combat via a local wireless connection (using four systems and one game card via DS Download Play). The multiplayer mode also includes new power-ups and special weapons. Players can use the Nintendo 3DS system's inner camera to display a live video feed of their faces as they battle, bringing a new level of fun and personalization to the multiplayer experience.
To enjoy the 3D effect of Nintendo 3DS software, you must experience it from the system itself. All screenshots and videos on this website have been captured in 2D mode.
Super Smash Bros. for Nintendo 3DS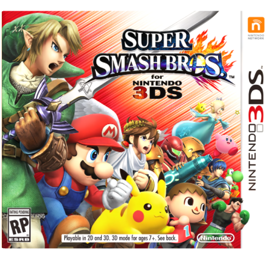 Nintendo
Action/Adventure Game - Nintendo 3DS