Space War
Video Olympics Atari 2600 Video Game Cartridge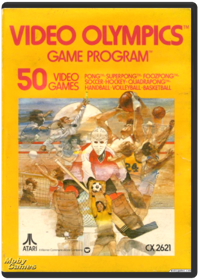 Video Olympics Atari 2600 video game cartridge in good working condition with no damage. Limited quantities in stock of this game title, all in similar condition as pictured example, but may have some slight variations in label and/or label wear.
Super Smash Brothers Brawl
Nintendo Wii
Super Smash Brothers Brawl
Inkling Squid amiibo
Nintendo
amiibo squid (Splatoon series)
Inkling Boy amiibo
Nintendo
Super Smash Bros. Series. Introducing amiibo character figures designed to connect and interact with compatible games. By tapping the amiibo over your Wii U Gamepad youll open up new experiences within each corresponding game. Your amiibo will store data as you play making it your very own one-of-a-kind amiibo. Recommended for children ages 6. Inkling Boy.
Inkling Girl amiibo
Nintendo
Super Smash Bros. Series. Introducing amiibo character figures designed to connect and interact with compatible games. By tapping the amiibo over your Wii U Gamepad youll open up new experiences within each corresponding game. Your amiibo will store data as you play making it your very own one-of-a-kind amiibo. Recommended for children ages 6. Inkling Girl.
Toad amiibo
Nintendo
Discover amiibo, a brand new way to interact with your favorite characters and games. Tap amiibo figures to the Wii U GamePad controller and watch them come to life in Mario Party 10 for Wii U. They can also be used in different games in different ways.
Peach amiibo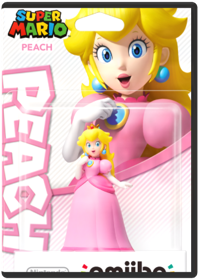 Nintendo
Discover amiibo, a brand new way to interact with your favorite characters and games. Tap amiibo figures to the Wii U GamePad controller and watch them come to life in Mario Party 10 for Wii U. They can also be used in different games in different ways.
Yoshi amiibo
Nintendo
Discover amiibo, a brand new way to interact with your favorite characters and games. Tap amiibo figures to the Wii U GamePad controller and watch them come to life in Mario Party 10 for Wii U. They can also be used in different games in different ways.
Mario - Silver Edition amiibo
Nintendo
MarioTM never hesitates to leap into action when there's trouble in the Mushroom Kingdom. Known for saving the world (and Princess PeachTM) countless times from BowserTM, Mario is a true super star. He's got amazing jumping skills and makes use of a wide range of transformations. Mario has also powered up into countless roles: referee, doctor, sportsman, dancer, kart racer, and many more.
30th Anniversary Mario - Classic Color amiibo
Nintendo
30th Super Mario Bros. Series
Link amiibo
Nintendo
Mario amiibo
Nintendo
Mario amiibo
Peach amiibo
Nintendo
Super Smash Bros. Series. Introducing amiibo character figures designed to connect and interact with compatible games. By tapping the amiibo over your Wii U GamePad, you'll open up new experiences within each corresponding game. Your amiibo will store data as you play, making it your very own, one-of-a-kind amiibo. Recommended for children ages 6+. amiibo - Peach.
Zelda amiibo
Nintendo
WIIUACC AMIIBO ZELDA
Rosalina & Luma amiibo
Nintendo
Supercharge your gameplay with amiibo. Discover amiibo, a brand new way to interact with your favorite Nintendo characters and games. Touch amiibo figures to the Wii U GamePad controller and watch them come to life and affect different games in surprising ways.* In Super Smash Bros. for Wii U, you can battle, train, and level-up your amiibo figures. In the Super Smash Bros. for Wii U game, customize your amiibo by adjusting their offensive and defensive capabilities. Battle against amiibo fighters, alongside them on teams, or pit them against your Smash Bros. nemesis in multiplayer action. Your amiibo can be both your ally and rival. Train your amiibo to level 50 so that you can crush even the toughest opponents. Best of all, one amiibo figure can work with multiple amiibo compatible games, with amiibo functionality available now for games like Mario Kart 8, Captain Toad: Treasure Tracker, Hyrule Warriors and more.* Supercharge your gameplay with amiibo. * Compatibility of amiibo figures and levels of functionality varies per game. Visit amiibo website for specific details of compatibility and functionality.
Pac-Man amiibo
Nintendo
amiibo PAC MAN WiiU
Dr. Mario amiibo
Nintendo
Dr. Mario Super Smash Brothers Series amiibo (US Version)!
Ganondorf amiibo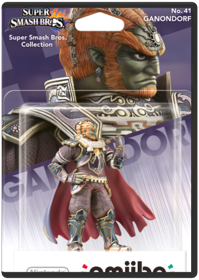 Nintendo
Super Smash Bros. Series Introducing amiibo: character figures designed to connect and interact with compatible games. By tapping the amiibo over your Wii U Game Pad, you'll open up new experiences within each corresponding game. Your amiibo will store data as you play, making it your very own, one-of-a-kind amiibo. Recommended for children ages 6+. For more details on amiibo, please visit nintendo.com/amiibo.
Zero Suit Samus amiibo
Nintendo
Super Smash Bros. Series
Mr. Game & Watch amiibo
Nintendo
Brand New Game (Sealed), Japanese Version, compatible with US systems (region free). Dispatched directly from Japan with Tracking Number (average time to US 7-20 days).
Duck Hunt amiibo
Nintendo
Brand New Game (Sealed), Japanese Version, compatible with US systems (region free). Dispatched directly from Japan with Tracking Number (average time to US 7-20 days).
R.O.B. amiibo (USA)
Nintendo
Mewtwo amiibo
Nintendo
Super Smash Bros. Series
R.O.B. amiibo (Japan)
Nintendo
japanese model
Green Yarn Yoshi amiibo
Nintendo
Yoshi's Woolly World Series
Pink Yarn Yoshi amiibo
Nintendo
Yoshi's Woolly World Series
Light-Blue Yarn Yoshi amiibo
Nintendo
Yoshi's Woolly World Series
Wolf Link amiibo
Nintendo
amiibo Wolf link [Twilight Princess] (The Legend of Zelda series)
Shovel Knight amiibo
Yacht Club Games
Discover amiibo, a brand new way to interact with your favorite characters and games. Shovel Knight, heroic master of Shovelry, is ready to dig in! His Shovel Blade and quick thinking can get him out of any sticky situation. Become the champion of shovel justice with amiibo! Visit yachtclubgames.com/info/amiibo to learn more about upcoming Shovel Knight amiibo figures and compatible games.
Sky Diver
The classic two player sky diver game.
Street Racer
Surround
"SURROUND" VINTAGE ATARI 2600 VIDEO GAME CARTRIDGE, CX2641.
Laser Blast
Activision Inc.
RealSports Football
Atari
Designed for use on the Atari 2600 video game console.
Yars' Revenge
Atari (Games)
Cartridge only - has top and front label but may show signs of age including discoloration, small rips, small folds, some markings on cart or label. All games at ClassicGameStore are tested before being put into inventory.
Asteroids
Atari Inc.
Cartridge Game for the Atari 2600
Astroblast
Atari Inc.
Astroblast for the Atari 2600.
Blackjack
Atari Inc.
BLACKJACK ATARI INC. 1977
Breakout
Atari Inc.
Classic Atari 2600 video game. 12 variations. Use with paddle controllers.
Combat
Atari Inc.
Vintage game for the Atari 2600 video game console.
Defender
Atari Inc.
Famed 1981 video game set on a fictional planet where the player must defeat waves of attacking aliens while protecting astronauts. A popular arcade cabinet, this version is for the Atari 2600.
E.T. the Extra-Terrestrial
Atari Inc.
HELP E.T. GET HOME! What kind of crazy planet is this, anyway? We came here to conduct a simple study of primitive planets, and look what happened! These...things...came and scared away my friends. Before I knew it, all my friends boarded our lightship and flew home. What do I do now? The only one I can trust is that nice little alien— Ellleeott. He gives me those tasty energy pills (What did he call them? Reeessseess Peeesssesss?) But these other aliens! Every time I get ready to assemble my transgalactic communicatior, they come and take me away. The one with the white coat sticks that temperature measuring device in my mouth (I wonder why he was so upset when it melted?), and the other one in the trench coat keeps muttering those strange sounds (Naaashaaannaall Seeeccuuuureeetteee?) I just want to go home! I hope Elllleeott and I can assemble all the pieces of my communicator before my energy runs out. Oh, oh. Here come those crazy aliens again. Help me, Elllleeott! Help me get home! Your mission is to help E.T. find the three pieces of his interplanetary telephone, call his ship, and guide him to the landing pad in time to be rescued. Do this before E.T.'s energy runs out, and you'll win the round and score points! E.T. transverses six sites on Planet Earth. Four of these are full of pitfalls—they are dotted with deep wells (Figure 1) into which E.T. can fall (Figure 2). A fifth site (Figure 3) shows Elliott's house, the Institute of Science, and the FBI building. Here, E.T. is taken by the scientist to be studied. The sixth site (Figure 4) is a forest setting where E.T. first lands and where the ship will land to pick him up. A game ends when E.T. runs out of energy or when you decide to quit playing.
Football
Atari Inc.
All offensive plays can be pass plays, except when a "punt" play is set. Any player (including your opponent) is an eligible receiver. All passes must be made behind the "line of scrimmage" or the line on which the play started. To punt, push the red controller button to program the "punt formation." After the play starts, push the red button again and your Quarterback will kick the ball. On a punt play only the defensive back can catch and return the ball. If the ball is not caught, the computer will randomly select the yardage or length of your kick. In games 1 and 2, the path of the ball on a pass or punt can be "steered" after it leaves the Quarterback by using the Joystick. You can steer the ball left or right only.
Golf
Atari Inc.
Home Run
Atari Inc.
Home Run baseball for the Atari 2600.
Maze Craze
Atari Inc.
Cops and robbers maze game
Missile Command
Atari Inc.
atari 2600 cartridge game
Outlaw
Atari Inc.
Vintage game cartridge for the Atari 2600 video game console.
Pac-Man
Atari Inc.
We know that millions of people all over the world just love the PAC-MAN arcade game. PAC-MAN has won the hearts of men, women, and children everywhere. We also know that PAC-MAN has traditionally been an arcade game. Well, we at ATARI know all about arcade games. After all, we make some of the greatest arcade games in the world, and we know how to bring the same dynamite game play into your home. Our PAC-MAN has all of the excitement and challenge of the standard arcade game, and you get to play in the comfort and convenience of your own home. This is especially advantageous if you still plan to make an occasional appearance at the arcade to show off your great playing skills. (Little do they know that you've been practicing at home all along.) Just in case you're new to PAC-MAN, don't worry. It's easy to learn. You'll be a pro in no time at all. So, relax, get comfortable and enjoy it in the privacy of your own home. We suggest that you read this instruction booklet thoroughly before beginning game play. We know that you won't want to miss any important details about game play. You might even find it entertaining. The object of the game is to keep PAC-MAN happy and healthy in his home of Mazeland. PAC-MAN starts the game with four lives(turns). The longer he survives, the more points you score. You score a point for every video wafer that PAC-MAN eats. You also score points when PAC-MAN eats power pills, vitamins, and ghosts. Everytime PAC-MAN eats all of the video wafers on the maze, he earns an extra life and a new maze full of video wafers.
Space Invaders
Atari Inc.
It's Space Invaders nerd!
Warlords
Atari Inc.
Used Atari Cartridge game for Atari 2600 to use with paddle controllers (not included)
Air-Sea Battle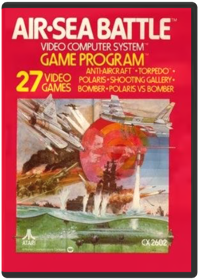 Atari, Inc.
ANTI-AIRCRAFT(TM) Games 1 thru 6: Push Joystick forward and back ... changes angle of gun on screen Press "red" button to fire TORPEDO(TM) Games 7 thru 12: Push joystick left or right to move submarine Press "red" button to fire SHOOTING GALLERY Games 13 thru 15: Push joystick forward and back ... changes angle of gun on screen Push joystick left or right to move your gun across the screen Press "red" button to fire POLARIS and BOMBER Games 16 thru 27: Push joystick forward or back to control speed of travel Press "red" button to fire
RealSports Volleyball
Atari, Inc.
Spike! It's a gorgeous day at the beach. You and your friends have been playing a friendly little game of vollellball. At least it started out friendly. The higher the sun gets, the hotter the game. Your team has slowly been slipping in points. It's time to get serious. The team that loses buys lunch. It's your turn to serve. You gauge your opponents carefully. The sun is on your side, and you spot a weak point in the other team's formatlon. You raise your fist quickly and connect. The ball speeds directly to the opening for the winning point. You're the hero. The other team's members come over to shake your hand. They may be smiling, but you hear a low grumble as they approach. After all, thanks to you, lunch is on them!
Demon Attack
Imagic
Destroy you! That's what these space demons aim to do. Blast 'em and survive. But each wave of demons is tougher to destroy.
Atlantis
IMAGIC
Classic atari game in good working condition.
Star Wars: The Empire Strikes Back
Lucas Arts Entertainment
Space Attack
Mattel
1982 video game for the Atari 2600 console. Space Attack was one of the first attempts at a space shooter.
Frogger
Parker Brothers
Vintage game for the Atari 2600 video game console.
Star Wars Jedi Arena
Parker Brothers
Will you accept the challenge to become the JEDI MASTER? Find out if you, a JEDI KNIGHT, are worthy of such a title. Meet your opponent in the JEDI ARENA, where you're face-to-face in an electrifying laser battle. Use quick reflexes and a swift LIGHT SABER to score once...twice...three times. When you do, you are the JEDI MASTER. For use with Atari or compatible Paddles.
Baseball
Sears
Contains 8 versions of baseball!
Target Fun
Sears
Target Fun contains six types of shooting games: anti-aircraft, torpedo, shooting gallery, missile, bomber and missile vs. bomber. Within each of these games are various selectable options, which add up to the "27 game variations" advertised in the manual. - The anti-aircraft games (1-6) involve shooting down different types of aircraft including small jets, large jets, helicopters, 747s and observation blimps. - The torpedo games (7-12) have you firing torpedoes at PT boats, aircraft carriers, pirate ships, freighters and mines. - The shooting gallery games (13-15) simulate a carnival atmosphere where you aim at rabbits, ducks and clowns. - In the missile games (16-18), you control a moving boat whose mission is to shoot down small jets, large jets, helicopters and 747s. - The bomber games (19-21) are similar to the missile games, except that the roles are reversed: you are the pilot of a plane trying to bomb PT boats, aircraft carriers, pirate ships and freighters. - Finally, the bomber vs. missile games (22-27) pit a plane against a boat in one-on-one combat. All games last for two minutes and 16 seconds or when a player reaches 99 points. Target Fun can be played alone or with another player, depending on the game and option selected. Target Fun was one of the first games released for the Atari 2600 and is identical to Air-Sea Battle, released by Atari, with the exception of the game's manual, which contains different artwork and uses the term "polaris" in place of "missile."
Star Raiders
Atari Inc.
Storyline: DESTROY THE KRYLONS... AVENGE THE DOOMED PLANET! With Commander Champion and Li San O'Rourke in the Star Fighter, you're on the tail of the Krylon invaders. You've taken an oath to destroy the Krylons and avenge the Doomed Planet. Through interstellar space you hyperwarp faster than the speed of light, past uncharted stars and planets in an unexplored parallel universe. Watch out! You nearly collided wit an asteroid. Run into an asteroid at this speed, and POW! you're space dust. Good thing the Star Fighter's protective shields are on. Check the Krylons' position on your Galactic Map. Looks like they're heading for your starbase. Given half a chance they'll destroy it to keep you from recharging and repairing the Star Fighter. Their ships are fast, but you can hyperwarp anywhere n the galaxy in an instant... if your energy supply holds out. It's a duel to the death. Will you succeed in destroying the Krylons before they wipe out the starbase? Will the Star Fighter perish like the Doomed Planet? Or will you complete your mission and return a hero?
The Hunt for Red October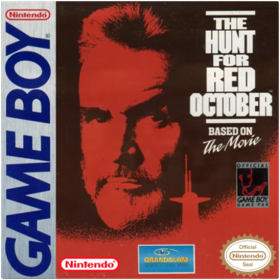 Star Trek Next Generation
ABSOLUTE VIDEO GAMES
Star Trek Next Generation Videogame for Game Boy.
StarHawk
Accolade
Gargoyle's Quest
Capcom
Disney's Mulan
Disney
The Castlevania Adventure
Konami
Cartridge Only
Teenage Mutant Ninja Turtles: Fall of the Footclan
Konami
The radical dudes on the half-shell are here on Game Boy in TEENAGE MUTANT NINJA TURTLES: Fall of the Foot Clan. This one-player action game follows the outrageous antics of the original party animals, as they set on a mission to save April from the evil Shredder and his Foot ninjas. Choose your favorite turtle from the group of four before you start each of the game's five humongous stages and battle through the sewers, the streets of the city, a construction area, a raging river, the Technodrome, and more. If you're losing energy, be on the lookout for some tasty life-restoring pizza to keep you going. Search the levels carefully for secret rooms, where you'll play one of three different mini-games to earn bonus points and regain life! TEENAGE MUTANT NINJA TURTLES: Fall of the Foot Clan is compatible with all Game Boy systems.
The Amazing Spider-Man
Nintendo
One of the original Gameboy releases, this is a hard game to find.
Kid Icarus: Of Myths and Monsters
Nintendo
Cartridge Only Mythical monsters are running rampant in Angel Land and Pit, the original Kid Icarus, must try to save the region once again. He must try to find three magical treasures hidden by Palutena. To accomplish this, Pit will have to fight new enemies and find old friends as he travels from the Underworld to the towers of the sky palace. Getting through this is made a little easier by collecting useful items like hammers and hearts. Help Pit save Angel Land in KID ICARUS OF MYTHS AND MONSTERS.
Kirby's Dream Land
Nintendo
Dream Land is in peril! An evil king has stolen the magic Twinkle Stars. If they're not recovered, the people of Dream Land will starve. Enter Kirby! He's a roly-poly hero, out to run, jump, float and swim in search of the treasured Twinkle Stars. He'll puff his way through castles, caves, dungeons and forests. In his path are many wicked and greedy enemies, but Kirby has a special way to defeat them! It's non-stop action all the way to the top of Mt. Dedede!
Kirby's Block Ball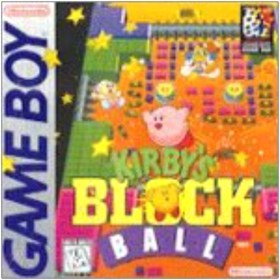 Nintendo
CART & DUST COVER ONLY. GOOD OVERALL CONDITION WITH SOME LIGHT WEAR OR LIGHT IMPERFECTIONS. PRICE IS FOR ONE COPY SHOWN IN ONE OF THE PICS. ACTUAL ITEM PICTURED IS THE ITEM YOU WILL RECEIVE
Super Mario Land 2: 6 Golden Coins
Nintendo
Super Mario Land 2 6 Golden Coins
Tetris
Nintendo
Manufacturer Description Beams boxes zig-zags and L-shaped block drop down a narrow passage. Feel your pulse quicken as you spin shift and align the shapes for a perfect fit. It's challenging and demands a split second decision! Product Description Originally developed on a Russian DCC clone PDP Computer by a humble employee of the Moscow Academy of Sciences, Alexey Pajitnov's mega hit succeeds where other puzzle games have failed: by keeping it simple. Seven blocks, known as Tetraminoes, and one empty "well" quickly translate into hopeless addiction. There are few games that haunt you even after you stop playing — but 30 minutes with this puzzle masterpiece and you'll see Tetris pieces wherever you look. No matter what platform it's on, Tetris remains one of the purest and accessible videogames ever made, proving that some of the most addictive games are the simplest
Hook
Ocean
Pokémon: Blue Version
The Pokémon Company
In Pokémon Blue, your mission is to collect all 150 Pokémon. To collect all 150, you'll need to train each captured Pokémon. Once they evolve, each Pokémon gains power, which can be used to defeat and capture other Pokémon. Along the way, several skilled trainers will challenge you to Pokémon duels. To win the game, you must defeat them all.

Keep in mind that some Pokémon are rare and won't be found in your game. To get all 150, trade Pokémon with your friends using the Game Boy Link Cable, which allows the transfer of Pokémon between Game Paks.
Pokémon: Yellow Version - Special Pikachu Edition
The Pokémon Company
Nintendo Gameboy. Pokemon Special Pikachu EDITION.
Bugs Bunny Crazy Castle
SPIG
Bugs Bunny's girlfriend, Honey Bunny, has been kidnapped and taken to a creepy castle. Now, it is up to Bugs to explore the castle and save her. In each of the 80 areas, he must navigate ladders, platforms, and slides to collect the eight carrots that are scattered around. However, some of Bugs's past enemies including Yosemite Sam, Daffy Duck, Wile E. Coyote, and Sylvester the Cat are out to stop him. Luckily, there are a number of power-ups available that will help Bugs get rid of these pests. Once you get past a level, you won't have to repeat it thanks to the password save feature. Will Bugs make it through the castle? Find out in BUGS BUNNY CRAZY CASTLE.
Donkey Kong Land
SPIG
Cartridge in custom DS case with reprint of cover art. Cart is in good shape with full label, however it may have some signs of age such as small scratches or discoloration. All ClassicGameStore games are fully testes before being added to our inventory.
The Little Mermaid
SPIG
Motocross Maniacs
SPIG
If you've ever skidded out of control, pushed the throttle as far as it would go, or knocked down an opponent just to win a race, you're ready for MOTOCROSS MANIACS! A high-octane dirt bike extravaganza, the game asks you to choose your rider, rev it up, and fight your way to the front of a pack of unsavory foes. There are plenty of ramps to jump, obstacles to avoid, and stunts to pull off as you jet through each of the games eight unique courses in your quest for glory. Of course, fame won't come easy; your opponents are every bit as fired up as you are, and the game boasts high artificial intelligence. If you love dirt bikes but hate the miserable feeling getting stitches, MOTOCROSS MANIACS is your ticket to ride.
Pac-Man
SPIG
Super Mario Land
SPIG
Rescuing princesses isn't an easy business, but there's always one plumber ready for the job! This time it's Princess Daisy who needs the help of our plucky hero in Super Mario Land for the Game Boy. Set out on an adventure through four worlds of one player side-scrolling action that will have you hopping and stomping your way through dangerous caves, an ancient pyramid, and more! Along the way you can collect mushrooms, flowers, and stars to power you up. Hop into one of Mario's new vehicles, the Marine Pop or the Sky Pop, and fire away at incoming enemies. You'll also have to battle four vicious bosses, including the Sphinx and a massive Easter Island statue, as you search for hidden secrets that hold tons of coins. Super Mario Land is compatible with all Game Boy systems.
Wario Land: Super Mario Land 3
SPIG
bonus game at the end of each level
DuckTales
THQ (PC Games)
Scrooge McDuck is the richest duck in the world. Regardless, he is searching the world for a lost treasure. He will have to explore jungles, castles, and mines to find all of the fortune. In each location he visits, Scrooge will also have to face a number of creepy and dangerous enemies. After completing one of the five levels, McDuck will be whisked to the next location by a variety of vehicles including transporters, a helicopter, and a UFO. Help a rich duck get even richer in DUCK TALES.
Sonic Advance 2
"Sega of America, Inc."
Join Sonic, Tails, Knuckles and their new friend, Cream the Rabbit as they take off on a fast quest to dodge Dr. Eggman's gamplan. Zip through space age metal labyrinths and other new locales. Unfasten special features and stages by collecting Emeralds
Activision Anthology
Aspyr
Activision Anthology is a jam-packed compilation with 40 arcade classics that older and younger gamers will love!
Bubble Bobble Old & New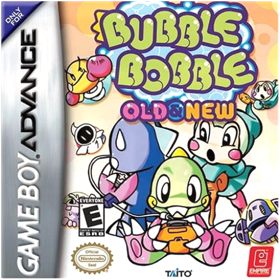 DESTINATION
Bubble Bobble is one of the classic puzzle games. Now that classic arcade original is perfectly recreated for GBA. You'll control Bub and Bob, twin baby dinosaurs stuck in a maze full of enemies. Use their unique bubble-blowing powers to trap your enemies and blow them away, to get through the maze!
Pac-Man Collection
Namco
Play 4 classic Pac-Man games right on your Game Boy Advance. Play the original Pac-Man and gobble up those dots as you progress through levels of difficulty. Play Pac-Mania and venture into the realm of 3D Pac-Man. He can now jump to avoid ghosts. Pac-Man Arrangement features smarter ghosts and more challenging gameplay. Pack-Attack features fast and furious Tetris-like play as you gobble up ghosts to make room for game pieces.
Sigma Star Saga
Namco
Humanity is struggling to survive against the Krill onslaught. Under constant attack, Allied Earth Federation intercepts a Krill communication that singles out six planets in the galaxy that they have taken particular interest in. Sent in as a double agent, you must discover the mystery of the six planets and help to defeat the Krill from within before humanity's time runs out!
Advance Wars
Nintendo
Wage war on land, sea and air across more than 100 battlefields. Go through boot camp via an interactive tutorial that will teach you everything you need to know to achieve victory on the battlefield. Once you're commissioned as a CO in the Orange Army, you can dive into one of the game's many modes. A story-driven Campaign mode takes you through a series of increasingly challenging missions, leading to a showdown with an awesomely powerful enemy army. Even after you've waged multiple wars, the extremely shrewd artificial intelligence will continually surprise you. Multiplayer action includes Hot Seat mode, where up to 4 players each give orders to their units before passing the GBA to the next player to see the results.
Excitebike: Classic NES Series
Nintendo
Re-released in celebration of the 25th anniversary of the Nintendo entertainment system console, ExciteBike is a high-flying, knee-scraping bike racing game offering 5 tracks plus a design-your-own-track option that was the first of its kind in a console game. Race against time or other bikers, save your high scores and enjoy a great classic from the early days of Nintendo. Comes in a standard Game Boy Advance box featuring the classic artwork of the original game.
Golden Sun
Nintendo
This role-playing adventure for 1 to 4 players lets you plunge deep into a new world of fantasy and wonder, and experience the dawning of a new series. Your quest is to recover a powerful artifact that was stolen from your remote village and now threatens the world with total destruction. You will make use of psychic powers, magical spells and the lost art of alchemy to undo the evil that has befallen the land. Gather the four elements-fire, water, wind and earth-and use them in different combinations to master new, more complex spells. New interactive possibilities are possible with the Multiplayer mode that allows 2 to 4 players to quest together (requires Game Boy Advance Game Link cable).
Golden Sun: The Lost Age
Nintendo
Two-player simultaneous play through GameLink cable
Kirby: Nightmare in Dream Land
Nintendo
He's pink, he's tough and he's about to take on the evil King Dedede in Kirby: Nightmare in Dream Land. The residents of Dream Land have lost the power to dream. It's up to you to spring into action and recover the stolen Star Rod. The source of power for the Fountain of Dreams has been stolen by the evil King Dedede. It's been broken up and its pieces have been given to his underlings.
Mario & Luigi Superstar Saga
Nintendo
Join Mario and Luigi as they team up in a strange new land for an action-packed quest to retrieve Princess Peach's stolen voice.
Mario Kart: Super Circuit
Nintendo
Fasten your seat belts and start your engines, because the original Kart racer is back for the ultimate Grand Prix! Choose from Mario, DK, Bowser and five other characters and race on 20 all-new tracks! Collect coins to unlock even more tracks, race against your own best time in Time Trials, or link up for Single Pak and Multi-Pak multiplayer modes. Whether you're racing in the GP or taking your road rage out on a friend in one of four battle courses, you'll need Game Boy Advance for the craziest kart racing to date!

One game pak, four players! Up to four players can choose from multiple tracks for fast and furious Kart-racing action, complete with all your favorite items! All you need is a single game pak, plus a Game Boy Advance system and a Game Boy Advance Game Link Cable for each additional player.
Metroid Fusion
Nintendo
In Metroid Fusion, Samus Aran returns in a nonstop, action-packed side-scrolling game in which her toughest enemy turns out to be herself. While on her way to explore a strange alien planet, her spaceship is attacked by a mysterious life form. A parasitic creature attacks Samus and begins to gnaw at her body.
Super Mario Advance
Nintendo
Super Mario Advance is a combination of a souped-up version of Super Mario Bros. 2 and an action-packed 4-player version of the original Mario Bros. arcade game. Whether you're playing alone or with 3 of your friends, Super Mario Advance is the perfect game to break in your new Game Boy Advance! Mario, Luigi, Peach and Toad adventure through an incredible fantasy world on a quest to save the day, with little more than vegetables with which to defend themselves. Unlike other Mario games where Mario defeats enemies by jumping on their heads, in this game Mario and pals have to pick up items and hurl 'em at their adversaries. Even enemies can be picked up and tossed across the screen, such as Princess Peach's ability to hover longer than any other character.
Super Mario Advance 4: Super Mario Bros 3
Nintendo
Players can add cool new features with the Card e-Reader or link up with friends for multiplayer adventures with the original Mario Bros. game.
WarioWare, Inc: Mega Microgame$
Nintendo
Packs over 200 lightning-quick microgames into one title delivering non-stop fun that's impossible to put down.
Yoshi's Island: Super Mario Advance 3
Nintendo
One of the most memorable games of all time comes to the Game Boy Advance! In this picture-perfect port of the Super NES classic Super Mario World 2: Yoshi's Island, the unlikely duo of brave Yoshi and baby Mario must together brave the beautiful yet treacherous wilds of Yoshi's Island. Richly varied gameplay, brilliant graphics and precision control perfectly meld in an adventure you won't be able to put down!
The Legend of Zelda: A Link to the Past & Four Swords
Nintendo
THE LEGEND OF ZELDA - A Link to the Past - 4 Swords: Got Game Boy Advance friends and a Game Link Cable? Legend of Zelda: A Link to the Past is a retelling of the venerable series' first game with a quest for up to four players—all from one cartridge. The game is a mix of action and puzzles where Link must travel between the Light and Dark worlds to rescue Princess Zelda. Product Description Legend Of Zelda: Link To The Past takes you back to the original adventure in the world of Hyrule! ================== PITFALL - The Lost Expedition: Gamers assume the role of Harry, a fearless, rough-and-ready treasure seeker who battles evil using his athletic ability and a knapsack filled with adventure gear. Harry must race against a rival explorer to find hidden treasures, which in the wrong hands could spell doom for him and his friends. The vast landscape, ranging from forests to ancient ruins to subterranean mines, provides players with countless game options as they face the consequences of their decisions. Crossing treacherous jungle terrain and dark areas filled with puzzles, tricks and traps, players swing on vines, avoid crocodiles and dodge rolling logs as they unearth artifacts and use their cunning to defeat dangerous foes. Product Description Deep in the Peruvian Jungle, assume the role of Pitfall Harry, a fearless treasure seeker who battles evil using his athletic ability and a knapsack filled with adventure gear. Your mission: race against a rival explorer to find hidden treasures, which in the wrong hands could spell doom for you and your friends. Featuring over 50 perilous levels, including lush rainforests, creature-ridden caves, and vast glacial mountains, you are challenged to explore a dynamic, obstacle-filled world.
The Legend of Zelda - Classic NES Series
Nintendo
In 1987, Nintendo players were introduced to Link, a brave hero who had been summoned to the land of Hyrule to find the eight pieces of the Triforce of Wisdom and save the Princess Zelda from the evil Gannon. Players never imagined this magical quest would be the first of many for Link and Zelda, and now they can relive it all over again on the Game Boy Advance as part of Nintendo's Classic NES Series. Graphically, musically, and gameplay-wise, Nintendo has reproduced the classic LEGEND OF ZELDA on the Game Boy Advance, perfect for on-the-go gamers. The plot is fairly straight-forward: as Link, you must defeat a variety of enemies as you search for the hidden pieces of the Triforce. Once all eight are reassembled, you can enter Gannon's lair, defeat him, and save Zelda. Along the way, Link will pick up different items to help him in his quest, including a boomerang, bow and arrows, a raft, and some bombs. Once Gannon has been defeated, players get the option to start a new quest and play through ha remixed version of the game. For older gamers who have fond memories of slaying dragons with Link, here's your chance to turn back time. Fans of the more recent ZELDA games should take this opportunity to see where it all began. And for gamers who have never joined Link on a quest, pick up LEGEND OF ZELDA and experience a whole new gaming world.
Zelda II: The Adventure of Link - Classic NES Series
Nintendo
Zelda II: The Adventure Of Link was an instant classic when it was first released on the NES. Now it's available in its original form for your Game Boy Advance! The game takes place years after the original Legend Of Zelda — Link is now a young man and Zelda has fallen into a magical sleep. To wake her up, Link will have to restore long-lost crystals to six ancient temples.
The Legend of Zelda - The Minish Cap
Nintendo
Another chapter in the popular ongoing Legend of Zelda series, for the Gameboy Advance handheld.
Pokémon: Sapphire Version
The Pokémon Company
Pokémon Sapphire will take you on a journey through the land of Hoenn. Your quest is to become the ultimate Pokémon Master through collecting, battling and trading. Pokémon Sapphire offers incredible graphics, varied gameplay and more than 100 new characters.
Pokémon: Ruby Version
The Pokémon Company
Edit By BS Editor: The gameplay is mostly unchanged from the previous games; the player controls the main character from an overhead perspective, and the controls are largely the same as those of previous games. As with previous games, the main objectives are to catch all of the Pokémon in the games and defeat the Elite Four (a group of Pokémon trainers); also like their predecessors, the games' main subplot involves the main character defeating a criminal organization that attempts to take over the region. New features, such as double battles and Pokémon abilities, have been added. As the Game Boy Advance is more powerful than its predecessors, four players may be connected at a time instead of the previous limit of two. Additionally, the games can be connected to an E-Reader or other advanced generation Pokémon games.
Pokémon: LeafGreen Version
The Pokémon Company
Pokemon Leaf Green is a new adventure in the Pokemon world, set in the calssic Kanto region where Pokemon first took root and exploded. You'll become an 11-year-old boy or girl, starting a journey from Pallet Town to become a master Pokemon trainer. Professor Oak has given you a Pokedex to aid you, as you catch, raise and train Pokemon for battle. Battle across games as you face Pokemon from otehr games — and do it wirelessly, for freedom of movement while you play! You can also exchange game challenges, talk battle strategy or just shoot the breeze with up to five people in a chat session - or send text messages to other trainers in the Union Rooms.
Pokémon: Emerald Version
The Pokémon Company
This is Nintendo Game Boy Advance game, plays for Game Boy Color, Game Boy Advance SP and DS Lite.
Sonic Advance
Sega Of America, Inc.
If you've played and loved the original, you'll be able to pick up where you left off. If you're new to the game, don't worry-you'll have a lot of fun. Sonic Advance is a third-person action-adventure game that involves lots of searching, exploring lush environments on your quest for emeralds, and having run-ins with tons of interesting characters who move the story line along. You can play as either Sonic, Knuckles, Tails or his evil twin. In addition to the character of Sonic, you can play as 4 villains: Shadow, Rouge, Dr. Robotnik or Dr. Eggman. As Sonic, your goal is find the chaos emerald and succeed in foiling Dr. Robtnik and his dastardly plan to destroy the world.
Game & Watch Gallery 4
SPIG
Enter the gallery and play some of your favorite old-school handheld games. Play faithful renditions of favorites like Donkey Kong 3, Mario's Cement Factory, Fire Attack and much more. Play these games in Classic mode or in Modern mode, which combines the simple movements of classic games with new graphics and additional levels. Join all of your favorite Nintendo characters like Mario, Toad, Donkey Kong Jr., Wario and Princess Peach. Get high scores to earn stars and unlock even more fun games.
Final Fantasy Tactics Advance
Square Enix
Enhanced graphics, favorite characters and a brand-new storyline deliver an unparalleled role-playing experience.
Disney Princess
THQ
Play as Snow White, Cinderella, Ariel, Sleeping Beauty, Belle, and Jasmine as you search for the magical Tiara of Friendship to make sure that everyone lives happily ever after.
Shantae
Capcom
Shantae is a side-view adventure-quest game featuring a belly-dancing genie in search of a diabolical lady pirate named Risky Boots, who has stolen plans to a new invention. Shantae (the genie in question) can obliterate enemies with her whiplike hair, and shakes her booty to transform into different creatures. She must stop Risky and save the land from destruction. This Game Boy Color game also features special enhancements that come to life when played on the Game Boy Advance.

Shantae offers 75 fully animated enemies and 50 day and night areas. Each character's transformation is associated with a song. Players are challenged to make Shantae do a transformation dance by matching the notes and timing of the melody. There are also dozens of magical weapons, perplexing labyrinths, and treacherous boss characters. A secret room is unlocked when Shantae is played on a Game Boy Advance.
Super Mario Bros. Deluxe
Nintendo
Recapture the magic of the original Super Mario Bros. in this Game Boy Color exclusive. Go to battle with Bowser and the Koopa crew in a race against time to save the imprisoned princess. Enjoy totally new bonus options and features. Guide Mario through 8 worlds bursting with secret flowers and all kinds of surprises behind breakable blocks. You can even print special stickers with the Game Boy Printer. 2-player competition is possible with the Game Link Cable.
Pokémon: Gold Version
The Pokémon Company
Pokémon: Gold Version, one in the series of games that includes Pokémon Red, Blue and Yellow, features special added characters and brand-new moves, and even gives you the ability to mutate your Pokémon into dramatically different new characters. Starting out as a rookie Trainer, you'll embark on a quest to capture as many Pokémon as you possibly can. Some familiar faces pop up in the tall grass and dozens of new Pokémon make their debuts. Try your hand at new attacks and witness surprising evolutions while filling your Pokédex with the latest discoveries. Platform: Game Boy Color, ESRB Rating: Everyone, Genre: Strategy
Pokémon: Crystal Version
The Pokémon Company
Your mission is to challenge-and defeat-all 8 gym leaders, one at a time. As you collect Trainer badges and earn respect among Pokémon and trainers alike, you will travel through deep, dark caves and across vast oceans and plains. Keep your eyes peeled as you go-some Pokémon only show up in certain areas and some come out only at certain times of the day or night. And some Pokémon can only be hatched, so you'll want to match them wisely to ensure that they produce eggs. Defeating gym leaders is not your only challenge. You must also fill up your Pokédex and unravel all the mysteries in the land of Johto.
The Legend of Zelda: Link's Awakening DX
Sound Source Interactive
This colorized version of the original Game Boy hit, released in 1998, is a side quest that deviates as much from the traditional Zelda storyline as the N64's Majora's Mask. The story is completely new and original, but the game system is largely the same as in the Super NES hit, A Link to the Past. You explore a vast island named Koholint, opening up access to more new and new areas as you collect special items and solve puzzles. On your way, you gather Rupees and heart containers, use your sword to defeat enemies, and push plenty of blocks around. The DX (=Deluxe) version features one new dungeon and GB Printer support
Animorphs
SPIG
Game & Watch Gallery 2
SPIG
"Game & Watch" portable games date from before the time of Game Boy, but are available again in both classic and updated version. Parachute will have players catching falling paratroopers in a boat, the updated version features Mario as the captain and Toad and Yoshi as the skydivers. The objective of Helmet is the opposite: avoid falling objects dropped by a Para-Koopa as Mario in this updated version. Chef teams up Princess Toadstool and Yoshi in a pancake-making mission. Vermin is similar to the arcade diversion "Whack-a-Mole" and stars Yoshi, protecting a nest of Yoshi Eggs from Shy Guys, Ghosts, and Para-Koopas. The updated Donkey Kong still stars the original gorilla, but contains three new levels.
The Legend of Zelda: Oracle of Ages
SPIG
Nayru, the Oracle of Ages, has been kidnapped by Veran, Sorceress of Shadows, and is forced to assist with Veran's evil plans. Only by playing the Harp of Ages-a magical instrument that lets Link travel through space and time-can the Hylian hero battle foes to save the Land of Labrynna from the endless night that Veran aims to create.
The Legend of Zelda: Oracle of Seasons
SPIG
Suddenly transported to the land of Holodrum, Link arrives just in time to watch Nox-General of Darkness-imprison the Oracle of Seasons. When the forces of nature are cast into chaos, Link embarks on a quest to find the Rod of Seasons, recover the Essences of Nature and face Nox in an attempt to rescue the Sorceress. Aided by an arsenal of Mystical Seeds bearing spectacular magical powers, Link faces an onslaught of evil in his quest to save Holodrum from the long shadow of darkness.
Pokémon: Trading Card Game
The Pokémon Company
The hit Wizards of the Coast card game comes to the Game Boy Color! Pokémon Trading Card Game features many of the famed Wizards of the Coast cards, plus exclusive cards not found in any store. Equipped with a modest deck and sage words of advice from the wise Dr. Mason, you'll win booster decks by battling—and defeating—a series of rivals. You'll need to talk to everyone that you encounter in this adventure role-playing game (RPG). Each conversation may unlock a key piece of information or an offer to trade cards. You can also scour bulging bookshelves for new tactics or check your e-mail for additional clues—you might even get a valuable booster pack from Dr. Mason! Players of the Wizards of the Coast game will recognize the basic game mechanics and strategies, which are faithful to the popular trading card game. In all, there are more than 200 cards. You can even battle a friend via the Game Link cable!
Resident Evil 4
Capcom
Resident Evil
Capcom
In Resident Evil, you are part of an elite military unit battling an out-of-control supercomputer. Sent to investigate a remote location, you discover an eerie old mansion transformed by a laboratory accident. Soon, you're fighting for survival against hundreds of mutated scientists and other ghoulish creatures. Ages 17 and up. Imported.
Resident Evil Zero
Capcom
See how it all began. This game is the prequel to the ultimate horror series Resident Evil. After the Special Tactics and Rescue Squad discover an overturned van full of corpses, the characters of the game will start to discover the evil that is growing around Raccoon City.
Resident Evil 4 - Gamecube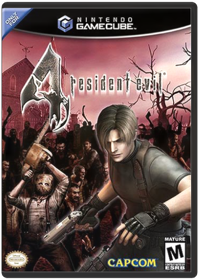 Capcom
Viewtiful Joe
Capcom
Fighting action game from Capcom Studio 4's Atsushi Inaba. Joe was just your average, well, Joe until he was transported into his favorite action movie. In his new environment, Joe discovers he has all the abilities of Hollywood action-hero. Using new cel-shading techniques, VJ boasts a unique visual style that blends colorful 3D environments with a twisted take on traditional 2D gameplay. Joe's power stems from skillful martial arts attacks, high-flying acrobatics, and time-bending special effects. Players can slow down or speed up time when attacking/ dodging enemies, as well as zoom in on the action to execute different attacks.
Star Wars Rebel Strike: Rogue Squadron III (Limited Edition Preview Disc)
LucasArts
Enjoy cinematic realism as you step out of into faithful recreations of worlds from the Star Wars films.
Star Wars Rogue Squadron II: Rogue Leader
LucasArts, a Lucasfilm Ltd. Company
Battle the Empire as the leader of a Rebel flying force. From X-Wings to Snow Speeders, every ship is rendered in incredibly authentic 3D detail. Pilot them all in 11 exciting missions from the snowcapped peaks of Hoth to the trenches of the Death Star. Made in USA.
Pac-Man Vs. / Pac-Man World 2
Namco
Two fantastic Pac Man games in one! Pac Man Vs. puts a twist on the original Pac Man arcade game. Using Game Boy Advance units as controllers and screens, friends play as ghosts chasing another player as Pac Man. Pac Man Word 2 takes players on a whole new 3-D platform/adventure game spread across 6 worlds, 15 mazes and 20 levels.
Tales of Symphonia - Gamecube
Namco
On a dangerous mission to save the dying world of Sylvarant, you'll fight battles in real-time on a 3-D battlefield. Choose the character in your battle party that you want to control. Different characters have different strengths so choose to suit your skills or to best beat your different enemies. Includes great fight combos and easy-setup multiplayer action.
Animal Crossing
Nintendo
Cross over to a world that thrives 24-7 on GCN. The ambitious Animal Crossing allows players to interact with a virtual village of animals who do something different every minute of every day. With Animal Crossing's 24-hour clock, the game's unique events can be in synch with real time—as day turns to night in the real world, the sun will also begin to set in the game. Seasons will change and special events will occur in real time, too. The dynamic setup will have players coming back every day to carry out their daily routines, build relationships with villagers, celebrate special days, collect furnishings for their homes and just live life in an innovative experience that's a world of its own.
Donkey Kong Jungle Beat - Gamecube
Nintendo
Donkey Kong Jungle Beat takes the big ape through an incredible new adventure, using the most unexpexted controllers: The bongos. You'll guide DK by drumming your way through through fantastic jungle environments, full of ravenous enemies and challenging obstacles. Battle enormous beasts, collect bananas, get in boxing matches with rivals and even ride animals and vehicles in a jungle gone wild!
Donkey Konga
Nintendo
Has a lot of beats and rhythms to learn
Eternal Darkness: Sanity's Requiem
Nintendo
Battle a cosmic evil across space and time in Eternal Darkness: Sanity's Requiem. From swords to guns to mind-warping spells, you'll use an array of weapons in this epic adventure that unfolds over thousands of years. A new style of psychological thriller, the adventure gets even more frenzied as you battle your own dwindling sanity. Made in USA.
F-Zero GX
Nintendo
The future of racing has arrived! High speed fun in the fastest, most visually stunning racing game ever.
Geist
Nintendo
Geist is modern supernatural mystery. You play a Spectral Operative - a special agent who can become a ghost. Travel the hallways, labs and chambers of a shadowy compound, searching for your body, as it's mysteriously being kept alive by people with an agenda you must unravel.
Luigi's Mansion
Nintendo
Amazon.com E3 Game Preview While it won't win many points for originality, Luigi's Mansion is great fun to play, and it's a perfect showcase for the GameCube's graphics horsepower. In the game, Luigi—Mario's younger brother and costar of several games through the years—has inherited a spooky old mansion provided he can summon the courage to spend the night within its haunted walls. Luigi arrives prepared to clean house using a Ghostbusters-like device that stuns the ghosts with light and then vacuums them up safely. The gameplay gets tricky when some of the bigger light-shy ghosts vanish before you can put the Hoover on them. And, should one of the spectral pests sneak up on Luigi, he loses courage and the common currency of all Mario-inspired games: gold coins. Graphically, the game is amazing for its translucent ghosts, mirrored images, and particle effects (Luigi's vacuum device will also suck the dust off a chair and the mist out of a freezer). The game's campy visuals are more cute than spooky, so even jittery Mario fans will love this one. —Porter B. Hall
Super Mario Sunshine
Nintendo
In his newest adventure, Mario visits a tropical island and is mistaken for a local outlaw. So he straps on a hydro-powered water pump to clean up the mess, clear his name and meet up with old friends. Hose down enemies and meet the locals in this colorful, action-packed adventure set in sprawling 3D worlds with surprises around every corner. Made in USA.
Mario Kart: Double Dash!! with Bonus Disc
Nintendo
Copy of Mario Kart Double Dash for the Nintendo Gamecube. It comes with original box art, no manual, both discs are in excellent condition, with little to no light scratches on the discs and both play perfectly. When shipped the game will be packaged to ensure the safety of the discs in transit.
Metroid Prime
Nintendo
Samus enters a mysterious derelict ship on the unexplored world of Tallon IV to investigate Space Pirate activities. She has thwarted their dastardly efforts before. She stopped them from amassing an army of Metroids and she kept Mother Brain from retrieving the last known Metroid larva. Now she must face the Space Pirates once again in an all-new adventure.
Metroid Prime 2: Echoes
Nintendo
Hunted by a mysterious entity and a warring race called the Ing, Samus Aran must explore the light and dark worlds of this doomed planet to discover secrets and augment her suit's weapons and abilities. And now, for the first time in the history of the celebrated Metroid franchise, up to four players can battle each other as they search for weapons, grapple across ceilings, and turn into Morph Balls to make their escapes.
Star Fox Assault
Nintendo
Fox McCloud and the Star Fox team return to engage a grave new threat in the air and on the ground! Roll over hostile terrain in a heavily-armored Landmaster Tank, or bring the hurt to the enemy on foot. Play solo missions or join the fight with up to three other players, or engage in four-player split screen battles
Super Smash Bros. Melee
Nintendo
Can Mario beat Donkey Kong? Is Pikachu tougher than Yoshi? Find out as 12 of Nintendo's biggest stars battle in head-to-head competition. Battle through a tournament in 3-D fighting arenas or take on multiple players with special moves and unique strengths. Made in USA.
The Legend of Zelda: Ocarina of Time / Master Quest
Nintendo
2 Zelda games. Master Quest was only released on this venue.
The Legend of Zelda: The Wind Waker
Nintendo
Nintendo's thematic action-adventure sequel to Ocarina of Time takes the series back to its more cartoonish roots. Utilizing a completely new look with cel-shaded graphics, the game casts players in the role of a familiar young boy, who sets out to save his kidnapped sister. Gameplay is vintage Zelda, only that the game's overworld is covered by water. Players have to control the direction of the wind to sail across the ocean and find dungeons, towns, and plenty of secrets. A special Game Boy Advance link-up option lets another player join the quest and give hints and assistance via the handheld. Legend has it that whenever evil has appeared, a hero named Link has risen to defeat it...
The Legend of Zelda: Collector's Edition
Nintendo
The greatest legend in gaming! The ultimate Zelda collection. The Legend of Zelda arrives with 4 classic Zelda games from Nintendo Game Cube. Also included is a playable demo version of The Windwaker. Play the game that launched the legend! The Legend of Zelda. Zelda II: The Adventure of Link expands on the action sequences and introduces a new magic system. With The Legend of Zelda: Ocarina of Time, Zelda moves into three dimensions with gorgeous cinematics, revolutionary targeting system and the freedom of traveling on horseback. Ocarina of Time leaves all who play it breathless and impressed. The fourth game in the series, Majora's Mask takes a dramati turn from the tradition of the series as Link wanders into a 3 day journey in a mysterious parallel world. Majora's Mask challenges players to don magical masks and save a town threatened to be crushed under a menacing moon. Also included is a bonus playable demo version of The Windwaker. Don't miss out on the ultimate Zelda Collection.
The Legend of Zelda: Four Swords Adventures
Nintendo
The swashbuckling action continues in this all-new Zelda adventure. Up to 4 players can link to the Nintendo Game Cube and join in the fun frantic competition for Force Gems and special items. But the game calls for cooperation to move massive blocks, trigger switches and slay mighty bosses. You can explore 8 vast worlds in Hyrulean Adventure mode or fight your friends in Shadow Battle mode. Either way you'll be treated to a great high-resolution, top-down play perspective that features dazzling visual effects like vividly colored lightening, smooth water ripples, swirling smoke and stylized weather changes.
Sonic Mega Collection
Sega Of America, Inc.
Take a trip back in time with the character that redefined video games in Sonic Mega Collection for the Nintendo GameCube. Sonic Mega Collection is packed with seven classic Sonic games, each presented in its original blistering-fast form. Trace the blue blur's roots in the first three Sonic the Hedgehog games, and expand the experience with Sonic & Knuckles' lock-on technology. Then mix things up with Sonic Spinball, Sonic 3D Blast, and Dr. Robotnik's Mean Bean Machine. And if you need a break from the action, head over to the Extras section and check out movies, illustrations, and comics of Sega's signature character. You'll get it all seven times over when you pick up the Sonic Mega Collection!
Beyond Good & Evil
UBI Soft
Armed with her camera, aikido staff, and investigative skills, Jade sets out to expose the secrets behind the alien invaders to liberate the minds of her deceived people.
Adventure Time: Explore the Dungeon Because I DON'T KNOW! 3DS
D3 Publisher
Princess Bubblegum summons Finn and Jake to the Candy Kingdom to investigate a rash of thefts and kidnappings that have plagued her kingdom. She thinks the cause lies within her Secret Royal Dungeon, where only the nastiest monsters and criminals are locked up. If they've found a way to escape, the Land of Ooo will be in danger! Following the mathematical, algebraic, and radical success of 2012's Adventure Time: Hey Ice King! Why'd You Steal Our Garbage?!!, show creator Pendleton Ward teams up with developer WayForward in the all-new action game Adventure Time: Explore the Dungeon Because I DON'T KNOW! Select from an assortment of fan favorite characters from the show, including Finn, Jake, Marceline, Cinnamon Bun, and as the Adventure Time world comes to life through beautiful pixel animations, and voiceover from the original cast. Fight through 100 floors of a massive dungeon, battling enemies and bosses from across the Adventure Time universe, using an arsenal of weapons and power-ups. Raid chests for treasure and booty that'll help you unravel the mystery of the dungeon!
Mario Kart 7
Nintendo
The newest installment of the fan-favorite Mario Kart franchise brings Mushroom Kingdom racing fun into glorious 3D. For the first time, drivers explore new competitive kart possibilities, such as soaring through the skies or plunging to the depths of the sea. New courses, strategic new abilities and customizable karts bring the racing excitement to new heights.
Puzzle & Dragons Z + Puzzle & Dragons: Super Mario Bros. Edition
Nintendo
Two puzzling RPG adventures-one has dragons. .. the other has Mario! Two puzzling RPG adventures await you! Rescue Princess Peach from Bowser or defeat the evil group Paradox by battling enemies with the awesome power of orbs. Drag and match orbs, or chain together combos to deal massive blows to your enemies. Then bolster your forces with hundreds of unique monsters in this two-in-one game pack. In Puzzle & Dragons Super Mario Bros. Edition, you get to travel to different worlds as you assemble a team of Mushroom Kingdom baddies, like Goombas or Koopa Troopas, and recruit much-loved Mario characters, including Toad and Yoshi! Or in Puzzle & Dragons Z, battle the 5 powerful sky dragons to rebuild the world and customize your team with a plethora of different monsters. Allies gained in both games have the chance to evolve into more advanced forms and learn powerful new skills.
Star Fox 64 3D
Nintendo
Fox McCloud is Back in a Re-mastered Nintendo Classic
Star Fox 64™ 3D invites players to take on the role of legendary Fox McCloud as they lead a fearless squadron of fighters in fierce aerial combat to battle the evil forces of Andross and save the galaxy from destruction. The rich 3D visuals provide a remarkable sense of depth, distance and position as players dodge meteors and blast enemy fighters out of the sky.

A complete graphical update brings a Nintendo classic into the era of portable 3D fun. The game makes effective use of the Nintendo 3DS system's dual screens: The top screen features 3D aerial combat, while the bottom screen displays characters and dialogue.There are two control methods for the player to experience. The Nintendo 64 Mode offers original controls, while the new Nintendo 3DS Mode uses the motion controls of the built-in Gyro Sensor of the Nintendo 3DS system. Trusted wingmen Peppy, Slippy and Falco are along for the ride – if one of them is chased or captured by an enemy, players must act to protect them in order to keep their team strong. Each mission takes players through a different planet of the Lylat system as they blast enemies, collect power-ups and fight powerful bosses on their way to the final battle. A new multiplayer option lets up to four players engage in fierce aerial combat via a local wireless connection (using four systems and one game card via DS Download Play). The multiplayer mode also includes new power-ups and special weapons. Players can use the Nintendo 3DS system's inner camera to display a live video feed of their faces as they battle, bringing a new level of fun and personalization to the multiplayer experience.
To enjoy the 3D effect of Nintendo 3DS software, you must experience it from the system itself. All screenshots and videos on this website have been captured in 2D mode.
Super Smash Bros. for Nintendo 3DS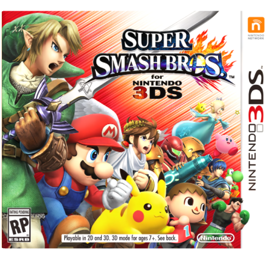 Nintendo
Action/Adventure Game - Nintendo 3DS
The Legend of Zelda: A Link Between Worlds
Nintendo
The Legend of Zelda: A Link Between Worlds 3DS This game takes place after the events of and in the same world as The Legend of Zelda: A Link to the Past. Link can now become a drawing to move along walls. This opens up ways to explore and puzzle elements that give Link access to locations he could not otherwise reach.
Cave Story 3D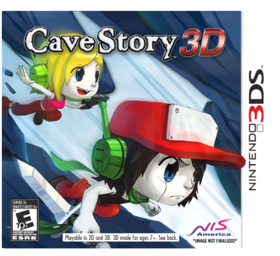 NIS America
Having received tremendous acclaim in its previous releases on PC and WiiWare, Cave Story, an indie side scrolling 2D action game, now makes its way into an all new dimension with Cave Story 3D for Nintendo 3DS. At once both a throwback to classic 2D action platformers and also the potential future of the genre, Cave Story 3D blends tight controls, superb level design, and excellent story and presentation to deliver a memorable, addicting retro experience!
Shovel Knight
Yacht Club Games
Prepare to taste Shovel Justice! With vibrant graphics and pitch-perfect gameplay, Shovel Knight breaks new ground in this 8-bit adventure! Become Shovel Knight, wielder of the Shovel Blade, as he runs, jumps, and battles in a quest for his lost beloved. Take down the nefarious knights of the Order of No Quarter and their menacing leader, The Enchantress. Uphold the virtues of Shovelry, earn relics and riches, and discover the true meaning of shovel justice!
Monopoly
HASBRO
Cartridge and hard plastic collector case with reprint of original case artwork - NO MANUAL - Front label is fully in tact. Game cartridge is in good condition but may show normal signs of age such as minor scratches, discoloration, or debris in creases. All games are tested before being put into our inventory.
Super Mario 64
Nintendo
KIDS DRIVING GAME
Mario Kart 64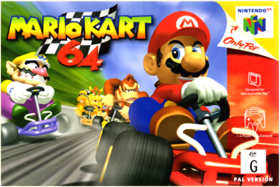 Nintendo
Mario Kart 64.
Mario Party
Nintendo
Mario and his friends return for a fun-filled party, and you're invited! Mario, Luigi, Donkey Kong, The Princess, Wario, and more return in this joyful party! The object of the game is simple: be the player who collects the most stars. You get stars by defeating any of the 56 mini-games that will challenge your gaming skills. Play in many classic Mario scenes, or keep on partyin' to rack up the most points and discover new play areas. MARIO PARTY features four-player multiplayer, the whole Mario gang, slammin' graphics, and pumpin' music. This is a party you don't want to miss!
Super Smash Bros.
Nintendo
Four-player action fighter, starring 12 Nintendo mascots, including Mario, Luigi, Fox, Link, Samus, Pikachu, Jigglypuff and Captain Falcon. All the action takes place on one screen, from a zoomed out third-person perspective more reminiscent of old-school platformers than traditional fighting games. The premise is as simple as the controls. Beat up you opponents and knock them off the fighting platform to score a point. The more damage your opponents sustain, the farther you can throw them. Apart from the quick, but explosive mayhem that ensues when more than one player has at it, the game manages to bring back many fond gaming memories by bombarding players with familiar items, power-ups and many classic tunes.
Yoshi's Story
Nintendo
Cartridge and hard plastic collector game case with reprint of original cover art - cartridge is clean and tested with a fully intact label. However, cartridge may or may not show small signs of age including minor scuffs, very minimal debris in creases, and/or slight discoloration. All ClassicGameStore games are fully tested before being placed into our inventory, and we will stand behind our games if any issues do arise.
The Legend of Zelda: Ocarina of Time
Nintendo
The Legend of ZELDA- Ocarina of Time for NINTENDO 64 CLASSIC GAME!!!
The Legend of Zelda: Majora's Mask
Nintendo
Made in Japan. For this game pak to operate, you must have an N64 expansion pak(sold separately installed in Your N64).
San Francisco Rush Extreme Racing - Nintendo 64
SPIG
This is the game San Francisco Rush for the Nintendo 64.
Adventure Time: Hey Ice King! Why'd You Steal Our Garbage?!! (Collector's Edition)
D3 Publisher
Finn and Jake wake up one morning to find their trash stolen by the Ice King! Jake couldn't care less about half-eaten bananas, crumpled up math notes, and old chicken diapers – but when the Ice King uses these stolen goods to construct a Garbage Princess, our heroes embark on a fantastical adventure and teach him a lesson! Journey through the Land of Ooo in an offbeat adventure and discover perilous dungeons, unimaginable treasures, the true meaning of friendship, and never-ending fun! The Adventure Time Collector's Edition includes Custom package design of the Enchiridion, Premium SteelBook case, Limited edition replica stylus of Finn's Gold Sword, Exclusive Finn & Jake's Monster Manual, Bonus poster map of the Land of Ooo
Advance Wars: Dual Strike - Nintendo DS
Nintendo
Third installment of the popular SRPG series. First for the DS handheld.
Golden Sun: Dark Dawn
Nintendo
Offering a planet-sized world of adventure to explore and conquer, Golden Sun: Dark Dawn puts the raw power of the elements in players' hands. Each of the game's playable characters is capable of carrying Djinn, spirits that imbue their owner with unique and powerful abilities. Players can collect more than 70 unique Djinn, granting them the ability to summon mighty deities who unleash devastating attacks that fill both Nintendo DS screens. Djinn powers can also be used to navigate puzzling dungeons and overworld environments that will have players flinging fireballs to burn away obstacles, freezing water to raise platforms, or summoning whirlwinds to create bridges out of floating objects. Taking place 30 years after the events of Golden Sun and Golden Sun: The Lost Age for the Game Boy Advance system, Golden Sun: Dark Dawn introduces a new generation of heroes that are struggling to survive in a radically changed world. What begins as a simple journey to rescue a lost friend turns into a dramatic quest to save the land from catastrophe as players are drawn into a world full of magical energy.
Kirby Canvas Curse
Nintendo
Kirby: Canvas Curse is Kirby's debut on the DS. In this 2D action game, you'll use your magic wand to guide the pink hero, stun enemies, and launch special attacks. An evil witch turns Dream Land into a "picture" world - but she left behind a magic paintbrush that draws rainbow paths. Help Kirby regain his shape and save Dream Land!
Mario Kart DS
Nintendo
The ultimate Mario Kart race is on…and online via your Nintendo Wi-Fi Connection in Mario Kart DS. Drawing on more than 30 courses and battle arenas from every game in the Mario Kart series - not to mention tons of new ones, Mario Kart DS allows you to play as Mario, Luigi, Princess Peach, Wario, Yoshi, Donkey Kong, Toad, Bowser and Shy Guy as you put the pedal to the go-kart metal, grab coins to max out your speed and blast rivals with the ever-popular arsenal of red, green and spiked Koopa shells in a race to finally put to rest the question of who is the true king of the Mushroom Kingdom racing circuit.

Race the Mushroom circuit
Mario is a veteran of the circuit.
View larger.
Choose your favorite character.
View larger.
Peach is a master drifter.
View larger.
Select the Kart you want.
View larger.
Bowser is the bruiser of the track.
View larger.
Watch your position in the pack.
View larger. Progressing Through the Game
Place first in Grand Prix circuits or clear skill-based missions to open up increasingly difficult and thrilling circuits. Of course, players can have multiplayer races on any open courses or battle in arenas.

Game Modes: At Least Five Ways to Play
Whether you prefer to race by yourself or to mix it up with friends, Mario Kart DS is a game with something for everyone. Features five different game modes, these include a 'VS' and 'Battle' mode that are available in multiplayer for up to eight players via local wireless connection while all modes are available singleplayer. See a complete list and description of the play modes below:

Grand Prix Mode: In Grand Prix Mode, the driver who earns the most points at the end of a four-course cup is the victor. Mario Kart DS features eight different cups, with each cup featuring four different tracks.Time Trial Mode: Your objective in Time Trial Mode is to get the fastest time that you can on a single track. . You can save your best runs as ghost data and share them with a friend.VS Mode: A competitive mode that can be either singleplayer. or multiplayer. In the singleplayer. version you'll race against computer-controlled karts, while in multiplayer you'll race against human opponents who play using their own Nintendo DS systems.Battle Modes: Mario Kart DS contains two battle modes.Balloon Battle Mode: Your goal is to pop your opponent's balloons by attacking/stealing them by colliding into an opponent via a mushroom boost, before your own balloons are popped.Shine Runners: In this mode the driver who collects the most Shine Sprites is the winner.Mission Mode: In this mode you are given sets of specific missions that you must clear in order to move on to the next set of missions. What could wait at the end?Special Powers, Weapons, Moves & Features
Turbo power-drifting and item tossing is the order of the day, whether players are racing around an obstacle-filled track or battling in an arena. Use familiar items taken from every game in the series like Green Shells, homing Red Shells, Bananas, Bombs, Lightning and the destructive Spiny Shell, not to mention new ones like the Blooper. The touch screen features a map that shows items being fired at players, who can even tap it with their fingers mid-race to zoom in or out.

Wireless Communication: Even More Ways to Play:
Mario Kart DS features three different forms of wireless game play: two kinds of local wireless game play and Nintendo Wi-Fi Connection online game play. Mario Kart DS offers two different options for LAN Wireless game play: DS Download Play, in which only one player has Mario Kart DS and all players have Nintendo DS systems, and Multi-Card Play, in which all players have Mario Kart DS and Nintendo DS systems.

DS Download Play
As with all DS Download multiplayer games, the DS Download Play in Mario Kart DS requires that only one player has a copy of the game. Unlike past DS games, however, DS Download Play in Mario Kart DS allows multiple players who have the game card to play with multiple players who do not have the game card. DS Download Play offers the following features:2-8 player simultaneous wireless game play.A choice of multiplayer racing, Balloon Battle, or Shine Runner modes.Players who own Mario Kart DS can choose their own characters and use personalized icons, while players who do not own Mario Kart DS must play as Shy Guy and cannot use personalized player icons.Track selection is limited to eight tracks for racing and three arenas for Balloon Battle and Shine Runner modes.DS Download Play is limited to the 100 cc engine classMulti-Card Play
Multi-Card Play requires all players to have their own copies of Mario Kart DS, giving players more options, modes and tracks to choose from. Multi-Card Play offers the following features:2-8 player simultaneous wireless game play.Your choice of multiplayer racing, Balloon Battle, or Shine Runner modes.Players can choose from different engine classes.No limits on character choice.No limits on track choice.Player's win/loss ratio is saved and tracked.Players who race locally are automatically added to each other's friend roster and then can race via Nintendo Wi-Fi Connection.Players can trade ghost data wirelessly, allowing them to race against each others' best times.Nintendo Wi-Fi Connection:
Nintendo Wi-Fi Connection is a free online game-play service provided by Nintendo to Nintendo DS owners. It offers seamless access to online game play and an environment that is welcoming to gamers of all skill levels. Features include: Whether it's the updated graphics that retain the side-scrolling feel of classic games in the Sonic franchise, an expansive world to race through and explore or the multiple and new ways to play, Sonic Unleashed offers something for players of any age or level of ability.2-4 players racing simultaneously.Choice of playing with:Friends only (players registered as Friends)Rivals (players with similar skills)Recent opponentsRegional racers (players in their country)World racers (players anywhere in the world)No limit on course choice, but each player votes for a course and the course with the most votes wins (in case of a tie, the course is chosen randomly)No limit on character choicePlayers can create and use personalized player iconsConnecting to the Nintendo Wi-Fi Connection will be quick, easy and seamless. Players can go to an official Nintendo hotspot and immediately go online and start playing. To use their home Wi-Fi routers, players first must configure the DS to connect to their routers by entering the router's network ID and optional security key or install the Nintendo Wi-Fi USB Connector on their PC and configure the DS to enable it to share the PC's broadband connection. After that, players can go online anytime without further configuration. Friends are registered to the friends roster either by exchanging and entering Friend Registration Keys or by playing local Multi-Card Multiplayer mode together.
Meteos
Nintendo
In Meteos you're the last line of defense, in a bad case of planetary overload. As blocks drop down on the lower screen, you must use the DS's stylus to match up blocks of the same color. Once you have enough blocks connected, they'll shoot back up into the sky to form planets on the upper screen.
Metroid Prime Hunters: First Hunt
Nintendo
This is the game Metroid Prime Hunters First Hunt, which is a demo to Metroid Prime Hunters.
New Super Mario Bros.
Nintendo
Old-School Platforming Fun - Jump, bounce and power-up through visually stunning side-scrolling worlds filled with Mushroom Kingdom madness. New Action - Grab a Mega Mushroom and grow to incredible proportions, or smash through your foes in a blue Koopa shell. 2 Distinct Multiplayer Modes - New Super Mario Bros. features competitive 2-player multiplayer and mini-game functionality supporting up to 4 players. A Classic Storyline - Bowser and Bowser Jr. have kidnapped Princess Peach, again, and only Mario and you can save her. Powerups Galore - You'll find classic power-ups, like the Super Mushroom and the Fire Flower in the game, as well as some all-new ones that let Mario explore the Mushroom Kingdom like never before. New Moves - New Super Mario Bros. expands Mario's arsenal of moves to include some very powerful advanced techniques. If you want to uncover every secret in the game, you'll have to master them all.
Pokémon HeartGold Version
Nintendo
Pokémon HeartGold Version and Pokémon SoulSilver Version return players to the scenic Johto region first introduced in the beloved original Pokémon Gold and Pokémon Silver games nearly a decade ago. The richly detailed adventure of Pokémon Gold and Pokémon Silver is now enhanced for the Nintendo DS and Nintendo DSi systems with updated graphics and sound, as well as new touch-screen features and a host of surprises. Pokémon HeartGold Version and Pokémon SoulSilver Version bring dozens of Pokémon characters back into the limelight for a new Pokémon generation - and longtime fans - to catch, train and battle.

The Pokéwalker Included:
The Pokéwalker is a special pedometer that you carry with you that lets you take Pokémon fun wherever you go! You can transfer a Pokémon onto the Pokéwalker accessory using an infrared connection between the Pokéwalker and your Game Card. Then as you Stroll around with your Pokémon, it'll earn Experience Points to gain a level. And you can even find items and special Pokémon while you're on the go! The Pokéwalker is small enough that you can keep it in your pocket and take wherever you go. It also has a clip to hook it on your belt, and a hole for attaching a strap. It's never been easier to take Pokémon with you!

Pokéwalker The Pokéwalker counts the number of steps you take as you walk around. The more steps you take, the more Watts you earn, which you can spend to find items and Pokémon!

When you transfer a Pokémon from your game into your Pokéwalker, you can select which Route you'd like to take your Pokémon along. Depending on which Route you take (such as in a grassland or by the sea), you'll encounter different wild Pokémon and find remarkable items. When you first begin your journeys with the Pokéwalker, the list of Routes you can select from is short. But, the more you take a Stroll with your Pokémon, the more Routes will appear and the more Pokémon and items you'll be able to get!

Catch Wild Pokémon!
After you've collected some Watts by going on a Stroll with your Pokémon, spend some of them to use the Poké Radar to catch wild Pokémon! If you see tall grass rustling after you use the Poké Radar, you know you've found a Pokémon. You have three options in the battle. You can attack, evade, or catch the wild Pokémon. By attacking, you can wear down the wild Pokémon to make it easier to catch. If you choose to evade when the wild Pokémon attacks, you'll perform a counterattack! And when you think the timing is right, throw a Poké Ball to catch the Wild Pokémon. You can keep up to three caught Pokémon in your Pokéwalker at a time. If you catch a fourth Pokémon, you must choose one of them to set free.

Find Items!
Use the Pokéwalker's Dowsing Machine to help find items. Like the Poké Radar, you use the Watts you earned while walking to use the Dowsing Machine. Some of the items you can find are quite uncommon! When you use the Dowsing Machine, you'll see six patches of tall grass, and one of them has a hidden item in it. You have only two chances to discover the item! Some of the items you can get are really hard to find and very valuable, so keep hunting!

Time to Transfer!
Once you've found Pokémon and items using your Pokéwalker, you can send them back to your Pokémon game. You can only keep up to three Pokémon and three items in your Pokéwalker at a time, so be sure to send them to your game when your inventory fills up! Remember, if you catch a fourth Pokémon in your Pokéwalker, you'll have to swap out one of the three Pokémon you've already caught.

The Pokéwalker Journal
After your Pokémon has spent some time in your Pokéwalker, you can get a recap in the Pokéwalker Journal. The journal tells of all the places the Pokémon has been and the things it has found while traveling inside your Pokéwalker! For example, if you catch a particular Pokémon while out on a Stroll, your Pokéwalker Journal will make note of it. It will also keep track of how your Pokémon has behaved while inside your Pokéwalker!

Pokéwalkers Communicate with Each Other!
The Pokéwalkers don't communicate only with Game Cards—they can also communicate with each other! When you connect Pokéwalkers with a friend, you'll both receive an item as a gift! You can connect two Pokéwalkers via infrared signal by pointing them at each other. When you do so, both players will receive an item! You can receive up to ten items by connecting to your friends, but you can get only one gift per person, per day.
Polarium
Nintendo
Polarium is a simple, stylish puzzle game you play entirely with the Nintendo DS touch screen and a stylus. Draw lines to flip black and white tiles and make patterns and puzzles disappear. Use the stylus to draw a stroke, flipping black and white tiles to change and match their color. Three game modes and scores of puzzles will put your puzzle-solving abilities and stylus skills to the test. Challenge a friend to a duel over a wireless connection.
Trace Memory
Nintendo
Piece Together the Traces of Your Past. Ten years ago, while researching human memory, your parents suddenly disappeared. Now a letter from your father provides the first clue in a strange adventure to the mysterious Blood Edward Island. But what could a memory-generating computer and a ghost named D have to do with your parents' disappearance? Blood Edward Island won't give up its secrets easily, so you'll have to trace the clues to find the truth.
The Legend of Zelda: Phantom Hourglass
Nintendo
The Legend of Zelda: Wind Waker closed with Link and Tetra setting sail for waters unknown... but their story was just beginning, and it continues on the Nintendo DS. When a mysterious fog waylays their band of pirates and leaves Link alone on a strange island, an all-new adventure begins! ** Get in touch! All game control is via the Touch Screen, and the stylus makes controlling Link more natural than ever. Touch the screen to guide Link through the world, or sweep the stylus around him to swing his sword. You can even make notes on your map, chart routes for your boat, or draw paths for your boomerang! ** Adventure time! With Tetra missing, Link must enlist the aid of several fairies as he explores dangerous wilds, uncharted seas, and baffling dungeons. As he does, he meets an array of fascinating characters, hunts for powerful weapons, and collects sand for a mysterious artifact called the Phantom Hourglass. Over time, it will enable him to progress deeper and deeper into the ultimate dungeon. ** Link with a pal! Compete with a friend over local wireless or Nintendo WFC as you guide Link through special battle stages to capture Force Gems or command the forces that oppose him!
Pokémon: Diamond Version
The Pokémon Company
Nintendo Pokemon Diamond for Nintendo DS
In the Sinnoh region, there are two Pokemon that symbolize the region. They appear in the Sinnoh reigon's myths andold folklore. One is called Dialga, and is said to have the power to control time. The other is called Palkia, who is said to have the ability to distort space. The sinister organization called Team Galaxy is trying to rule the region by utilizing these two Pokemon's power. During your adventure tocomplete your Pokedex and become the Champion, these two Pokemon, and Team Galaxy, will intertwine into the story and lead you on a fantastic journeyacross the Sinnoh region.
Features:
* Worldwide battles and trading using WiFi.
* Real-time clock feature changes the time of day based onthe DS clock. The Pokemon you can catch vary based on the region and the time of day. Also, certainPokemon moves' power changes based on time.
* More elaborate Pokemon Contests. Players can use the accessories and dress up their Pokemon. Playersmake "Poffin" out of Berries to rasie their Pokemon's contest stats.
* New dual-type Pokemon, new/altered moves, and new special abilities add to the already deep strategy of Pokemon battling.
* 3-D enviornments and updated graphics.
Pokémon: Black Version
The Pokémon Company
A new world filled with never-before-seen Pokemon!
Front Mission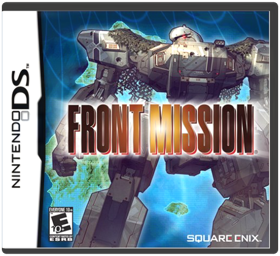 Square Enix
Front Mission focuses on the conflict over Huffman Island, located in the neutral zone between two superpowers known as the Oceania Cooperative Union (O.C.U.) and the Unified Continental States (U.C.S.). Tensions between the O.C.U. and the U.C.S. spark the First Huffman Conflict in 2070, a two-year war ending with a ceasefire agreement that divides the island into two territories. After many years of relative peace, the sudden destruction of a U.C.S. military factory triggers the Second Huffman Conflict in 2090. Experience the war from the perspective of Royd Clive, the leader of the O.C.U. mercenary outfit "Canyon Crows", or Kevin Greenfield, the commanding officer of the U.C.S. Special Forces squad "Black Hounds." Battle through missions against wanzers, tanks, attack helicopters, and giant mobile weapon platforms, and unravel the true motives behind the war over Huffman Island.

Features:Use the Nintendo DS Touch Screen functionality and stylus-driven controls to navigate through the menus with a tap of the screenDual screen presentation keeps gamers focused on the action while providing them with information at a glanceExperience a storyline that includes the addition of new missions and new wanzers, along with the appearance of characters from other titles in the Front Mission seriesChallenge others to wanzer battles through the multiplayer element accessible via DS Wireless PlayChoose a side in the warfare between the O.C.U. and the U.C.S. and experience both sides of the conflictYoshitaka Amano, character designer of the Final Fantasy franchise, provides the character illustrations
Zelda II: The Adventure of Link
Nintendo
Double Dribble
Double Dribble is a video game by Konami. The original version was an arcade game released in 1986. In September of 1987 a version followed for Nintendo's Nintendo Entertainment System. A version was also released for the Commodore 64 computer. The NES version features 5-on-5 action on a horizontally scrolling court, four different teams (Boston, New York, Chicago, Los Angeles), three levels of single-play difficulty, and four different choices of quarter lengths. Double Dribble was among the first games to feature cut-scenes, which depicted a mid-air player completing a slam-dunk, and one of the first to use speech, though in a limited quantity (such as announcing the game title and the game's beginning jump ball). A sequel called Double Dribble The Playoff Edition was released in 1994 for the Sega Mega Drive.
A Boy and His Blob: Trouble on Blobolonia
Absolute
Cartridge only - cartridge is clean and tested with a fully intact label. However, cartridge may or may not show small signs of age including minor scuffs, very minimal debris in creases, and/or slight discoloration. All ClassicGameStore games are fully tested before being placed into our inventory, and we will stand behind our games if any issues do arise.
Micro Machines
Camerica
Y o Dudes it's Micro Machines The official Video Game. we believe this is the most competitive racing game yet produced. Amazing Playability ABSOLUTELY BRILLIANT!!!! Features a very competitive two player option, 27 cunningly devised circuits - under bridges, thru oil patches - power sliding around corners - trying to beat the other drivers and become the Micro Machines Champion!!
Chip 'n Dale: Rescue Rangers
Capcom
Fiction: Video Game for Nintendo
Darkwing Duck
Capcom
Darking Duck NES Nintendo vindeo game
DuckTales
Capcom
disney duck tales for regular nintendo nes system
The Little Mermaid
Capcom
Nintendo game.
Little Nemo: The Dream Master
Capcom
Joshua and the Battle of Jericho
Color Dreams
Description Be Joshua and lead God's people to the promised land in this bible-based action game. But watch out! There are falling rocks, soldiers, battering rams and elite forces that will try to block your every move. Sound challenging? You bet! But God has given you the power. Weapons like the horn of Jericho, God Speed, power-ups, secret exits and other armor will help you in your quest. Conquer the Canaanites, Amorites and Hittites as you collect silver and gold, race through deadly mazes, and defeat the enemies of God!
Baseball Simulator 1.000
Culture Brain
Bad Dudes
Data East
Game Cartridge Only; Tested and Plays Great! Free 1st Class Shipping Upgrade in Bubble Envelope!
Burgertime
Data East
In a tasty update of BurgerTime, you star as intrepid Chef Peter Pepper, trying to assemble a bevy of big burgers despite interference from giant hot dogs, pickles and eggs, all of which are in pursuit (and deadly to the touch). Your handy peppershaker can stop them in their tracks momentarily, but you only have a limited number of them. Additional peppershakers appear briefly, which you can grab to recharge your supply. In early stages, BurgerTime Deluxe is deceptively simple, with the entire playing field confined to the edges of the screen. But once you advance into the second area (analogous to Super Mario Bros. worlds), you roam a larger area, the screen scrolls, and your edible enemies grow more aggressive.
Battle Chess
Electronic Arts
For the original Nintendo Entertainment System. From the back of the box: "It took 2000 years for someone to make Chess better. Battle Chess. Did someone tell you chess is a civilized game played by civilized people? Forget it. Chess is war - ruthless, cutthroat battle where one warrior lives to fight again and the other is left on the battle field. With Battle Chess you don't just imagine the battles, you experience them! You'll hear the clank of armor, as you watch dramatic, 3-dimensional animations of courageous heroes fight to protect their king. Battle Chess is the most incredible chess game you've ever seen - where empires can be won - or lost."
Game Genie Video Game Enhancer
Galoob
Allows for codes to be entered for NES Games.
American Gladiators
GT Interactive
As in the real show, the player use their strength and stamina in order to confront their opponents and the American Gladiators. Players must navigate through the Assault, Powerball, Human Cannonball, The Wall, and Joust over a course of four increasingly difficult skill levels. If you succeed against all difficulty levels (and odds), you will face the Eliminator. When you defeat the Eliminator, you have achieved the ultimate victory (at least in American Gladiators).
Jeopardy!
GT Interactive
Wheel of Fortune
GT Interactive
Complete with Game, dust cover, manual, and box. Box is in good condition with heavy wear on edges and corners. Game has been tested and works
Wheel of Fortune: Family Edition
GT Interactive
Vegas Dream
Hal America
Bring a casino home to your living room! Up to four high-rollers can play Blackjack, Roulette, Keno, or Slot Machines. Odds are you are going to love VEGAS DREAM!
Milon's Secret Castle
Hudson Soft
The player starts out at the bottom floor of a four-story castle named Castle Garland, where each story can only be reached by defeating the boss of the floor below. Although seemingly basic, the only way the bosses can even be reached is by discovering a host of secrets, some of which require sheer luck or a helpful manual. The game has generally been considered extremely difficult and frustrating. There are no save points, and once a player runs out of life, the game is over. However, it is possible to continue, after obtaining the first crystal. Also, unlike in most platform games of the era, Milon doesn't "blink" to become briefly invincible when he is attcked by an enemy, which means his energy can be sapped in no time if he doesn't move away. Each room of the castle contains secrets not unlike those of the Super Mario Bros. series; the secrets are uncovered by shooting bubbles into invisible trigger objects.
Bases Loaded II: Second Season
Jaleco
nes baseball
Goal!
Jaleco
Hoops
Jaleco
***CARTRIDGE ONLY*** CARTRIDGE: 8..... PLEASE SEE THE CONDITION SCALE BELOW TO KNOW WHAT THE THE GAME IS LIKE IN MORE DETAIL
Bases Loaded
JALECO
Vintage NES Game. Take a road down memory lane with this classic.
Blades of Steel
Konami
Nintendo NES game cartridge as shown
Contra
Konami
Fight through dozens of levels blowing away evil baddies as you go! Classic NES game!
Jackal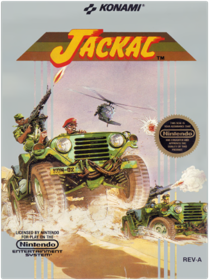 Konami
Cartridge and manual included - game is in good condition with a fully intact label. However there are normal signs of wear such as scratches or other normal marks from aging. All of our games are fully tested before being put into our inventory.
Kings of the Beach
Konami
Kings of the Beach - comes with instruction manual and black protective case!!!!
Metal Gear
Konami
Turn on your Nintendo platform and enter a virtual battle field with Metal Gear. Your mission in this Nintendo game is to guide the character Solid Snake to destroy a dangerous weapon called Metal Gear activated by outer heaven leader Ca Taffy. Use your analytical and logical reasoning skills on this action-adventure game to tackle your enemy. Start this Nintendo game unarmed and then later on proceed to gain control of high-end ammunition as you proceed to the higher levels of the game. Get promoted to higher ranks on this action-adventure game by rescuing captive hostages in enemy buildings. The single player gaming support of the Metal Gear game lets you conquer and complete the entire mission single-handedly. The interesting action-packed levels ensure an enhanced gaming experience.
Rush'n Attack
Konami
Combat action/adventure game for the original Nintendo console, by Konami.
Super C
Konami
Teenage Mutant Ninja Turtles
Konami
WORKING CARTRIDGE ONLY.... Original Nintendo cartridge only. All games are tested prior to being put into our inventory.
Tiny Toon Adventures 2: Trouble in Wackyland
Konami
Based on popular cartoon series, this game is fun for one and all.
Top Gun
Konami
***CARTRIDGE ONLY*** CARTRIDGE: 7.... PLEASE SEE THE CONDITION SCALE BELOW TO KNOW WHAT THE THE GAME IS LIKE IN MORE DETAIL
Top Gun: The Second Mission
Konami
Nes Game version. Here is some information. Top Gun 2: The Second Mission NES Screenshot 3 Storyline: You're the sole pilot between the enemy's Armageddon bound armada and global annihilation. Talk about a rock and a hard place! To save the day, you must survive and conquer three stages of combat and then return safely (though probably severely shot up) to base. In STAGE ONE, destroy all (repeat all) of the enemy's nuclear attack subs. After that, blast the cruise-missile-carrying "Black Jack" bomber. In STAGE TWO, blast your way through a tank infested forest, avoiding Stinger Missiles, until you find and shoot from the sky the doubly-destructive "Hind Alpha" helicopter. Finally, in STAGE THREE, you'll have to soar through a lightning storm while avoiding Killer Satellite-based laser beams. At the end of this stage you'll probably reach the end of the line, as you confront the enemy's "Star Wars" space shuttle. NOTE FROM THE DESIGNERS OF YOUR F-14: When the submarine, tank, forest, lightning or laser beams are on the screen your plane will be incapable of "ROLLING THE DICE." This is to ensure pilot safety, preventing you from pulling too many Gs and blacking out. —From the NES Top Gun 2: The Second Mission instruction manual. Top Gun 2: The Second Mission NES Screenshot 4 Directions: Move out men! Destroy all the enemies in this dog fight. You have complete freedom of movement unlike Top Gun 1, so use it! You can perform a Barrel Roll by tapping Left or Right twice.
Major League Baseball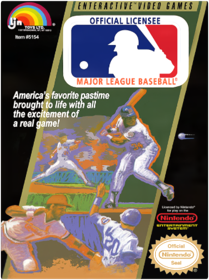 LJN
VERY GOOD WORKING CONDITION GAME CARTRIDGE ONLY
Destination Earthstar
LJN GAMES
Two centuries ago, an alien species known as the Kojans kidnapped the people of Earth and made them their slaves. But the Earthlings never gave hope of returning to their homeland. So they sent you, a brave space ship pilot, to travel through the galaxy in search of the Earth. But beware, as the Kojans won't let you pass without a fight! The gameplay is divided into two parts. You begin in the simulation mode, controlling your ship from first-person perspective. You can change your altitude, speed, and weapons, at the same time paying attention to the fuel you have left. Once you have defeated enough enemies and landed on a planet, the game turns into a side-scrolling shooter in which you must navigate your ship through arcade sequences.
Tiger-Heli
LJN GAMES
The Mission: Shatter the enemy defense lines and destroy the military headquarters of a war-crazed nation. The Time: Sunrise. The Place: Classified information. The Weaponry: Tiger-Heli and you. Tiger-Heli. The result of a billion-dollar defense project. The ultimate stealth helicopter. Turbine powered. Forged from ebony metal and glistening chrome. Armed with heat-seeking missiles and impact bombs. Able to fly in the stratosphere or inches above the ground. With only enough fuel to get you to the heart of the mega-fortress. Getting out is up to you. It's a last-ditch effort to halt a war-crazed nation. Fanatics sworn to overrun any country they can conquer. And, in this war, they've been winning. They have rocket firing tanks, destroyers, and weapons never seen before. You have Tiger-Heli!
Town & Country Surf Designs: Wood & Water Rage
LJN GAMES
Includes game cartridge only. Game is clean and has a full label. This item is in good condition, not like new. It may have small flaws including small scratches or some discoloration from age. All ClassicGameStore games are fully tested before being added to our inventory.
Silent Service
Microprose
Enjoy this great, original game by Nintendo made for the original NES.
Marble Madness
Milton Bradley
Marble Madness is an arcade video game designed by Mark Cerny, and published by Atari Games in 1984. It is a platform game in which the player must guide an onscreen marble through six courses, populated with obstacles and enemies, within a time limit. The player controls the marble by using a trackball. Marble Madness is known for using innovative game technologies. It was Atari's first to use the Atari System 1 hardware and to be programmed in the C programming language. The game was also one of the first to use true stereo sound; previous games used either monaural sound or simulated stereo. In designing the game, Cerny drew inspiration from miniature golf, racing games, and artwork by M. C. Escher. He aimed to create a game that offered a distinct experience with a unique control system. Cerny applied a minimalist approach in designing the appearance of the game's courses and enemies. Throughout development, he was frequently impeded by limitations in technology and had to forgo several design ideas. Upon its release, Marble Madness was commercially successful, becoming a profitable arcade game. Praise among critics focused on the game's difficulty, unique visual design, and stereo soundtrack. The game was ported to numerous platforms and inspired the development of other games. A sequel was developed and planned for release in 1991, but canceled when location testing showed the game could not succeed in competition with other titles.
M.U.L.E.
Mindscape
Paperboy 2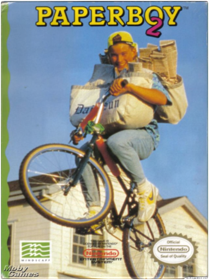 Mindscape
Sequel to the fun and popular Paperboy game, comes to the NES console.
Castlequest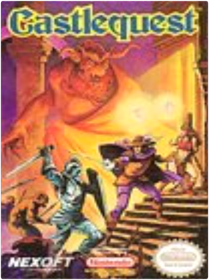 nexoft
Nintendo nes video game
Baseball
Nintendo
***CARTRIDGE ONLY*** CARTRIDGE: 7 ....PLEASE SEE THE CONDITION SCALE BELOW TO KNOW WHAT THE GAME IS LIKE IN MORE DETAIL
Donkey Kong Classics
Nintendo
Game is like new and guaranteed to your satisfaction. Ships from Fla in 24 hrs. h
Dr. Mario
Nintendo
The original NES version of Nintendo's "Dr.Mario" puzzle game.
Dragon Warrior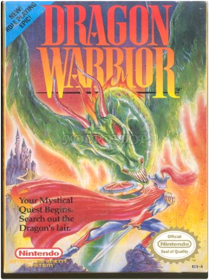 Nintendo
Cartridge NES game
Final Fantasy
Nintendo
An evil shroud covers the world in darkness. You must restore the powers of earth, wind, fire and water to the Four Orbs. Create your own band of 4 Light Warriors from fighters, thieves, martial artists, and magicians. You'll need all their skills to triumph in this massive role-playing adventure. Your treaterous journey takes you to all parts of a strange new world. Explore dangerous castles and dark caverns where dadly perils and great rewards, await at every turn. Hundreds of ferocious monsters block your path. With patience, skill, and cunning, you can defeat them.
Golf
Nintendo
Golf NES game Version.It doesn't get any simpler than this, folks. Golf for the NES cuts an already unexciting sport down to the marrow in the graphics and sound department. If you're looking for flashy sprites and an abundance of color, go buy yourself a newer video game system. Aside from this, Golf is actually pretty true to the real sport. You've got your wind resistance, full club selection, and incredible, incredible difficulty to make a precise shot. Unlike other golfing games, you've actually got to choose which club to use instead of the game choosing for you. You're also required to judge the distance of your shot without any guides or maps showing you where the ball is going to land, making the game both more realistic and challenging. Shortcomings include the aforementioned lackluster graphics (come on, even the NES can do better than this), lack of aiming ability (eight directions just don't cut it), and the lack of a 9 hole option (you always have to play through all 18.)
The Guardian Legend
Nintendo
Hogan's Alley
Nintendo
Light gun series.
Ice Hockey
Nintendo
At the start of the game, and at the start of each period, one player from each team goes to the center of the rink for a "face-off". From there on out, it's non-stop mayhem on the ice, a battle to the end. Will you be the champion?
John Elway's Quarterback
Nintendo
John Elway's Quarterback is the home video game you've been waiting for. So real you can see the game like a quarterback does, from the line of scrimmage. You call the plays, you throw the passes, run the ball, and make the tackles. It's third down and a long four yards to the first down that will stop the clock. No time-outs left. The weak side linebacker is lined up inside his defensive end. They're coming! You check-off the play at the line of scrimmage and call for a quick pass to the tight end. He breaks it for a T.D.! This is the game made for every kid who ever wanted to play the game as well as John Elway.
Mario Bros.
Nintendo
Bump the blocks to turn over the flowers then kick them to gain the most coins
Metroid
Nintendo
It's you against the evil Mother Brain in the thrilling battle of Metroid! You're inside the fortress planet Zebes. The planet of endless secret passageways where the Metroid are multiplying. Left alone the Metroid are harmless. But in the wrong hands they could destroy the galaxy. It's up to you to prevent the Mother Brain that controls Zebes from using the Metroid for evil purposes. But that won't be easy. You'll have to use your spacesuit to absorb valuable energy for your search to gain the use of power items like the Ice Beam, Wave Beam, High Jump Boots and Varia. If you survive, it will be you and your acquired powers against the Mother Brain.
NES Play Action Football
Nintendo
***CARTRIDGE ONLY*** CARTRIDGE: 9.5..... PLEASE SEE THE CONDITION SCALE BELOW TO KNOW WHAT THE GAME IS LIKE IN MORE DETAIL
NFL Football
Nintendo
All of the action of professional football comes to the Nintendo Entertainment System with NFL FOOTBALL. You can play with any of the 28 NFL teams. When you hit the field, there are two playbooks to choose from: a standard NFL playbook and one suited to your team's specific style. Once you call the play, try to burst through the line with dives, spins, high steps, and stiff arms. While playing, stunning Mode-7 graphics allows the camera to pan and zoom to get the best view of the action. If you are true fan, you can challenge your friends to game using the Two-Player mode. Become a team owner in NFL FOOTBALL.
Rad Racer
Nintendo
Works Great!, Good Condition. No box or instructions
Rad Racer II
Nintendo
Rad Racer II is one of the leading car racing games that came out. Which lead to games like Top Gear and many other great games we now enjoy in the gaming world.
Slalom
Nintendo
Race down an amzing 24 different snow coverd runs in the slalom adventure.
StarTropics
Nintendo
STAR TROPICS (NINTENDO OF AMERICA) NES GAME ©1990 - EXCELLENT ORIGINAL
Super Mario Bros.
Nintendo
GAME CART with booklet ONLY Nothing else. But in Like New condition. Fast Shipping with tracking, buy with confidence & thanks for looking
Super Mario Bros. 2
Nintendo
Super Mario Bros. 2, later released in Japan as Super Mario USA (スーパーマリオUSA?), is a 1988 platform game developed and published by Nintendo for the Nintendo Entertainment System as a sequel to the 1985 game Super Mario Bros. The game was also remade as part of the Super Mario All-Stars collection for the Super Nintendo Entertainment System (SNES), released on August 1, 1993, in North America and December 16, 1993, in Europe. It was rereleased on the Wii's Virtual Console in Europe, Australia and New Zealand on May 25, 2007, and the U.S. on July 2, 2007. Super Mario Bros. 2 initially started out as a demo for a vertically scrolling, two-player, cooperative-action game that was scrapped.[4] The reasons included the technical limitations of the NES hardware making it difficult to produce a polished game featuring a vertical orientation and multiplayer features conceived for the project. It was decided to add more Mario-like elements, such as horizontal levels (though many vertically oriented levels were retained in the final project). Since the game had gone through some development, Nintendo created the game Yume Kōjō: Doki Doki Panic for the Family Computer Disk System during its agreement with the Fuji Television company. The game was changed in order to fit with the theme of the mascots of the company and their adventure. After Nintendo of America had concluded that the Japanese version of Super Mario Bros. 2 was too difficult, Nintendo redeveloped Yume Kōjō: Doki Doki Panic into Super Mario Bros. 2 for the international market outside of Japan.[4] The game became a commercial success, and eventually the game became well received enough that it was also released in Japan as well.
Super Mario Bros. / Duck Hunt
Nintendo
The Classic Mega Hit "Super Mario Bros." and Arcade Shooter "Duck Hunt" 2 game cartridge that came stock with most Nintendo Entertainment Systems. A Must have for every NES owner, Collector, or seller trying to put together an full NES Set.
Super Mario Bros. 3
Nintendo
Super Spike V'Ball/Nintendo World Cup
Nintendo
Super Spike V'Ball and Nintendo World Cup on the same cartridge.
Tennis
Nintendo
Original Tennis for the Nintendo Entertainment System.
Tetris
Nintendo
The Relentless Building Block Game official Niontendo Product, Game Pak
To The Earth
Nintendo
THIS IS THE NES NINTENDO VIDEO GAME VERSION. GREAT GAME. VERY HARD TO FIND. NICE COLLECTOR'S EDITION. A MUST BUY. HERE IS SOME INFO ON THE GAME. In the year 2050 the Earth has been attacked by the villainous Raggosians and it is your job to save the planet! You will need to pilot your ship, The Tempest, to the planets Uranus, Saturn, Jupiter, and Earth in order to retrieve certain minerals which can be used to fight the Raggosians. The Raggosians will be trying to stop you from reaching these destinations, though, so you need to use the Nintendo zapper to fight back. Numerous (and very fast!) enemy ships will fly by on the screen and attempt to destroy your ship. You need to shoot the ships and incoming missiles before your ship takes too much damage. From time to time a comet will fly by, and if you shoot this a temporary barrier will be formed that protects your ship from enemy fire. Occasionally you can also earn a smart bomb which appears in the bottom of the screen and destroys all enemies if shot. Each level ends with a large boss which will take multiple hits to destroy.
Volleyball
Nintendo
Videogame version of the popular ball game. Before each game the player can choose the number of human players, the team's gender, and what nation they represent (out of 8 countries). When the game begins, the aim is to hit the ball over the net and past your opponent's team. You can do this by passing to another team member and having them take advantage of weak areas in the defense of the other team. You must similarly defend against such onslaught when the ball is on the opponent's side. The 2-Player game replaces the computer AI with a human opponent.
World Class Track Meet
Nintendo
Times have changed, but looking at the Wii, Nintendo were always headed in that direction. I remember the commercials when the Power-pad came out and this was the game that was mostly used to advertise the then 'new' accessory. They had aerobics games and right here, you even had a running game. The game is as advertised - track & field. Going off of memory, but you have a series of events that you can go through in a sort of mini-Olympiad. You have a 100 meter dash, high hurdles, long jump and I think there was even the triple-jump as well. The characters that you run against ranged from a slower guy (aptly named "Turtle") and the fastest was I think named "Cheetah". You could also run against your friends on this too. This was released back in the mid-late 1980's, and though you could get the accessory separately there was a Nintendo '3' pack that I think had Track & Field, the gun with duckhunt and Super Mario brothers. While the game was ok, getting to a level to be able to beat the fastest runners proved very difficult to do and some events like the triple-jump were tricky to figure out. Still, for nostalgia's sake, it was a fun game and looking at the exercise aspect, Nintendo was way ahead of the game (no pun intended). I do have one spoiler - so look away if you don't want to know this quasi-cheat... I remember some kids messing around with this and just hitting the pads very quickly with their fists to get the sprinters to run faster. :)
The Legend of Zelda
Nintendo
Ganon, the King of Evil, breaks free from the Dark World and captures Hyrule's beloved Princess Zelda. Before she is caught, Zelda manages to shatter the Triforce of Wisdom and scatter its eight pieces throughout Hyrule. Link swears to recover the Triforce pieces and rescue Princess Zelda from Ganon's clutches.
Zelda II: The Adventure of Link
Nintendo
Sequel to the popular Legend of Zelda game, by Nintendo, for the original NES console.
Deadly Towers
Nintendo BRODERBUND
YOU ARE YOUNG PRINCE MYER SETTING OUT TO DEFEND THE ANCIENT KINGDOM OF WILLNER RUBAS KING OF THE DEVILS HAS BUILT A CASTLE IN THE NORTH AND IS PREPARING TO INVADE YOUR KINGDOM - ARCADE ACTION WITH ROLE PLAYING GAME DEPTH STATE OF THE ART GRAPHICS AND MUSIC SPECIAL PASSWORD SYSTEM ALLOWS PLAYERS TO CONTINUE AA GAME IN PROGRESS
Anticipation
Rare
Nintendos first board game
Championship Bowling
Romstar
A unique sports bowling game, where you get to pick one of four unique characters with different styles and looks to compete in bowling.
Lee Trevino's Fighting Golf
SNK
CARTRIDGE AND MANUAL - game is in good condition with a fully intact label. However there are normal signs of wear such as scratches or other normal marks from aging. All of our games are fully tested before being put into our inventory.
Batman: Return of the Joker
Sunsoft
Rare, often out of print Batman related game for the original Nintendo (NES) console.
Bubble Bobble
Taito Video Games
NES Game. One of the original greats.
Sky Shark
Taito Video Games
nes air assault game
Tecmo Bowl
Tecmo
Considered by most to be the best football game on the NES, this title is much more fun when played with multiple people.
Tecmo Super Bowl
Tecmo
**SUPER AWESOME** Tecmo Super Bowl (for NES) ::: Great Item, Great Shape, Great Gameplay —THANK YOU— (Be sure to choose expedited delivery and receive an extra free \~game~/) * cart is in very nice shape
Gyruss
Ultra
A vintage space game for the NES.
Teenage Mutant Ninja Turtles II: The Arcade Game
Ultra Games
Clash at Demonhead
Vic Tokai, Inc.
Nes cartridge
Spot: The Video Game
Virgin Interactive
King of Kings: The Early Years
Wisdom Tree
Experience the majestic birth and childhood of Christ as you proclaim His honor and endeavor to experience the prophecies. Collect gifts for Baby Jesus; escape to Egypt to avoid the wrath of King Herod; and search for young Jesus in the holy city of Jerusalem. Test your Bible skills by answering scores of Bible questions designed to complement the game play.
Super Mario World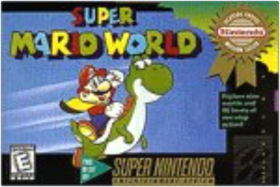 Nintendo
Super Mario World (Super Nintendo) Mario and his dinosaur companion, Yoshi, are looking for the dinosaur eggs Bowser has stolen and placed in seven castles. Many secret exits aid Mario in finding his way to Bowser's castle, completing 74 areas and finding all 96 exits. With multiple layers of 3-D scrolling landscapes, find items including, a feather that gives Mario a cape allowing him to fly. and a flower so he can shoot fireballs. For any Mario fan this game is a must.
Trauma Center: Second Opinion
Atlus
The follow-up to Trauma Center - Under the Knife, this is the first surgical video game for the Nintendo Wii. Sure, we've all imagined what it would be like to become a doctor. Years of medical school, residency, and clinic duty eventually pay off in a rewarding position saving people's lives. Or, you could skip all that and just put in a few hours after dinner. The critically acclaimed medical drama simulation is making a house call on your Wii! Dr. Derek Stiles is back, but he's not the only surgeon on call a new player joins the team, bringing along everything the doctor ordered: difficulty modes, new surgical implements like the defibrillator, and an exciting never-before-seen conclusion. So what are you waiting for? If one dose of Trauma Center wasn't enough, it's time you got a Second Opinion!
Monopoly
Electronic Arts
Electronic Arts Monopoly Wii The Monopoly video games promise afresh take on the timeless classic with accessible gameplay for players of all ages and skill levels. The all-new digital gaming edition brings a party twist and features 4-player simultaneous play, ensuring that everyone is engaged and allowing thewhole family to get involved in the fun and play together. Faster gameplay eliminates downtime freeing up players to wheel and deal their way throughsome of the most recognizable cities and landmarks from around the world. Families can fill up their passports as they try to unlock new and never-before-seen game boards or challenge each other to fun interactive mini-games like breaking out of thejail cell and running away with all the loot. Play in offline single or multi-player mode and compete to own it all and win!
Lego Indiana Jones: The Original Adventures - Nintendo Wii
LucasArts
LEGO INDIANA JONES: THE ORIGINAL ADVENTURES TAKES THE FUN AND CREATIVE CONSTRUCTION OF LEGO AND COMBINES IT WITH THE WITS, DARING AND NON-STOP ACTION FROM THE ORIGINAL CINEMATIC ADVEN TURESTHAT ENTHRALLED AUDIENCES EVERYWHERE. WITH A UNIQUE TONGUE-IN-CHEEK TAKE ON THE ORIGINAL ADVENTURES, LEGO INDI
Lego Star Wars: The Complete Saga - Nintendo Wii
LucasArts
Building on the success of both LEGO Star Wars videogames LEGO Star Wars: The Complete Saga enables families to play through the events of all six Star Wars movies in one videogame for the first time ever. From the Trade Federation's "negotiations" with Obi-Wan Kenobi and Qui-Gon Jinn in The Phantom Menace to the space battle above Endor in Return of the Jedi The Complete Saga allows players to kick some brick through 36 Story Mode levels including Episode II's newly added high-speed pursuit of bounty hunter Zam Wessell. Traveller's Tales has revamped levels from the original LEGO Star Wars to match the gameplay evolutions found in LEGO Star Wars II and Prequel Trilogy characters can now be mixed and matched with those from the Original Trilogy — more than 160 in all. Features include new playable characters an upgraded character customizer and new bonus levels. Format: WII Genre: ACTION/ADVENTURE (VG) Age: 023272330637 UPC: 023272330637 Manufacturer No: 33063
The Legend of Zelda: Twilight Princess
Nintendo
The Legend of Zelda: Twilight Princess Wii The most epic Zelda ever launches with Wii! When an evil darkness enshrouds the land of Hyrule, a young farm boy named Link must awaken the hero — and the animal — within. When Link travels to the Twilight Realm, he transforms into a wolf and must scour the land with the help of a mysterious girl named Midna. Besides his trusty sword and shield, Link will use his bow and arrows by aiming with the Wii Remote controller, fight while on horseback and use a wealth of other items, both new and old.Arm Link The Wii Remote and Nunchuk controllers are used for a variety of game activities from fishing to projectile-weapon aiming. The game features incredibly precise aiming control using the Wii Remote controller. Use the controllers for sword swings, spin attacks and shield shoves.Thrilling Adventure Players ride into battle against troops of foul creatures and wield a sword and shield with the Wii Remote and Nunchuk controllers, then take on massive bosses that must be seen to be believed.Mind & Muscle Many puzzles stand between Link and the fulfillment of his quest, so players must sharpen their wits as they hunt for weapons and items.
Mario Kart Wii
Nintendo
Get behind the wheel! Perform speed-boosting flips and wheelies with the flick of a Wii Remote, or grab a Wii Wheel for even more fast-paced fun! Play friends locally on a single Wii, or hop onto Nintendo WFC for the biggest worldwide race yet! Wii Wheel sold separately. Broadband Internet access required for online play.
Metroid Prime Trilogy
Nintendo
Product Description All three games in the trilogy have been crafted into one unbelievable package, with a newly implemented exclusive title menu with direct access to any of the three titles. Not only that, but players can also earn awards by collecting tokens through their progress across the trilogy, making for an ideal award system. Both Metroid Prime and Metroid Prime 2: Echoes games have been updated with the refined control system of Metroid Prime 3: Corruption. Moving is done with the Control Stick and the Nunchuck controller, while the Wii Remote controller controls the Arm Cannon's crosshairs, allowing the player to smoothly and more accurately aim by pointing at the screen. The camera will move where the player points, making for more intuitive control, and allowing players to look around and attack while moving. Three different sensitivity settings allow everyone from beginners to FPS veterans to find a response speed to their liking. In addition to the new control, the Nintendo GameCube games have new features and improvements such as 16x9 wide-screen presentation, and improved HUD system to accommodate the new pointer control, some graphic improvements, and newly added new difficulty levels.
Metroid: Other M
Nintendo
Metroid Franchise's Heroine Gets Personal. For decades, Samus Aran has been known as one of the first female protagonists in video games and one of the most enigmatic. Having traded her haunted past for the solitary life of a bounty hunter, Samus finally tells her own tale in this revealing, personal story of her failings, her flaws and ultimately her motivation. Metroid: Other M is an unprecedented collaboration that blends the slick, action-packed production of the world-renowned Team Ninja development team with the game design talents of the creators of the original Metroid. Metroid: Other M is a dramatic new direction for a legendary franchise and a bold new blend between cinematics, storytelling and the best in interactive entertainment.
New Super Mario Bros. Wii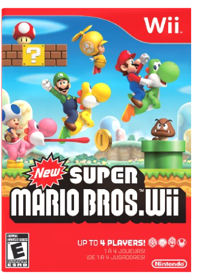 Nintendo
New Super Mario Bros. Wii
New Super Mario Bros. U & New Super Luigi U
Nintendo
Limited edition bundle
Super Paper Mario
Nintendo
The newest chapter of the Paper Mario story isn't just out of this world…it's out of this dimension! What at first glance appears to be a 2-D sidescroller ripped straight from the stylized pages of the Paper Mario universe soon turns into a hilarious dimension-shifting platformer possible only on Wii! 2-D...AND 3-D! Run through vibrant 2-D worlds, stomping on enemies and breaking blocks....then, with the press of a button, flip into 3-D! In the 3rd dimension, you'll find hidden paths, battle foes, and uncover secrets as you explore the previously invisible depth of the 2-D landscapes! Unique Wii controls! Hold the Wii Remote sideways and control the game in classic Super Mario Bros. style! You can shake the Wii Remote to pull off stylish moves and break out of frigid ice and even point directly at the screen to get helpful hints from your sidekick. Not only that, but you'll also play as Peach and Bowser, both with their own sets of essential skills. Hilarious adventure! When a mysterious villain kidnaps Peach and Bowser and forces them to get married, their union creates a rift of dark energy that threatens to tear the universe apart! Hilarious characters, laugh-out-loud plot twists, and unforgettable dimensions await as Mario makes his way through eight worlds, each more memorable than the last!
Super Mario Galaxy
Nintendo
As always with any Nintendo game console, the first Super Mario game is one of the defining experiences on the system. Join Mario as he ushers in a new era of video games, defying gravity across all the planets in the galaxy. When some creature escapes into space with Princess Peach, Mario gives chase, exploring bizarre planets all across the galaxy. Since he's in space, Mario can perform mind-bending jumps unlike anything he's done before. He'll also have a wealth of new moves that are all based around tilting, pointing and shaking the Wii Remote.
Super Mario Galaxy 2
Nintendo
Launch into a new universe of gravity warping worlds in the sequel to one of the greatest games of all time! Yoshi joins Mario as they traverse a wild variety of galaxies exploding with imagination, helping out our hero as he gulps enemies, runs at super speed, or inflates like a blimp to reach high cliff tops. Whether Mario's leaping into orbit around tiny micro-planets, tumbling through rooms with constantly flip-flopping gravity, or drilling through craggy worlds to emerge on the other side, he'll need new abilities and serious jumping skills to survive the all-new challenges ahead!
Super Smash Bros. Brawl
Nintendo
The third instalment in Nintendo's popular Super Smash Bros. fighter franchise debuts on the Wii in Super Smash Bros. Brawl. Loaded with all the characters and features players have loved from the two previous versions, plus much more, it is a worthy addition to the series and yet another must-have title for the Nintendo Wii. Engage the rage with Super Smash Bros. Brawl! The third instalment of the incredibly successful Super Smash Bros. series is now on the Wii, The roster islonger than ever, but that just means more butt to kick across over a dozen different, graphic-rich stages with original moves, new modified moves, and a brand-new super attack called Final Smash! Old favourites like Mario, Link, Peach and Kirby are now joined by such exciting newcomers as Wario, Solid Snake and Sonic the Hedgehog. With a variety of new modes, an absolutely epic soundtrack and the ability to play with distant friends through online multiplayer, this is a game you'll have to break your own fingers to put down. Original soundtrack from 36 different artists Online Multiplayer. See your favourite Smash Bros. character, redesigned from their most recent games, brawl onto your screen once again! A host of new characters to fight with, including Sonic, Pit from Kid Icarus, Wario and Diddy Kong. More than a dozen gorgeously-rendered stages. New special moves and attacks, including the groundbreaking Final Smash. New items and assist trophies.
Wii Play
Nintendo
Wii Play collects nine quick and addictive games that are easy to pick up and play and hard to put away. Thanks to the intuitive controls of the Wii Remote, even the most inexperienced gamers will have no trouble mastering the controls.
Wii Sports
Nintendo
a great game
The Legend of Zelda: Twilight Princess
Nintendo
The Legend of Zelda: Twilight Princess Wii The most epic Zelda ever launches with Wii! When an evil darkness enshrouds the land of Hyrule, a young farm boy named Link must awaken the hero — and the animal — within. When Link travels to the Twilight Realm, he transforms into a wolf and must scour the land with the help of a mysterious girl named Midna. Besides his trusty sword and shield, Link will use his bow and arrows by aiming with the Wii Remote controller, fight while on horseback and use a wealth of other items, both new and old.Arm Link The Wii Remote and Nunchuk controllers are used for a variety of game activities from fishing to projectile-weapon aiming. The game features incredibly precise aiming control using the Wii Remote controller. Use the controllers for sword swings, spin attacks and shield shoves.Thrilling Adventure Players ride into battle against troops of foul creatures and wield a sword and shield with the Wii Remote and Nunchuk controllers, then take on massive bosses that must be seen to be believed.Mind & Muscle Many puzzles stand between Link and the fulfillment of his quest, so players must sharpen their wits as they hunt for weapons and items.
Wall-E - Nintendo Wii
THQ
Due to rampant consumerism, sometime in the near future, the Earth is so covered with trash and pollution that it forces an exodus off the planet. But before humanity departs they build millions of little robots programmed to clean up the planet. Unfortunately, the cleanup program doesn't go quite as planned, leaving the cleanup solely in the hands of our little robot hero WALLÃ'·E and his love interest EVE.
No More Heroes
UBI Soft
You are Travis Touchdown, a normal guy (with an otaku geek streak) who wins a Beam Katana through an online auction and uses the weapon to start a new career as a professional killer. One day, an assassin named Helter Skelter appears before Travis and the two face off in a battle. Travis emerges victorious and finds himself in the presence of Silvia Christel, a mysterious French woman who claims to be an agent with the UAA. Silvia gives Travis official rank of 11 in the organization. Now, it's up to you to become #1. No More Heroes takes place in the city of Santa Destroy, and you are free to explore the town to your liking, taking on missions large and small to collect money and purchase new weapons as you work up towards the 10 main killing contracts. Gameplay is all about using your Beam Katana (via Wii remote) to defeat enemies.
Super Mario Maker (Idea Book Bundle)
The ultimate evolution of Super Mario Bros. is here!
Mario experience of your dreams has arrived and is bursting with creativity…including yours! Play a near-limitless number of intensely creative Super Mario levels from players around the world. It's easy enough to create your own levels with the Wii U GamePad controller that it may feel like you're simply sketching out your ideas on paper, but you can now bring enemies and objects into a playable course in
ways you could only dream of before. What was impossible in  traditional Mario games is now impossibly fun, so let your imagination run wild!

FEATURES:
Play a near-limitless number of Mario levels created by Nintendo and players around the world.Create your own Mario levels by using the Wii U GamePad controller touch screen to add enemies, blocks, pipes and more.Break the conventions of traditional Super Mario gameplay by blending enemies, traps and items into unexpected twists, like Piranha Plant-shooting cannons, power-up-tossing Lakitus, or even Hammer Bros. riding on Bowser while bouncing on trampolines..Touch control, instant editing and a robust online ranking and search system makes creating, playing and sharing a seamless process.Switch between four distinct themes, each with different art styles and features:Super Mario Bros., Super Mario Bros. 3, Super Mario World, and New Super Mario Bros. U.Transform into different characters at random with the new Mystery Mushroom item.Expand the roster of possible characters by completing 100 Mario Challenge mode or tapping compatible amiibo.Tap a 30th Anniversary Mario amiibo figure to the Wii U GamePad controller to add a Big Mushroom power-up to your course!Each retail copy of the game will come with a special booklet that offers fun ideas for designing courses.

System Requirements:Supported Platforms: Nintendo - Wii U         

Nintendo account required for game activation and installation
Kirby & The Rainbow Curse
Nintendo
Features: Take control of Kirby, and his transformations, with the stroke of a stylus Gamepad controls Kirby's forms in unique ways, draw lines on Gamepad to guide Kirby Kirby comes to life in a world of clay!
Mario Kart 8
Nintendo
Feel the rush as your kart rockets across the ceiling. Race upside-down and along walls on anti-gravity tracks in the most action-fueled Mario Kart game yet. Take on racers across the globe and share videos of your greatest moments via Mario Kart TV.

Driving up a waterfall or across the ceiling can provide an intense adrenaline rush, but that's not all anti-gravity is good for. It also provides a wild new gameplay mechanic: if you collide into other racers in zero-g, you'll earn speed boosts worth bragging about. Upload and share your best moments and watch your friends' using Mario Kart TV. Returning features include 12-player online play, gliders, underwater racing, motorbikes, and custom karts. You can even race as Bowser's seven minions, the Koopalings.

Race along walls and upside-down on twisting anti-gravity racetracks

Share highlight videos of your greatest moments with friends via the Mario Kart TV feature and Miiverse

Race and battle with friends locally or connect online to play with random players from around the world

Fan favorite features from past Mario Kart games include gliders, underwater racing, motorbikes, mid-air tricks, and more

For the first time ever, play as all seven of Bowser's minions, the Koopalings

Crisp HD graphics and fluid animation offers players a visually stunning Mario KartView larger

Start your Karts for some flippin' funView larger

Brand new item chomps at racing enemiesView larger

Race alongside your favorite charactersView larger

Race as all of Bowser's minions, the Koopalings, for the first time ever
Captain Toad: Treasure Tracker
Nintendo
Ready for adventure? Captain Toad stars in his own puzzling quest through maze-like mini-universes—only on Wii U. Each stage is stacked with tricks and traps, so our stubby hero will have to use his wits to dodge dangers and track those treasures. Survive smoldering volcanoes, hazardous steam engines, haunted houses, and more—all in the name of treasure!
Super Smash Bros. for Wii U
Nintendo
Battle it out as Nintendo's greatest heroes on the Wii U console Face off against the biggest roster of Nintendo all-stars ever assembled! Send your rivals flying with powerful attacks to earn all-new customizations and equipment that trick out your fighter's moves and stats. Then power-up and train intelligent amiibo figures* to take on your friends! The multiplayer showdown** you know and love is now on the Wii U console! Take on all comers as Mario, Mega Man, Sonic, and more gaming greats. Or tap an amiibo* to the Wii U GamePad controller to train it up by battling with or against it. You can even pit your amiibo against a friends' to see how your training methods stack up.
Yoshi's Woolly World
Nintendo
Yoshi's Woolly World. Set off with a friend* through a wild woolly world in this grand Yoshi adventure! A treasure trove of clever handicraft stages are ready for you to explore. Unravel their secrets and color your world with a spectrum of yarn balls to knit new paths and get every last collectible. *Additional accessories required for multiplayer; sold separately.
The Legend of Zelda: Twilight Princess HD
Nintendo
A dark force, shrouded in twilight, has invaded the vast land of Hyrule.
The Legend of Zelda: The Wind Waker HD
Nintendo of America
The Legend of Zelda: The Wind Waker makes its glorious return on the Wii U console with gorgeous HD graphics and enhanced game features. In this timeless classic with a unique and colorful art style, you will guide Link as he sets out on the massive Great Sea to find his kidnapped sister. Sail the seas in search of lost islands, fight fearsome enemies, take on mighty bosses and seek out the legendary Triforce.
Shovel Knight
Yacht Club Games
Prepare to taste Shovel Justice!With vibrant graphics and pitch-perfect gameplay, Shovel Knight breaks new ground in this 8-bit adventure! Become Shovel Knight, wielder of the Shovel Blade, as he runs, jumps, and battles in a quest for his lost beloved. Take down the nefarious knights of the Order of No Quarter and their menacing leader, The Enchantress. Uphold the virtues of Shovelry, earn relics and riches, and discover the true meaning of shovel justice!
Resident Evil 3: Nemesis
Capcom
Another great Resident Evil game by Capcom. New monsters, missions and puzzles.
Dance Dance Revolution Konamix
Konami
Turn this up! America is jamming with Dance Dance Revolution: Konamix. The arcade phenomenon of out-voguing everybody on the dance floor with your smooth moves comes home to the PlayStation. The game includes solid grooves from Japan's dance sensation and you can shake it down to 28 popping tracks pulled from Konami's all-time best Dance Mania tracks. Move it wild to slightly J-Pop and throw down fierce to some manic techno. And to get the best of it all, throw a party with a few rounds of 2-player Dance Dance dance-offs! Plus, with the special Dance Pad (available with the Dance Dance Revolution Dance Pad set), you can get your friends and neighbors on the floor and down on their feet just like in the arcade. Turn that beat and show off how you like to move it!
Parappa the Rapper
Sony
Original music video game: help Parappa and his Pals rap with the best of the master rappers to fun music mixes.
Borderlands 2: Greatest Hits Edition
2K
Borderlands 2 furthers the distinct blending of First Person Shooter and Role Playing genres to create the true evolution of the Role Playing Shooter. Team up with up to three other players for four-player online goodness or go old-school with two-player split-screen couch sharing mayhem as you spend hours leveling up your character and equipping them with one of the millions of badass weapons. Borderlands 2 features a new visually stunning array of procedurally generated guns, shields, grenades, artifacts, enemies and more. Choose one of the four new character classes to be taken through a carefully crafted and connected story to all new and surprising environments across the living planet of Pandora. Make new friends, arm them to the teeth and fight alongside them on your relentless quest for revenge and redemption.
The Elder Scrolls IV: Oblivion
Bethesda
In The Elder Scrolls IV: Oblivion for PlayStation 3, the Emperor of Tamriel has been assassinated and the killer still runs loose- meanwhile, no heir sits on the throne. With no Emperor upon the throne, the gates of Oblivion open wide and demons invade. Your quest is to find the lost heir and place him on the throne, before demons destroy the land. Each character is in complete control of their own destiny in this single-player fantasy RPG, which features groundbreaking levels of non-player AI.
Fallout 3: Game of The Year Edition
Bethesda
Vault-Tec engineers have worked around the clock on an interactive reproduction of Wasteland life for you to enjoy from the comfort of your own vault. Included is an expansive world, unique combat, shockingly realistic visuals, tons of player choice, and an incredible cast of dynamic characters. Every minute is a fight for survival against the terrors of the outside world – radiation, Super Mutants, and hostile mutated creatures. From Vault-Tec, America's First Choice in Post Nuclear Simulation.
Fallout: New Vegas
Bethesda
Welcome to Vegas. New Vegas. It's the kind of town where you dig your own grave prior to being shot in the head and left for dead...and that's before things really get ugly. It's a town of dreamers and desperados being torn apart by warring factions vying for complete control of this desert oasis. It's a place where the right kind of person with the right kind of weaponry can really make a name for themselves, and make more than an enemy or two along the way. As you battle your way across the heat-blasted Mojave Wasteland, the colossal Hoover Dam, and the neon drenched Vegas Strip, you'll be introduced to a colorful cast of characters, power-hungry factions, special weapons, mutated creatures and much more. Choose sides in the upcoming war or declare "winner takes all" and crown yourself the King of New Vegas in this follow-up to the 2008 videogame of the year, Fallout 3. Enjoy your stay.
Mass Effect 2
Electronic Arts
The award winning makers of Mass Effect are bringing the Mass Effect franchise to Playstation 3. Two years after Commander Shepard repelled invading Reapers bent on the destruction of all organic life, a mysterious new enemy has emerged. On the fringes of known space, entire human colonies are vanishing. As Commander Shepard, you must assemble the galaxy's deadliest team and stop the most terrifying threat humanity has ever faced.
Mass Effect 3
Electronic Arts
Earth is burning. Striking from beyond known space, a race of terrifying machines have begun their destruction of the human race. As Commander Shepard, an Alliance Marine, your only hope for saving mankind is to rally the civilizations of the galaxy and launch one final mission to take back the Earth.
Metal Gear Solid HD Collection
Konami
From the critically acclaimed director, Hideo Kojima, Metal Gear Solid HD Collection offers a handful of the most popular Metal Gear Solid titles from the past in true HD for the first time ever. Featuring three complete games, Metal Gear Solid 2: Sons of Liberty, Metal Gear Solid: Snake Eater and Metal Gear Solid: Peace Walker, the HD Collection offers old and new fans a chance to experience the epic game play, design and storytelling of the MGS franchise. The "Metal Gear Solid (MGS)" series is the seminal work of Hideo Kojima, Japan's master game creator, and the progenitor of the stealth action game genre. The series has become a global phenomenon, with over 27 million copies sold worldwide. The player controls a secret agent from an elite special forces unit who is sent on solo sneaking missions through enemy installations, vast jungles, and sometimes even the thick of battle. Alone and surrounded by the enemy, even a special forces agent will find it tough to come out alive. But that is the secret behind the series' popularity-the cerebral challenge of figuring out how to avoid combat, and the thrill of sneaking through enemy territory undetected.The MGS series is also known for its storyline, which blends seamlessly with the gameplay. The scenarios are based on extensive research and incorporate the drama of actual developments in society. These elements have made MGS what it is today: a mature work of entertainment that transcends national borders and the confines of video games, and one of the leading products of the Japanese content business.
Dark Souls II
Namco
Developed by From Software, Dark Souls II is the highly anticipated sequel to the punishing 2011 breakout hit Dark Souls (9.5/10 Game Spot, 9.0/10 IGN). the unique old school action RPG experience captivated imaginations of gamers worldwide with incredible challenge and intense emotional reward. Dark Souls II brings the franchise's renowned difficulty and gripping gameplay innovations to both single and multiplayer experiences.
Grand Theft Auto V
Rockstar Games
Los Santos: a sprawling sun-soaked metropolis full of self-help gurus, starlets and fading celebrities, once the envy of the Western world, now struggling to stay afloat in an era of economic uncertainty and cheap reality TV. Amidst the turmoil, three very different criminals plot their own chances of survival and success: Franklin, a former street gangster, now looking for real opportunities and serious money; Michael, a professional ex-con whose retirement is a lot less rosy than he hoped it would be; and Trevor, a violent maniac driven by the chance of a cheap high and the next big score. Running out of options, the crew risks everything in a series of daring and dangerous heists that could set them up for life.

Grand Theft Auto V is the largest and most ambitious game Rockstar Games has yet created, and takes full advantage of every ounce of processing power available in the current generation of consoles. In order to provide the best possible experience for such a massive and detailed world, the game will have installation requirements on the PlayStation®3 system.

Grand Theft Auto V ships on one disc and will install content as soon as you insert the game. The install is roughly 8GB, and players will be able to play as soon as the install is complete.
The ICO and Shadow of the Colossus Collection
Sony Computer Entertainment
The ICO and Shadow of the Colossus Collection
The Last of Us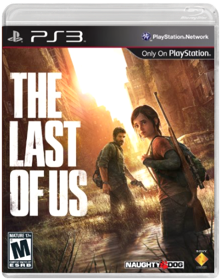 Sony Computer Entertainment
One of the Highest Rated Games of 2013

The Last of Us is a third-person Survival-Action game that utilizes choices in gameplay action to develop the game storyline, as well as the relationship between the two main characters, Joel and Ellie, made exclusively for the PS3 system. The game features a combination of combat, exploration, stealth, and platforming game mechanics. Although Joel and Ellie are both residents of a post-apocalyptic world, they have had different experiences that affect the way they see the world around them, and feel about what they see and do. Joel had a life before the pandemic, while the world of the pandemic is all that Ellie has ever known. As part of Joel's job to smuggle Ellie out of the quarantine zone, players have to make choices in how they deal with enemies, which include, roving gangs of human scavengers not unlike themselves, military elements and infected civilians.

Players also have an opportunity to interact together with elements of the world around them, which helps to build the bond between Joel and Ellie. Resources in the game are scarce, making overwhelming use of firepower unlikely and unwise in conflicts, and resource gathering missions. In addition, most other residents of the ruined world that are encountered are just trying to survive - blurring the line between good guys and bad guys. Finally, game AI react differently depending on the specifics of the player's actions, making choice in gameplay a major consideration. The Last of Us: Left Behind (Sold Separately)

Also coming soon is The Last of Us: Left Behind DLC where Ellie returns as new light is shed on her relationship with Riley, her best friend from the military boarding school they both grew up in. After inexplicably disappearing for weeks, Riley reemerges in Ellie's life with a surprising revelation. The two sneak out of their school for the last time, leading to a series of events that will forever change both of their lives. The Last of Us Signature Series Strategy Guide (Sold Separately)

The guide will point players in the right direction with game-tested strategies and tips and show how to best navigate this dangerous new world cast upon them. It will include a complete walkthrough, illustrated area maps, multiplayer maps and strategies, character bios and more. This resource will reveal all the necessary strategies without spoiling the story or the game! Complete walkthroughHighly detailed single-player and multiplayer mapsExpert tactics for every single aspect of multiplayer game playLearn about every and enemy item that Joel and Ellie will face during their travels
Little Big Planet 2: Special Edition
Sony Computer Entertainment
PS3 LITTLE BIG PLANET 2:SPECIAL ED
LittleBigPlanet - Game of the Year Edition
Sony Computer Entertainment
Winner of over 80 multiple awards, including several Game of the Year awards, LittleBigPlanet returns with its signature "Play, Create and Share" experience plus irresistible new bonus content. Players can play 18 brand new levels, create their own experiences with bonus costume and level packs, then go online to share their levels with other players around the world or play over 1 Million user generated levels that have been uploaded since launch. There is no better time to join the world of LBP.
MLB 13 The Show
Sony Computer Entertainment
So Real, It's Unreal

MLB 13 The Show allows you to experience the MLB like never before. Its jaw-dropping realism doesn't just capture every detail and mechanic of the sport, it captures the raw emotion of Major League Baseball. Improvements to Diamond Dynasty, Franchise, and Road To The Show modes make MLB 13 The Show the most realistic baseball game ever, while the addition of all-new game modes expand gameplay options even further. View larger View larger View larger

If it can happen in baseball, you can experience it in The Show. Whether it's the moment you're called up to the majors, a sacrifice fly to left field, or crushing a walk-off homer to win it all, every big, emotional moment in baseball can be yours. And The Show delivers it with such realism, it's like it really happened. Features Multiple all-new game modes bring unique gameplay experiences to The ShowAll-New Playoff Mode includes an unparalleled in-stadium atmosphere that replicates the excitement and tension of October baseballRevamped Franchise and Road To The Show modes with expanded options and new gameplay experiencesCompletely-new beginner mode and instructional enhancements make The Show the best pick-up and play baseball experienceImproved Play Now mode streamlines gameplay for the option to play faster, simpler gamesNew commentary and a new voice in the booth provide updated analysis and color commentarySave files between the PS3 and the PS Vita via the PlayStation Network. Sync your Season, Franchise, and Road to the Show saves and load them on either platform to continue the action anywhere.
Resistance 2
Sony Computer Entertainment
After a valiant struggle to stop the Chimera invasion in Europe, mankind must make its last stand on the shores of the United States. In the highly anticipated follow-up to the best-selling PLAYSTATION(R)3 game, Resistance 2(TM) places players in the heroic role of Sgt. Nathan Hale as he struggles against overwhelming odds to defend mankind from the unstoppable Chimera. While wrestling with this insidious war machine, Hale must also battle the virus raging inside of his own body that threatens to transform him into the very creatures he fights against. Powered by Insomniac Games' third-generation PLAYSTATION(R)3 technology, Resistance 2(TM) will deliver unprecedented console gaming breakthroughs with a stand-alone eight-player, class-based online co-op campaign (up to 8 players) and 60-player online competitive multiplayer. An epic single-player campaign will feature a new weapons arsenal to combat giant boss encounters that increase the scale of the conflict to new heights. And players will enjoy a new level of community support. Single-player campaign featuring large-scale conflict and epic boss battles take place across a variety of massive and unique environments in the United States Breakthrough, class-based 8-player online co-op featuring a separate story-driven campaign Unprecedented squad-based 60-player online competitive multiplayer battles Releasing Fall 2008
Resistance: Fall of Man
Sony Computer Entertainment
Resistance: Fall of Man PS3
Uncharted 2: Among Thieves
Sony Computer Entertainment
Uncharted 2: Among Thieves
Uncharted 3: Drake's Deception
Sony Computer Entertainment
A search for the fabled "Atlantis of the Sands" propels fortune hunter Nathan Drake on a trek into the heart of the Arabian Desert. When the terrible secrets of this lost city are unearthed, Drake's quest descends into a desperate bid for survival that strains the limits of his endurance and forces him to confront his deepest fears.
Bioshock
Take 2
BioShock is an innovative role-playing shooter from Irrational Games who was named IGN's 2005 Developer of the Year. BioShock immerses players into a war-torn underwater utopia, where mankind has abandoned their humanity in their quest for perfection.
Red Dead Redemption
Take 2 Interactive
Story Red Dead Redemption is a Western epic, set at the turn of the 20th century when the lawless and chaotic badlands began to give way to the expanding reach of government and the spread of the Industrial Age. A follow up to the 2004 hit Red Dead Revolver, this game tells the story of former outlaw John Marston, taking players on a great adventure across the American frontier. John Marston packing heat in Red Dead Redemption Choose to fight for honor or fame as former outlaw John Marston. View larger. Gameplay Red Dead Redemption is a third-person action-adventure game set a fictional open-world American Wild West environment for players to explore. Gameplay area types include frontier towns, rolling prairies teaming with wildlife, and perilous mountain passes - each packed with an endless flow of varied distractions. Along the way, players will experience the heat of gunfights and battles, meet a host of unique characters, struggle against the elements and animals of one of the world's last remaining wildernesses, and ultimately pick their own precarious path through an epic story about the death of the Wild West and the gunslingers that inhabited it. In their travels throughout the territories of the gameworld players partake in a morality system built on honor and fame, where they gain or lose points in each area based on their actions. The game features an easy to use cover system, a variety of mounts and period specific weapons including a cattleman revolver, a mauser pistol, a repeater rifle, a sawed-off shotgun, a throwing knife, a lasso and more. Western themed mini-games are also available, including showdowns, gambling, hunting bounties, cattle herding and five finger fillet.
BioShock Infinite
Take-Two
BioShock Infinite PS3
Heavy Rain
Unknown
Heavy Rain is an interactive drama psychological thriller video game created by Quantic Dream exclusively for the PlayStation 3. The game is written and directed by Quantic Dream's founder and CEO David Cage. Heavy Rain's story is a dramatic thriller modeled after film noir, featuring four protagonists involved with the mystery of the Origami Killer, a serial killer who uses extended periods of rainfall to drown his victims.
Portal 2
Valve
The highly anticipated sequel to 2007's Game of the Year, Portal 2 is a hilariously mind-bending adventure that challenges you to use wits over weaponry in a funhouse of diabolical science. Using a highly experimental portal device, you'll once again face off against a lethally inventive, power-mad A.I. named GLaDOS. And this time you won't be alone. Meet an expanded cast of characters as you think your way through dangerous, never-before-seen areas of Aperture Laboratories. Break the laws of spatial physics in ways you never thought possible, with a wider variety of portal puzzles and an expansive story that spans a single player and co-operative game mode.
LEGO: Marvel Super Heroes
Warner Home Video - Games
Warner Bros. LEGO Marvel Super Heroes 1000381327 PlayStation 3 Games
Ecco: The Tides of Time : Sega Game Gear
Super Columns : Sega Game Gear
"Sega of America, Inc."
The Lion King
Amazon.com, LLC *** KEEP PORules ACTIVE ***
the lion king ,fun fun fun.....
Ms. Pac-Man : Sega Game Gear
NAMCO
Ms. Pac-Man to go! One or Two Players! Ms. Pac-Man Vs. Pac-Man is a ghost gobbling grudge match! Just like the arcade original! Four Fantastic Mazes! Choose from a full or 1/2 size maze perspective. Rated E for Everyone
Sonic the Hedgehog - Sega Game Gear
Sega Of America, Inc.
Sega's iconic hedgehog collects coins on many adventurous mazes.
Sonic the Hedgehog: Triple Trouble
Sega Of America, Inc.
Castle of Illusion Starring Mickey Mouse
Desert Strike
Electronic Arts
That wacky madman from the Middle East is at it again in Desert Strike: Return to the Gulf. Backed by a strong and fiercely loyal military, General Kilbaba is threatening to reign Armageddon on all his enemies, including the good ol' U.S.A. The President of our fair land calls on you, fearless gamer, to fly a series of dangerous preemptive campaigns in the desert to eliminate the tyrannical despot from the face of the globe. After choosing a campaign (if you don't have a password, you must begin with campaign number one) and a copilot, you must decide whether to control your Apache) helicopter With Momentum, From the Cockpit, or From Above. With Momentum is similar to From the Cockpit, but the computer makes you compensate for the momentum of your helicopter. You view the game from a three-quarter overhead perspective. Once the action begins, you will find yourself frequently referring to the battle map as it enables you to locate yourself in relation to your targets and objectives. Many times throughout the game you will receive incoming intelligence reports. You'll be called on to perform numerous military exercises, such as demolishing enemy airfields, destroying radar and power stations, escorting a busload of innocents, blowing up command centers, killing guards, trashing jails in order to free prisoners, airlifting and dropping off commandos, taking out scud launchers, and protecting oil fields. Your helicopter is a powerful vehicle and is equipped with a chain gun and the ability to fire hydras and hellfire missiles. To stay fortified and ensure your survival, you must frequently pick up armor, fuel, and ammunition. Enemy weapons you'll face include a variety of tanks, gun turrets, choppers, speedboats and soldiers. Desert Strike: Return to the Gulf is composed of 27 missions divided among four major campaigns. You begin the game with three lives and can find additional lives hidden throughout.
Championship Pro Am - Sega Genesis
Midway Entertainment
Championship Pro-Am speeds onto the Genesis with 24 levels of remote-controlled car racing action. The game consists of three races on eight different tracks, with each race lasting from two to nine laps. In order to move onto the next track, you'll need to finish within the top three positions or else the game is over. Players will then have the opportunity to continue two more times, but any accumulated points will be lost if progress is resumed. Championship Pro-Am is played from a three-quarter viewpoint with arrows on each track showing where you'll need to turn. While the main screen only shows a section of the course, an overhead map details the entire track at the bottom of the screen. In addition to trying to place first, players can also find and use various items scattered across each course. These items include the following: missiles to fire at your competition; bombs to wreak havoc on anyone following your car; ammo to add an additional weapon to your arsenal; tires to improve your car's handling; engines to increase overall speed; turbos to increase acceleration; roll cages to provide immunity to crash damage; bonus letters that will give you an extra car if you spell the word "champion;" and zippers to give you a temporary boost. The tracks are also filled with objects to avoid, so you'll need to keep an eye out for puddles, oil patches, rain clouds, skulls and even pop-up walls!
Mig-29 Fighter Pilot
Midway Entertainment
New GENESIS Sega Game, still in plastic wrapped. Fast shipping...(L-27)
Ms. Pac-Man
Midway Entertainment
Includes game and original case or box. NO MANUAL. Game and case may show average wear for age but will be clean with a fully intact label on cartridge. All ClassicGameStore games are tested before being put into inventory.
Ecco the Dolphin
Sega of America, Inc.
Rated for everyone
Jurassic Park
Sega of America, Inc.
Plunge into a heart-wrenching race for survival! On a tropical island, a violent hurricane rips through the dinosaur preserve, trapping the tourists and freeing the most terrifying animals in prehistory! Two bigger-than-life ways to play: Be a dinosaur! As a Raptor, rampage across the island battling other beasts and eluding the traps and weapons of your human enemies. As Grant, the paleontologist, arm yourself with tranquilizer guns, and sleeping-gas grenades. Dodge the slashing jaws of the Tyrannosaurus Rex and the paralyzing spit of the Dilophosaurs! 16 mammoth megs of nerve-shredding action!
The Lion King
Sega of America, Inc.
You think you want to be King? Get real. You're starting life as Simba, the cub. To survive and grow into a powerful adult lion, you must perfect your savage pounce, reckless roar and master fighting with all four paws. If you survive the challenge, you'll grow into a strong, ferocious adult lion. So prepare to scrap with hyenas. Blast through an elephant graveyard. Battle an in-your-face stampede of trampling wildebeests. And you'd better quit hanging with slackers like Timon and Pumbaa, unless you want to be scarfing bugs the rest of your life! Are you sure you want to be King? Then it's time to cut loose in the deadliest one-on-one brawl ever. Defeat your evil Uncle Scar. Recapture the Pridelands. And reclaim your rightful place in the Circle of Life!
Sonic the Hedgehog Spinball
Sega of America, Inc.
great little game by sega!!!!
Sports Talk Football '93 Starring Joe Montana
Sega of America, Inc.
Hard-hitting professional football action! All 28 NFL teams... real pro formations on offense and defense... even play-by-play commentary to add realism! Sharpen your skills in the Exhibition mode, then show the rest of the teams what it means to be the best!
World Series Baseball '95
Sega of America, Inc.
Game Cartridge Only! This game cartridge is in working condition but does have cosmetic flaws which include some form of damage to the label. This may be a tear, sticker, or writing on label. ALL ClassicGameStore games are tested before being placed into our inventory.
Championship Bowling
Sega Of America, Inc.
Ships without case. Comes with display cover, game cartridge and instruction booklet. Previous rental game so typical non-removable rental stickers will be on items.
Columns - Sega Genesis
Sega Of America, Inc.
former rental, original case and art
Cool Spot
Sega Of America, Inc.
Sega Genesis
Disney's Aladdin
Sega Of America, Inc.
SEGA presents a Disney/Virgin Games co-production of Disney's Aladdin. Hang onto your carpet for action and fun! Aladdin slashes his shinning scimitar to fight through Agrabah, escape the Sultan's dungeon, survive the fiery Cave of Wonders, snatch the Genie's Lamp and save Princess Jasmine from the evil Jafar!
Golden Axe II
Sega Of America, Inc.
USED NO BOX ONLY GAME
Justice League Task Force
Sega Of America, Inc.
The Simpsons: Bart's Nightmare
Sega Of America, Inc.
game cartridge for sega genesis system
Sonic the Hedgehog 2
Sega Of America, Inc.
Super Speed! Sonic's back and better than ever. He's a blur in blue! A blaze of action! With his new Super Spin Dash. And a new, fabulous friend, "Tails" the Fox. You won't believe it 'til you see it. And when you play, you won't stop. Super Play! Defy gravity in hair-raising loop-de-loops. Grab Power Sneakers and race like lightning through the mazes. Dash in a dizzying whirl across corkscrew speedway. Bounce like a pinball through the bumpers and springs of the amazing Zones. All at break-neck speed! Super Power! Sonic's attitude is can-do. The mad scientist Dr. Robotnik is planning a world takeover. Sonic gets tough in the fight to save his friends and squash Robotnik for good!
Sonic the Hedgehog
Sega Of America, Inc.
Includes game and original case or box. NO MANUAL. Game and case may show average wear for age but will be clean with a fully intact label on cartridge. All ClassicGameStore games are tested before being put into inventory.
Sonic & Knuckles
Sega Of America, Inc.
Sonic and Knuckles join forces to defeat rotten Dr. Robotnik's Death Egg invasion! Play Sonic & Knuckles by itself or Lock-on with other Sonic games. This game's revolutionary Lock-on technology adds all new features to your other Sonic games for ultimate replays! Play as Sonic and let loose on Robotnik with amazing new powers. Play as Knuckles and tackle Robotnik and Metal Sonic with bare-fisted attacks, high-speed glides and wall-climbing power! Lock-on with Sonic 3 and transform Floating Island into a huge 34 meg Sonic-epic loaded with new secrets! Play as Sonic, Knuckles, and even Tails - with Game Save! Lock-on with Sonic 2 and play as Knuckles with all his signature moves!
Sports Talk Baseball
Sega Of America, Inc.
Game Cartridge Only! This game cartridge is in working condition but does have cosmetic flaws which include some form of damage to the label. This may be a tear, sticker, or writing on label. ALL ClassicGameStore games are tested before being placed into our inventory.
World Series Baseball - Sega Genesis
Sega Of America, Inc.
It's World Series Baseball from Sega Sports — the most realistic baseball action you can find! With the real player attributes — from all 28 major league teams. Plus many off-season trades and free agent moves. All 28 home ballparks. The new 6-division major league alignment. Complete season, playoff and World Series intensity. Play-by-play commentary. Player stats. And everything else you'd expect from a major league baseball game!
Izzy's Quest For The Olympic Rings
US Gold
Katamari Damacy
Namco Bandai
Katamari Damacy is a silly, colorful and occasionally hysterical game that's become a hit in Japan. Now it's arrived here and it's unusual gameplay and one-of-a-kind design will make gamers laugh and play for hours! When the King of All Cosmos accidentally destroys the stars in the sky, he orders his pint-sized princely son, to put the twinkle back in the heavens. He decides to do this by rolling everything and anything on earth into clumps, so he can replace what's missing in space.
Kingdom Hearts
Square Enix
Guide a young boy named Sora, and his friends Riku and Kairi, as he saves the world from destruction at the hands of an evil group known as the Heartless. Set off from Sora's island paradise home with the help of Disney characters such as Donald Duck and Goofy, who are on their way to find their missing king, the one and only Mickey Mouse. Use Sora's secret weapon, the keyblade, in an adventure that takes you through familiar Disney worlds. You will also run into many of Squaresoft's favorite characters as they join the struggle.
Buffy the Vampire Slayer: Chaos Bleeds - PlayStation 2
Vivendi Universal
A must-have for all Buffy fans!
X-Files: Resist or Serve
Vivendi Universal
Mulder and Scully travel to a small Rocky Mountain town to investigate a string of unusual murders linked to ghost sightings, the undead, and other paranormal phenomena.
Demolition Man
Nintendo
CART ONLY. GOOD OVERALL CONDITION WITH SOME NORMAL WEAR FROM NORMAL USE. PINS HAVE BEEN POLISHED. TESTED/WORKING. ACTUAL ITEM PICTURED IS THE ITEM YOU WILL RECEIVE,
Donkey Kong Country
Nintendo
Cartridge only. Connections cleaned, tested and working (but may still require a little wiggling and TLC depending on the condition of your SNES). Label clean and bright. Exterior of cart shows a few very faint bumps and scuffs. See my other listings for more uncommon SNES titles.
Mario Paint
Nintendo
COMPLETE - Everything in box as when first purchased. Box is in great shape with just small shelf wear, it has a little crush mark on one corner about the size of a dime and three small marks on the edges of the box. this is the original box not the million seller box. mouse shows some wear on bottom from use. cartridge, pad, manuals, advertisements are all in great shape.
Uniracers
Nintendo
In good condition, sticker on back.
Super 4 in 1 Multicart
Piko Interactive LLC
Games included: Uwol the Quest for Money Mazezam N-Warp Daisakusen Skip and Friends
Lemmings
Sunsoft
The Orange Box - PC
Electronic Arts
The Orange Box delivers five innovative games from Valve, creators of the Half-Life franchise, in one box. The Orange Box includes Half-Life 2: Episode Two, PortalTM, and Team Fortress 2 in addition to full versions of the award-winning Half-Life 2 and Half-Life 2: Episode One for an engrossing first-person action experience.

Features:Five Games, One Box: The Orange Box is the ultimate collection of innovative action games for the console, and an amazing introduction to the Half-Life series for console gamers.Epic Storyline: Half-Life 2: Episode Two takes you deeper into one of the best-known stories in gaming, following the desperate struggle of Gordon Freeman against the mysterious Combine. In this episode, you must leave the confines of City 17 for the first time and face even greater dangers beyond the city walls.Redefining Action: Portal delivers an innovative new action gaming experience. Arming you with a portal gun that lets you create portals from one location to another with the press of a button, Portal will forever change the way that you interact with your environment.World-Class Multiplayer: Team Fortress 2 is the sequel to granddaddy of role-based multiplayer action games. Featuring nine distinct roles Heavy, Spy, Scout, Demoman, Engineer, Medic, Sniper, Soldier, and Pyro Team Fortress 2 is one of this year's most anticipated multiplayer games for any platform.