Kirby's Dream Land
Nintendo
Dream Land is in peril! An evil king has stolen the magic Twinkle Stars. If they're not recovered, the people of Dream Land will starve. Enter Kirby! He's a roly-poly hero, out to run, jump, float and swim in search of the treasured Twinkle Stars. He'll puff his way through castles, caves, dungeons and forests. In his path are many wicked and greedy enemies, but Kirby has a special way to defeat them! It's non-stop action all the way to the top of Mt. Dedede!
Kirby's Block Ball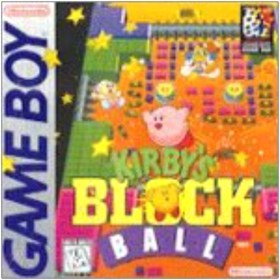 Nintendo
CART & DUST COVER ONLY. GOOD OVERALL CONDITION WITH SOME LIGHT WEAR OR LIGHT IMPERFECTIONS. PRICE IS FOR ONE COPY SHOWN IN ONE OF THE PICS. ACTUAL ITEM PICTURED IS THE ITEM YOU WILL RECEIVE
Kirby: Nightmare in Dream Land
Nintendo
He's pink, he's tough and he's about to take on the evil King Dedede in Kirby: Nightmare in Dream Land. The residents of Dream Land have lost the power to dream. It's up to you to spring into action and recover the stolen Star Rod. The source of power for the Fountain of Dreams has been stolen by the evil King Dedede. It's been broken up and its pieces have been given to his underlings.
Kirby Canvas Curse
Nintendo
Kirby: Canvas Curse is Kirby's debut on the DS. In this 2D action game, you'll use your magic wand to guide the pink hero, stun enemies, and launch special attacks. An evil witch turns Dream Land into a "picture" world - but she left behind a magic paintbrush that draws rainbow paths. Help Kirby regain his shape and save Dream Land!
Kirby & The Rainbow Curse
Nintendo
Features: Take control of Kirby, and his transformations, with the stroke of a stylus Gamepad controls Kirby's forms in unique ways, draw lines on Gamepad to guide Kirby Kirby comes to life in a world of clay!