American Gladiators
GT Interactive
As in the real show, the player use their strength and stamina in order to confront their opponents and the American Gladiators. Players must navigate through the Assault, Powerball, Human Cannonball, The Wall, and Joust over a course of four increasingly difficult skill levels. If you succeed against all difficulty levels (and odds), you will face the Eliminator. When you defeat the Eliminator, you have achieved the ultimate victory (at least in American Gladiators).
Anticipation
Rare
Nintendos first board game
Bad Dudes
Data East
Game Cartridge Only; Tested and Plays Great! Free 1st Class Shipping Upgrade in Bubble Envelope!
Baseball
Nintendo
***CARTRIDGE ONLY*** CARTRIDGE: 7 ....PLEASE SEE THE CONDITION SCALE BELOW TO KNOW WHAT THE GAME IS LIKE IN MORE DETAIL
Baseball Simulator 1.000
Culture Brain
Bases Loaded
JALECO
Vintage NES Game. Take a road down memory lane with this classic.
Bases Loaded II: Second Season
Jaleco
nes baseball
Batman: Return of the Joker
Sunsoft
Rare, often out of print Batman related game for the original Nintendo (NES) console.
Battle Chess
Electronic Arts
For the original Nintendo Entertainment System. From the back of the box: "It took 2000 years for someone to make Chess better. Battle Chess. Did someone tell you chess is a civilized game played by civilized people? Forget it. Chess is war - ruthless, cutthroat battle where one warrior lives to fight again and the other is left on the battle field. With Battle Chess you don't just imagine the battles, you experience them! You'll hear the clank of armor, as you watch dramatic, 3-dimensional animations of courageous heroes fight to protect their king. Battle Chess is the most incredible chess game you've ever seen - where empires can be won - or lost."
Blades of Steel
Konami
Nintendo NES game cartridge as shown
A Boy and His Blob: Trouble on Blobolonia
Absolute
Cartridge only - cartridge is clean and tested with a fully intact label. However, cartridge may or may not show small signs of age including minor scuffs, very minimal debris in creases, and/or slight discoloration. All ClassicGameStore games are fully tested before being placed into our inventory, and we will stand behind our games if any issues do arise.
Bubble Bobble
Taito Video Games
NES Game. One of the original greats.
Burgertime
Data East
In a tasty update of BurgerTime, you star as intrepid Chef Peter Pepper, trying to assemble a bevy of big burgers despite interference from giant hot dogs, pickles and eggs, all of which are in pursuit (and deadly to the touch). Your handy peppershaker can stop them in their tracks momentarily, but you only have a limited number of them. Additional peppershakers appear briefly, which you can grab to recharge your supply. In early stages, BurgerTime Deluxe is deceptively simple, with the entire playing field confined to the edges of the screen. But once you advance into the second area (analogous to Super Mario Bros. worlds), you roam a larger area, the screen scrolls, and your edible enemies grow more aggressive.
Castlequest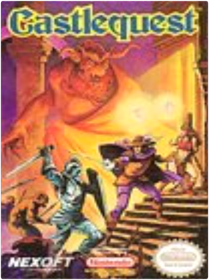 nexoft
Nintendo nes video game
Championship Bowling
Romstar
A unique sports bowling game, where you get to pick one of four unique characters with different styles and looks to compete in bowling.
Chip 'n Dale: Rescue Rangers
Capcom
Fiction: Video Game for Nintendo
Clash at Demonhead
Vic Tokai, Inc.
Nes cartridge
Contra
Konami
Fight through dozens of levels blowing away evil baddies as you go! Classic NES game!
Darkwing Duck
Capcom
Darking Duck NES Nintendo vindeo game
Deadly Towers
Nintendo BRODERBUND
YOU ARE YOUNG PRINCE MYER SETTING OUT TO DEFEND THE ANCIENT KINGDOM OF WILLNER RUBAS KING OF THE DEVILS HAS BUILT A CASTLE IN THE NORTH AND IS PREPARING TO INVADE YOUR KINGDOM - ARCADE ACTION WITH ROLE PLAYING GAME DEPTH STATE OF THE ART GRAPHICS AND MUSIC SPECIAL PASSWORD SYSTEM ALLOWS PLAYERS TO CONTINUE AA GAME IN PROGRESS
Destination Earthstar
LJN GAMES
Two centuries ago, an alien species known as the Kojans kidnapped the people of Earth and made them their slaves. But the Earthlings never gave hope of returning to their homeland. So they sent you, a brave space ship pilot, to travel through the galaxy in search of the Earth. But beware, as the Kojans won't let you pass without a fight! The gameplay is divided into two parts. You begin in the simulation mode, controlling your ship from first-person perspective. You can change your altitude, speed, and weapons, at the same time paying attention to the fuel you have left. Once you have defeated enough enemies and landed on a planet, the game turns into a side-scrolling shooter in which you must navigate your ship through arcade sequences.
Donkey Kong Classics
Nintendo
Game is like new and guaranteed to your satisfaction. Ships from Fla in 24 hrs. h
Double Dribble
Double Dribble is a video game by Konami. The original version was an arcade game released in 1986. In September of 1987 a version followed for Nintendo's Nintendo Entertainment System. A version was also released for the Commodore 64 computer. The NES version features 5-on-5 action on a horizontally scrolling court, four different teams (Boston, New York, Chicago, Los Angeles), three levels of single-play difficulty, and four different choices of quarter lengths. Double Dribble was among the first games to feature cut-scenes, which depicted a mid-air player completing a slam-dunk, and one of the first to use speech, though in a limited quantity (such as announcing the game title and the game's beginning jump ball). A sequel called Double Dribble The Playoff Edition was released in 1994 for the Sega Mega Drive.
Dr. Mario
Nintendo
The original NES version of Nintendo's "Dr.Mario" puzzle game.
Dragon Warrior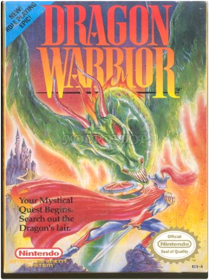 Nintendo
Cartridge NES game
DuckTales
Capcom
disney duck tales for regular nintendo nes system
Final Fantasy
Nintendo
An evil shroud covers the world in darkness. You must restore the powers of earth, wind, fire and water to the Four Orbs. Create your own band of 4 Light Warriors from fighters, thieves, martial artists, and magicians. You'll need all their skills to triumph in this massive role-playing adventure. Your treaterous journey takes you to all parts of a strange new world. Explore dangerous castles and dark caverns where dadly perils and great rewards, await at every turn. Hundreds of ferocious monsters block your path. With patience, skill, and cunning, you can defeat them.
Game Genie Video Game Enhancer
Galoob
Allows for codes to be entered for NES Games.
Goal!
Jaleco
Golf
Nintendo
Golf NES game Version.It doesn't get any simpler than this, folks. Golf for the NES cuts an already unexciting sport down to the marrow in the graphics and sound department. If you're looking for flashy sprites and an abundance of color, go buy yourself a newer video game system. Aside from this, Golf is actually pretty true to the real sport. You've got your wind resistance, full club selection, and incredible, incredible difficulty to make a precise shot. Unlike other golfing games, you've actually got to choose which club to use instead of the game choosing for you. You're also required to judge the distance of your shot without any guides or maps showing you where the ball is going to land, making the game both more realistic and challenging. Shortcomings include the aforementioned lackluster graphics (come on, even the NES can do better than this), lack of aiming ability (eight directions just don't cut it), and the lack of a 9 hole option (you always have to play through all 18.)
The Guardian Legend
Nintendo
Gyruss
Ultra
A vintage space game for the NES.
Hogan's Alley
Nintendo
Light gun series.
Hoops
Jaleco
***CARTRIDGE ONLY*** CARTRIDGE: 8..... PLEASE SEE THE CONDITION SCALE BELOW TO KNOW WHAT THE THE GAME IS LIKE IN MORE DETAIL
Ice Hockey
Nintendo
At the start of the game, and at the start of each period, one player from each team goes to the center of the rink for a "face-off". From there on out, it's non-stop mayhem on the ice, a battle to the end. Will you be the champion?
Jackal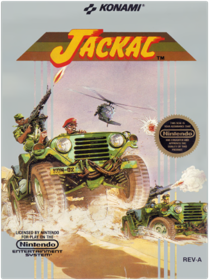 Konami
Cartridge and manual included - game is in good condition with a fully intact label. However there are normal signs of wear such as scratches or other normal marks from aging. All of our games are fully tested before being put into our inventory.
Jeopardy!
GT Interactive
John Elway's Quarterback
Nintendo
John Elway's Quarterback is the home video game you've been waiting for. So real you can see the game like a quarterback does, from the line of scrimmage. You call the plays, you throw the passes, run the ball, and make the tackles. It's third down and a long four yards to the first down that will stop the clock. No time-outs left. The weak side linebacker is lined up inside his defensive end. They're coming! You check-off the play at the line of scrimmage and call for a quick pass to the tight end. He breaks it for a T.D.! This is the game made for every kid who ever wanted to play the game as well as John Elway.
Joshua and the Battle of Jericho
Color Dreams
Description Be Joshua and lead God's people to the promised land in this bible-based action game. But watch out! There are falling rocks, soldiers, battering rams and elite forces that will try to block your every move. Sound challenging? You bet! But God has given you the power. Weapons like the horn of Jericho, God Speed, power-ups, secret exits and other armor will help you in your quest. Conquer the Canaanites, Amorites and Hittites as you collect silver and gold, race through deadly mazes, and defeat the enemies of God!
King of Kings: The Early Years
Wisdom Tree
Experience the majestic birth and childhood of Christ as you proclaim His honor and endeavor to experience the prophecies. Collect gifts for Baby Jesus; escape to Egypt to avoid the wrath of King Herod; and search for young Jesus in the holy city of Jerusalem. Test your Bible skills by answering scores of Bible questions designed to complement the game play.
Kings of the Beach
Konami
Kings of the Beach - comes with instruction manual and black protective case!!!!
Lee Trevino's Fighting Golf
SNK
CARTRIDGE AND MANUAL - game is in good condition with a fully intact label. However there are normal signs of wear such as scratches or other normal marks from aging. All of our games are fully tested before being put into our inventory.
The Legend of Zelda
Nintendo
Ganon, the King of Evil, breaks free from the Dark World and captures Hyrule's beloved Princess Zelda. Before she is caught, Zelda manages to shatter the Triforce of Wisdom and scatter its eight pieces throughout Hyrule. Link swears to recover the Triforce pieces and rescue Princess Zelda from Ganon's clutches.
The Little Mermaid
Capcom
Nintendo game.
Little Nemo: The Dream Master
Capcom
M.U.L.E.
Mindscape
Major League Baseball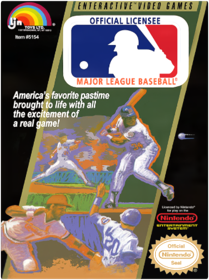 LJN
VERY GOOD WORKING CONDITION GAME CARTRIDGE ONLY
Marble Madness
Milton Bradley
Marble Madness is an arcade video game designed by Mark Cerny, and published by Atari Games in 1984. It is a platform game in which the player must guide an onscreen marble through six courses, populated with obstacles and enemies, within a time limit. The player controls the marble by using a trackball. Marble Madness is known for using innovative game technologies. It was Atari's first to use the Atari System 1 hardware and to be programmed in the C programming language. The game was also one of the first to use true stereo sound; previous games used either monaural sound or simulated stereo. In designing the game, Cerny drew inspiration from miniature golf, racing games, and artwork by M. C. Escher. He aimed to create a game that offered a distinct experience with a unique control system. Cerny applied a minimalist approach in designing the appearance of the game's courses and enemies. Throughout development, he was frequently impeded by limitations in technology and had to forgo several design ideas. Upon its release, Marble Madness was commercially successful, becoming a profitable arcade game. Praise among critics focused on the game's difficulty, unique visual design, and stereo soundtrack. The game was ported to numerous platforms and inspired the development of other games. A sequel was developed and planned for release in 1991, but canceled when location testing showed the game could not succeed in competition with other titles.
Mario Bros.
Nintendo
Bump the blocks to turn over the flowers then kick them to gain the most coins
Metal Gear
Konami
Turn on your Nintendo platform and enter a virtual battle field with Metal Gear. Your mission in this Nintendo game is to guide the character Solid Snake to destroy a dangerous weapon called Metal Gear activated by outer heaven leader Ca Taffy. Use your analytical and logical reasoning skills on this action-adventure game to tackle your enemy. Start this Nintendo game unarmed and then later on proceed to gain control of high-end ammunition as you proceed to the higher levels of the game. Get promoted to higher ranks on this action-adventure game by rescuing captive hostages in enemy buildings. The single player gaming support of the Metal Gear game lets you conquer and complete the entire mission single-handedly. The interesting action-packed levels ensure an enhanced gaming experience.
Metroid
Nintendo
It's you against the evil Mother Brain in the thrilling battle of Metroid! You're inside the fortress planet Zebes. The planet of endless secret passageways where the Metroid are multiplying. Left alone the Metroid are harmless. But in the wrong hands they could destroy the galaxy. It's up to you to prevent the Mother Brain that controls Zebes from using the Metroid for evil purposes. But that won't be easy. You'll have to use your spacesuit to absorb valuable energy for your search to gain the use of power items like the Ice Beam, Wave Beam, High Jump Boots and Varia. If you survive, it will be you and your acquired powers against the Mother Brain.
Micro Machines
Camerica
Y o Dudes it's Micro Machines The official Video Game. we believe this is the most competitive racing game yet produced. Amazing Playability ABSOLUTELY BRILLIANT!!!! Features a very competitive two player option, 27 cunningly devised circuits - under bridges, thru oil patches - power sliding around corners - trying to beat the other drivers and become the Micro Machines Champion!!
Milon's Secret Castle
Hudson Soft
The player starts out at the bottom floor of a four-story castle named Castle Garland, where each story can only be reached by defeating the boss of the floor below. Although seemingly basic, the only way the bosses can even be reached is by discovering a host of secrets, some of which require sheer luck or a helpful manual. The game has generally been considered extremely difficult and frustrating. There are no save points, and once a player runs out of life, the game is over. However, it is possible to continue, after obtaining the first crystal. Also, unlike in most platform games of the era, Milon doesn't "blink" to become briefly invincible when he is attcked by an enemy, which means his energy can be sapped in no time if he doesn't move away. Each room of the castle contains secrets not unlike those of the Super Mario Bros. series; the secrets are uncovered by shooting bubbles into invisible trigger objects.
NES Play Action Football
Nintendo
***CARTRIDGE ONLY*** CARTRIDGE: 9.5..... PLEASE SEE THE CONDITION SCALE BELOW TO KNOW WHAT THE GAME IS LIKE IN MORE DETAIL
NFL Football
Nintendo
All of the action of professional football comes to the Nintendo Entertainment System with NFL FOOTBALL. You can play with any of the 28 NFL teams. When you hit the field, there are two playbooks to choose from: a standard NFL playbook and one suited to your team's specific style. Once you call the play, try to burst through the line with dives, spins, high steps, and stiff arms. While playing, stunning Mode-7 graphics allows the camera to pan and zoom to get the best view of the action. If you are true fan, you can challenge your friends to game using the Two-Player mode. Become a team owner in NFL FOOTBALL.
Paperboy 2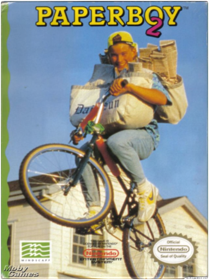 Mindscape
Sequel to the fun and popular Paperboy game, comes to the NES console.
Rad Racer
Nintendo
Works Great!, Good Condition. No box or instructions
Rad Racer II
Nintendo
Rad Racer II is one of the leading car racing games that came out. Which lead to games like Top Gear and many other great games we now enjoy in the gaming world.
Rush'n Attack
Konami
Combat action/adventure game for the original Nintendo console, by Konami.
Silent Service
Microprose
Enjoy this great, original game by Nintendo made for the original NES.
Sky Shark
Taito Video Games
nes air assault game
Slalom
Nintendo
Race down an amzing 24 different snow coverd runs in the slalom adventure.
Spot: The Video Game
Virgin Interactive
StarTropics
Nintendo
STAR TROPICS (NINTENDO OF AMERICA) NES GAME ©1990 - EXCELLENT ORIGINAL
Super C
Konami
Super Mario Bros.
Nintendo
GAME CART with booklet ONLY Nothing else. But in Like New condition. Fast Shipping with tracking, buy with confidence & thanks for looking
Super Mario Bros. / Duck Hunt
Nintendo
The Classic Mega Hit "Super Mario Bros." and Arcade Shooter "Duck Hunt" 2 game cartridge that came stock with most Nintendo Entertainment Systems. A Must have for every NES owner, Collector, or seller trying to put together an full NES Set.
Super Mario Bros. 2
Nintendo
Super Mario Bros. 2, later released in Japan as Super Mario USA (スーパーマリオUSA?), is a 1988 platform game developed and published by Nintendo for the Nintendo Entertainment System as a sequel to the 1985 game Super Mario Bros. The game was also remade as part of the Super Mario All-Stars collection for the Super Nintendo Entertainment System (SNES), released on August 1, 1993, in North America and December 16, 1993, in Europe. It was rereleased on the Wii's Virtual Console in Europe, Australia and New Zealand on May 25, 2007, and the U.S. on July 2, 2007. Super Mario Bros. 2 initially started out as a demo for a vertically scrolling, two-player, cooperative-action game that was scrapped.[4] The reasons included the technical limitations of the NES hardware making it difficult to produce a polished game featuring a vertical orientation and multiplayer features conceived for the project. It was decided to add more Mario-like elements, such as horizontal levels (though many vertically oriented levels were retained in the final project). Since the game had gone through some development, Nintendo created the game Yume Kōjō: Doki Doki Panic for the Family Computer Disk System during its agreement with the Fuji Television company. The game was changed in order to fit with the theme of the mascots of the company and their adventure. After Nintendo of America had concluded that the Japanese version of Super Mario Bros. 2 was too difficult, Nintendo redeveloped Yume Kōjō: Doki Doki Panic into Super Mario Bros. 2 for the international market outside of Japan.[4] The game became a commercial success, and eventually the game became well received enough that it was also released in Japan as well.
Super Mario Bros. 3
Nintendo
Super Spike V'Ball/Nintendo World Cup
Nintendo
Super Spike V'Ball and Nintendo World Cup on the same cartridge.
Tecmo Bowl
Tecmo
Considered by most to be the best football game on the NES, this title is much more fun when played with multiple people.
Tecmo Super Bowl
Tecmo
**SUPER AWESOME** Tecmo Super Bowl (for NES) ::: Great Item, Great Shape, Great Gameplay —THANK YOU— (Be sure to choose expedited delivery and receive an extra free \~game~/) * cart is in very nice shape
Teenage Mutant Ninja Turtles
Konami
WORKING CARTRIDGE ONLY.... Original Nintendo cartridge only. All games are tested prior to being put into our inventory.
Teenage Mutant Ninja Turtles II: The Arcade Game
Ultra Games
Tennis
Nintendo
Original Tennis for the Nintendo Entertainment System.
Tetris
Nintendo
The Relentless Building Block Game official Niontendo Product, Game Pak
Tiger-Heli
LJN GAMES
The Mission: Shatter the enemy defense lines and destroy the military headquarters of a war-crazed nation. The Time: Sunrise. The Place: Classified information. The Weaponry: Tiger-Heli and you. Tiger-Heli. The result of a billion-dollar defense project. The ultimate stealth helicopter. Turbine powered. Forged from ebony metal and glistening chrome. Armed with heat-seeking missiles and impact bombs. Able to fly in the stratosphere or inches above the ground. With only enough fuel to get you to the heart of the mega-fortress. Getting out is up to you. It's a last-ditch effort to halt a war-crazed nation. Fanatics sworn to overrun any country they can conquer. And, in this war, they've been winning. They have rocket firing tanks, destroyers, and weapons never seen before. You have Tiger-Heli!
Tiny Toon Adventures 2: Trouble in Wackyland
Konami
Based on popular cartoon series, this game is fun for one and all.
To The Earth
Nintendo
THIS IS THE NES NINTENDO VIDEO GAME VERSION. GREAT GAME. VERY HARD TO FIND. NICE COLLECTOR'S EDITION. A MUST BUY. HERE IS SOME INFO ON THE GAME. In the year 2050 the Earth has been attacked by the villainous Raggosians and it is your job to save the planet! You will need to pilot your ship, The Tempest, to the planets Uranus, Saturn, Jupiter, and Earth in order to retrieve certain minerals which can be used to fight the Raggosians. The Raggosians will be trying to stop you from reaching these destinations, though, so you need to use the Nintendo zapper to fight back. Numerous (and very fast!) enemy ships will fly by on the screen and attempt to destroy your ship. You need to shoot the ships and incoming missiles before your ship takes too much damage. From time to time a comet will fly by, and if you shoot this a temporary barrier will be formed that protects your ship from enemy fire. Occasionally you can also earn a smart bomb which appears in the bottom of the screen and destroys all enemies if shot. Each level ends with a large boss which will take multiple hits to destroy.
Top Gun
Konami
***CARTRIDGE ONLY*** CARTRIDGE: 7.... PLEASE SEE THE CONDITION SCALE BELOW TO KNOW WHAT THE THE GAME IS LIKE IN MORE DETAIL
Top Gun: The Second Mission
Konami
Nes Game version. Here is some information. Top Gun 2: The Second Mission NES Screenshot 3 Storyline: You're the sole pilot between the enemy's Armageddon bound armada and global annihilation. Talk about a rock and a hard place! To save the day, you must survive and conquer three stages of combat and then return safely (though probably severely shot up) to base. In STAGE ONE, destroy all (repeat all) of the enemy's nuclear attack subs. After that, blast the cruise-missile-carrying "Black Jack" bomber. In STAGE TWO, blast your way through a tank infested forest, avoiding Stinger Missiles, until you find and shoot from the sky the doubly-destructive "Hind Alpha" helicopter. Finally, in STAGE THREE, you'll have to soar through a lightning storm while avoiding Killer Satellite-based laser beams. At the end of this stage you'll probably reach the end of the line, as you confront the enemy's "Star Wars" space shuttle. NOTE FROM THE DESIGNERS OF YOUR F-14: When the submarine, tank, forest, lightning or laser beams are on the screen your plane will be incapable of "ROLLING THE DICE." This is to ensure pilot safety, preventing you from pulling too many Gs and blacking out. —From the NES Top Gun 2: The Second Mission instruction manual. Top Gun 2: The Second Mission NES Screenshot 4 Directions: Move out men! Destroy all the enemies in this dog fight. You have complete freedom of movement unlike Top Gun 1, so use it! You can perform a Barrel Roll by tapping Left or Right twice.
Town & Country Surf Designs: Wood & Water Rage
LJN GAMES
Includes game cartridge only. Game is clean and has a full label. This item is in good condition, not like new. It may have small flaws including small scratches or some discoloration from age. All ClassicGameStore games are fully tested before being added to our inventory.
Vegas Dream
Hal America
Bring a casino home to your living room! Up to four high-rollers can play Blackjack, Roulette, Keno, or Slot Machines. Odds are you are going to love VEGAS DREAM!
Volleyball
Nintendo
Videogame version of the popular ball game. Before each game the player can choose the number of human players, the team's gender, and what nation they represent (out of 8 countries). When the game begins, the aim is to hit the ball over the net and past your opponent's team. You can do this by passing to another team member and having them take advantage of weak areas in the defense of the other team. You must similarly defend against such onslaught when the ball is on the opponent's side. The 2-Player game replaces the computer AI with a human opponent.
Wheel of Fortune
GT Interactive
Complete with Game, dust cover, manual, and box. Box is in good condition with heavy wear on edges and corners. Game has been tested and works
Wheel of Fortune: Family Edition
GT Interactive
World Class Track Meet
Nintendo
Times have changed, but looking at the Wii, Nintendo were always headed in that direction. I remember the commercials when the Power-pad came out and this was the game that was mostly used to advertise the then 'new' accessory. They had aerobics games and right here, you even had a running game. The game is as advertised - track & field. Going off of memory, but you have a series of events that you can go through in a sort of mini-Olympiad. You have a 100 meter dash, high hurdles, long jump and I think there was even the triple-jump as well. The characters that you run against ranged from a slower guy (aptly named "Turtle") and the fastest was I think named "Cheetah". You could also run against your friends on this too. This was released back in the mid-late 1980's, and though you could get the accessory separately there was a Nintendo '3' pack that I think had Track & Field, the gun with duckhunt and Super Mario brothers. While the game was ok, getting to a level to be able to beat the fastest runners proved very difficult to do and some events like the triple-jump were tricky to figure out. Still, for nostalgia's sake, it was a fun game and looking at the exercise aspect, Nintendo was way ahead of the game (no pun intended). I do have one spoiler - so look away if you don't want to know this quasi-cheat... I remember some kids messing around with this and just hitting the pads very quickly with their fists to get the sprinters to run faster. :)
Zelda II: The Adventure of Link
Nintendo
Sequel to the popular Legend of Zelda game, by Nintendo, for the original NES console.