1 X Super Mario Bros Trump Limited Edition Playing Cards - Retro 8-Bit Dot Version
Nintendo
Super Mario Bros Trump Limited Edition Playing Cards - Retro 8-Bit Dot Version
Super Mario Bros.
Nintendo
GAME CART with booklet ONLY Nothing else. But in Like New condition. Fast Shipping with tracking, buy with confidence & thanks for looking
Mario Bros.
Nintendo
Bump the blocks to turn over the flowers then kick them to gain the most coins
Super Mario Bros. 2
Nintendo
Super Mario Bros. 2, later released in Japan as Super Mario USA (スーパーマリオUSA?), is a 1988 platform game developed and published by Nintendo for the Nintendo Entertainment System as a sequel to the 1985 game Super Mario Bros. The game was also remade as part of the Super Mario All-Stars collection for the Super Nintendo Entertainment System (SNES), released on August 1, 1993, in North America and December 16, 1993, in Europe. It was rereleased on the Wii's Virtual Console in Europe, Australia and New Zealand on May 25, 2007, and the U.S. on July 2, 2007. Super Mario Bros. 2 initially started out as a demo for a vertically scrolling, two-player, cooperative-action game that was scrapped.[4] The reasons included the technical limitations of the NES hardware making it difficult to produce a polished game featuring a vertical orientation and multiplayer features conceived for the project. It was decided to add more Mario-like elements, such as horizontal levels (though many vertically oriented levels were retained in the final project). Since the game had gone through some development, Nintendo created the game Yume Kōjō: Doki Doki Panic for the Family Computer Disk System during its agreement with the Fuji Television company. The game was changed in order to fit with the theme of the mascots of the company and their adventure. After Nintendo of America had concluded that the Japanese version of Super Mario Bros. 2 was too difficult, Nintendo redeveloped Yume Kōjō: Doki Doki Panic into Super Mario Bros. 2 for the international market outside of Japan.[4] The game became a commercial success, and eventually the game became well received enough that it was also released in Japan as well.
Super Mario Bros. / Duck Hunt
Nintendo
The Classic Mega Hit "Super Mario Bros." and Arcade Shooter "Duck Hunt" 2 game cartridge that came stock with most Nintendo Entertainment Systems. A Must have for every NES owner, Collector, or seller trying to put together an full NES Set.
Super Mario Land
SPIG
Rescuing princesses isn't an easy business, but there's always one plumber ready for the job! This time it's Princess Daisy who needs the help of our plucky hero in Super Mario Land for the Game Boy. Set out on an adventure through four worlds of one player side-scrolling action that will have you hopping and stomping your way through dangerous caves, an ancient pyramid, and more! Along the way you can collect mushrooms, flowers, and stars to power you up. Hop into one of Mario's new vehicles, the Marine Pop or the Sky Pop, and fire away at incoming enemies. You'll also have to battle four vicious bosses, including the Sphinx and a massive Easter Island statue, as you search for hidden secrets that hold tons of coins. Super Mario Land is compatible with all Game Boy systems.
Dr. Mario
Nintendo
The original NES version of Nintendo's "Dr.Mario" puzzle game.
Super Mario Bros. 3
Nintendo
Super Mario World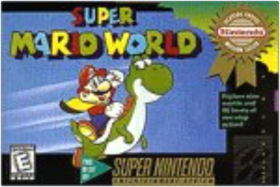 Nintendo
Super Mario World (Super Nintendo) Mario and his dinosaur companion, Yoshi, are looking for the dinosaur eggs Bowser has stolen and placed in seven castles. Many secret exits aid Mario in finding his way to Bowser's castle, completing 74 areas and finding all 96 exits. With multiple layers of 3-D scrolling landscapes, find items including, a feather that gives Mario a cape allowing him to fly. and a flower so he can shoot fireballs. For any Mario fan this game is a must.
Mario Paint
Nintendo
COMPLETE - Everything in box as when first purchased. Box is in great shape with just small shelf wear, it has a little crush mark on one corner about the size of a dime and three small marks on the edges of the box. this is the original box not the million seller box. mouse shows some wear on bottom from use. cartridge, pad, manuals, advertisements are all in great shape.
Super Mario Land 2: 6 Golden Coins
Nintendo
Super Mario Land 2 6 Golden Coins
Wario Land: Super Mario Land 3
SPIG
bonus game at the end of each level
Super Mario 64
Nintendo
KIDS DRIVING GAME
Mario Kart 64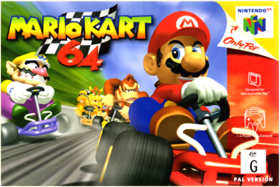 Nintendo
Mario Kart 64.
Mario Party
Nintendo
Mario and his friends return for a fun-filled party, and you're invited! Mario, Luigi, Donkey Kong, The Princess, Wario, and more return in this joyful party! The object of the game is simple: be the player who collects the most stars. You get stars by defeating any of the 56 mini-games that will challenge your gaming skills. Play in many classic Mario scenes, or keep on partyin' to rack up the most points and discover new play areas. MARIO PARTY features four-player multiplayer, the whole Mario gang, slammin' graphics, and pumpin' music. This is a party you don't want to miss!
Super Mario Bros. Deluxe
Nintendo
Recapture the magic of the original Super Mario Bros. in this Game Boy Color exclusive. Go to battle with Bowser and the Koopa crew in a race against time to save the imprisoned princess. Enjoy totally new bonus options and features. Guide Mario through 8 worlds bursting with secret flowers and all kinds of surprises behind breakable blocks. You can even print special stickers with the Game Boy Printer. 2-player competition is possible with the Game Link Cable.
Super Mario Advance
Nintendo
Super Mario Advance is a combination of a souped-up version of Super Mario Bros. 2 and an action-packed 4-player version of the original Mario Bros. arcade game. Whether you're playing alone or with 3 of your friends, Super Mario Advance is the perfect game to break in your new Game Boy Advance! Mario, Luigi, Peach and Toad adventure through an incredible fantasy world on a quest to save the day, with little more than vegetables with which to defend themselves. Unlike other Mario games where Mario defeats enemies by jumping on their heads, in this game Mario and pals have to pick up items and hurl 'em at their adversaries. Even enemies can be picked up and tossed across the screen, such as Princess Peach's ability to hover longer than any other character.
Mario Kart: Super Circuit
Nintendo
Fasten your seat belts and start your engines, because the original Kart racer is back for the ultimate Grand Prix! Choose from Mario, DK, Bowser and five other characters and race on 20 all-new tracks! Collect coins to unlock even more tracks, race against your own best time in Time Trials, or link up for Single Pak and Multi-Pak multiplayer modes. Whether you're racing in the GP or taking your road rage out on a friend in one of four battle courses, you'll need Game Boy Advance for the craziest kart racing to date!

One game pak, four players! Up to four players can choose from multiple tracks for fast and furious Kart-racing action, complete with all your favorite items! All you need is a single game pak, plus a Game Boy Advance system and a Game Boy Advance Game Link Cable for each additional player.
Super Mario Sunshine
Nintendo
In his newest adventure, Mario visits a tropical island and is mistaken for a local outlaw. So he straps on a hydro-powered water pump to clean up the mess, clear his name and meet up with old friends. Hose down enemies and meet the locals in this colorful, action-packed adventure set in sprawling 3D worlds with surprises around every corner. Made in USA.
Yoshi's Island: Super Mario Advance 3
Nintendo
One of the most memorable games of all time comes to the Game Boy Advance! In this picture-perfect port of the Super NES classic Super Mario World 2: Yoshi's Island, the unlikely duo of brave Yoshi and baby Mario must together brave the beautiful yet treacherous wilds of Yoshi's Island. Richly varied gameplay, brilliant graphics and precision control perfectly meld in an adventure you won't be able to put down!
Super Mario Advance 4: Super Mario Bros 3
Nintendo
Players can add cool new features with the Card e-Reader or link up with friends for multiplayer adventures with the original Mario Bros. game.
Mario & Luigi Superstar Saga
Nintendo
Join Mario and Luigi as they team up in a strange new land for an action-packed quest to retrieve Princess Peach's stolen voice.
Mario Kart: Double Dash!! with Bonus Disc
Nintendo
Copy of Mario Kart Double Dash for the Nintendo Gamecube. It comes with original box art, no manual, both discs are in excellent condition, with little to no light scratches on the discs and both play perfectly. When shipped the game will be packaged to ensure the safety of the discs in transit.
Mario Kart DS
Nintendo
The ultimate Mario Kart race is on…and online via your Nintendo Wi-Fi Connection in Mario Kart DS. Drawing on more than 30 courses and battle arenas from every game in the Mario Kart series - not to mention tons of new ones, Mario Kart DS allows you to play as Mario, Luigi, Princess Peach, Wario, Yoshi, Donkey Kong, Toad, Bowser and Shy Guy as you put the pedal to the go-kart metal, grab coins to max out your speed and blast rivals with the ever-popular arsenal of red, green and spiked Koopa shells in a race to finally put to rest the question of who is the true king of the Mushroom Kingdom racing circuit.

Race the Mushroom circuit
Mario is a veteran of the circuit.
View larger.
Choose your favorite character.
View larger.
Peach is a master drifter.
View larger.
Select the Kart you want.
View larger.
Bowser is the bruiser of the track.
View larger.
Watch your position in the pack.
View larger. Progressing Through the Game
Place first in Grand Prix circuits or clear skill-based missions to open up increasingly difficult and thrilling circuits. Of course, players can have multiplayer races on any open courses or battle in arenas.

Game Modes: At Least Five Ways to Play
Whether you prefer to race by yourself or to mix it up with friends, Mario Kart DS is a game with something for everyone. Features five different game modes, these include a 'VS' and 'Battle' mode that are available in multiplayer for up to eight players via local wireless connection while all modes are available singleplayer. See a complete list and description of the play modes below:

Grand Prix Mode: In Grand Prix Mode, the driver who earns the most points at the end of a four-course cup is the victor. Mario Kart DS features eight different cups, with each cup featuring four different tracks.Time Trial Mode: Your objective in Time Trial Mode is to get the fastest time that you can on a single track. . You can save your best runs as ghost data and share them with a friend.VS Mode: A competitive mode that can be either singleplayer. or multiplayer. In the singleplayer. version you'll race against computer-controlled karts, while in multiplayer you'll race against human opponents who play using their own Nintendo DS systems.Battle Modes: Mario Kart DS contains two battle modes.Balloon Battle Mode: Your goal is to pop your opponent's balloons by attacking/stealing them by colliding into an opponent via a mushroom boost, before your own balloons are popped.Shine Runners: In this mode the driver who collects the most Shine Sprites is the winner.Mission Mode: In this mode you are given sets of specific missions that you must clear in order to move on to the next set of missions. What could wait at the end?Special Powers, Weapons, Moves & Features
Turbo power-drifting and item tossing is the order of the day, whether players are racing around an obstacle-filled track or battling in an arena. Use familiar items taken from every game in the series like Green Shells, homing Red Shells, Bananas, Bombs, Lightning and the destructive Spiny Shell, not to mention new ones like the Blooper. The touch screen features a map that shows items being fired at players, who can even tap it with their fingers mid-race to zoom in or out.

Wireless Communication: Even More Ways to Play:
Mario Kart DS features three different forms of wireless game play: two kinds of local wireless game play and Nintendo Wi-Fi Connection online game play. Mario Kart DS offers two different options for LAN Wireless game play: DS Download Play, in which only one player has Mario Kart DS and all players have Nintendo DS systems, and Multi-Card Play, in which all players have Mario Kart DS and Nintendo DS systems.

DS Download Play
As with all DS Download multiplayer games, the DS Download Play in Mario Kart DS requires that only one player has a copy of the game. Unlike past DS games, however, DS Download Play in Mario Kart DS allows multiple players who have the game card to play with multiple players who do not have the game card. DS Download Play offers the following features:2-8 player simultaneous wireless game play.A choice of multiplayer racing, Balloon Battle, or Shine Runner modes.Players who own Mario Kart DS can choose their own characters and use personalized icons, while players who do not own Mario Kart DS must play as Shy Guy and cannot use personalized player icons.Track selection is limited to eight tracks for racing and three arenas for Balloon Battle and Shine Runner modes.DS Download Play is limited to the 100 cc engine classMulti-Card Play
Multi-Card Play requires all players to have their own copies of Mario Kart DS, giving players more options, modes and tracks to choose from. Multi-Card Play offers the following features:2-8 player simultaneous wireless game play.Your choice of multiplayer racing, Balloon Battle, or Shine Runner modes.Players can choose from different engine classes.No limits on character choice.No limits on track choice.Player's win/loss ratio is saved and tracked.Players who race locally are automatically added to each other's friend roster and then can race via Nintendo Wi-Fi Connection.Players can trade ghost data wirelessly, allowing them to race against each others' best times.Nintendo Wi-Fi Connection:
Nintendo Wi-Fi Connection is a free online game-play service provided by Nintendo to Nintendo DS owners. It offers seamless access to online game play and an environment that is welcoming to gamers of all skill levels. Features include: Whether it's the updated graphics that retain the side-scrolling feel of classic games in the Sonic franchise, an expansive world to race through and explore or the multiple and new ways to play, Sonic Unleashed offers something for players of any age or level of ability.2-4 players racing simultaneously.Choice of playing with:Friends only (players registered as Friends)Rivals (players with similar skills)Recent opponentsRegional racers (players in their country)World racers (players anywhere in the world)No limit on course choice, but each player votes for a course and the course with the most votes wins (in case of a tie, the course is chosen randomly)No limit on character choicePlayers can create and use personalized player iconsConnecting to the Nintendo Wi-Fi Connection will be quick, easy and seamless. Players can go to an official Nintendo hotspot and immediately go online and start playing. To use their home Wi-Fi routers, players first must configure the DS to connect to their routers by entering the router's network ID and optional security key or install the Nintendo Wi-Fi USB Connector on their PC and configure the DS to enable it to share the PC's broadband connection. After that, players can go online anytime without further configuration. Friends are registered to the friends roster either by exchanging and entering Friend Registration Keys or by playing local Multi-Card Multiplayer mode together.
New Super Mario Bros.
Nintendo
Old-School Platforming Fun - Jump, bounce and power-up through visually stunning side-scrolling worlds filled with Mushroom Kingdom madness. New Action - Grab a Mega Mushroom and grow to incredible proportions, or smash through your foes in a blue Koopa shell. 2 Distinct Multiplayer Modes - New Super Mario Bros. features competitive 2-player multiplayer and mini-game functionality supporting up to 4 players. A Classic Storyline - Bowser and Bowser Jr. have kidnapped Princess Peach, again, and only Mario and you can save her. Powerups Galore - You'll find classic power-ups, like the Super Mushroom and the Fire Flower in the game, as well as some all-new ones that let Mario explore the Mushroom Kingdom like never before. New Moves - New Super Mario Bros. expands Mario's arsenal of moves to include some very powerful advanced techniques. If you want to uncover every secret in the game, you'll have to master them all.
Super Paper Mario
Nintendo
The newest chapter of the Paper Mario story isn't just out of this world…it's out of this dimension! What at first glance appears to be a 2-D sidescroller ripped straight from the stylized pages of the Paper Mario universe soon turns into a hilarious dimension-shifting platformer possible only on Wii! 2-D...AND 3-D! Run through vibrant 2-D worlds, stomping on enemies and breaking blocks....then, with the press of a button, flip into 3-D! In the 3rd dimension, you'll find hidden paths, battle foes, and uncover secrets as you explore the previously invisible depth of the 2-D landscapes! Unique Wii controls! Hold the Wii Remote sideways and control the game in classic Super Mario Bros. style! You can shake the Wii Remote to pull off stylish moves and break out of frigid ice and even point directly at the screen to get helpful hints from your sidekick. Not only that, but you'll also play as Peach and Bowser, both with their own sets of essential skills. Hilarious adventure! When a mysterious villain kidnaps Peach and Bowser and forces them to get married, their union creates a rift of dark energy that threatens to tear the universe apart! Hilarious characters, laugh-out-loud plot twists, and unforgettable dimensions await as Mario makes his way through eight worlds, each more memorable than the last!
Super Mario Galaxy
Nintendo
As always with any Nintendo game console, the first Super Mario game is one of the defining experiences on the system. Join Mario as he ushers in a new era of video games, defying gravity across all the planets in the galaxy. When some creature escapes into space with Princess Peach, Mario gives chase, exploring bizarre planets all across the galaxy. Since he's in space, Mario can perform mind-bending jumps unlike anything he's done before. He'll also have a wealth of new moves that are all based around tilting, pointing and shaking the Wii Remote.
Mario Kart Wii
Nintendo
Get behind the wheel! Perform speed-boosting flips and wheelies with the flick of a Wii Remote, or grab a Wii Wheel for even more fast-paced fun! Play friends locally on a single Wii, or hop onto Nintendo WFC for the biggest worldwide race yet! Wii Wheel sold separately. Broadband Internet access required for online play.
New Super Mario Bros. Wii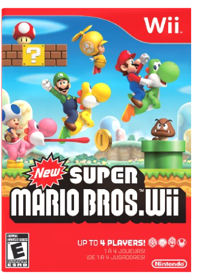 Nintendo
New Super Mario Bros. Wii
Super Mario Galaxy 2
Nintendo
Launch into a new universe of gravity warping worlds in the sequel to one of the greatest games of all time! Yoshi joins Mario as they traverse a wild variety of galaxies exploding with imagination, helping out our hero as he gulps enemies, runs at super speed, or inflates like a blimp to reach high cliff tops. Whether Mario's leaping into orbit around tiny micro-planets, tumbling through rooms with constantly flip-flopping gravity, or drilling through craggy worlds to emerge on the other side, he'll need new abilities and serious jumping skills to survive the all-new challenges ahead!
Mario Kart 7
Nintendo
The newest installment of the fan-favorite Mario Kart franchise brings Mushroom Kingdom racing fun into glorious 3D. For the first time, drivers explore new competitive kart possibilities, such as soaring through the skies or plunging to the depths of the sea. New courses, strategic new abilities and customizable karts bring the racing excitement to new heights.
New Super Mario Bros. U & New Super Luigi U
Nintendo
Limited edition bundle
Mario Kart 8
Nintendo
Feel the rush as your kart rockets across the ceiling. Race upside-down and along walls on anti-gravity tracks in the most action-fueled Mario Kart game yet. Take on racers across the globe and share videos of your greatest moments via Mario Kart TV.

Driving up a waterfall or across the ceiling can provide an intense adrenaline rush, but that's not all anti-gravity is good for. It also provides a wild new gameplay mechanic: if you collide into other racers in zero-g, you'll earn speed boosts worth bragging about. Upload and share your best moments and watch your friends' using Mario Kart TV. Returning features include 12-player online play, gliders, underwater racing, motorbikes, and custom karts. You can even race as Bowser's seven minions, the Koopalings.

Race along walls and upside-down on twisting anti-gravity racetracks

Share highlight videos of your greatest moments with friends via the Mario Kart TV feature and Miiverse

Race and battle with friends locally or connect online to play with random players from around the world

Fan favorite features from past Mario Kart games include gliders, underwater racing, motorbikes, mid-air tricks, and more

For the first time ever, play as all seven of Bowser's minions, the Koopalings

Crisp HD graphics and fluid animation offers players a visually stunning Mario KartView larger

Start your Karts for some flippin' funView larger

Brand new item chomps at racing enemiesView larger

Race alongside your favorite charactersView larger

Race as all of Bowser's minions, the Koopalings, for the first time ever
Mario amiibo
Nintendo
Mario amiibo
Captain Toad: Treasure Tracker
Nintendo
Ready for adventure? Captain Toad stars in his own puzzling quest through maze-like mini-universes—only on Wii U. Each stage is stacked with tricks and traps, so our stubby hero will have to use his wits to dodge dangers and track those treasures. Survive smoldering volcanoes, hazardous steam engines, haunted houses, and more—all in the name of treasure!
Toad amiibo
Nintendo
Discover amiibo, a brand new way to interact with your favorite characters and games. Tap amiibo figures to the Wii U GamePad controller and watch them come to life in Mario Party 10 for Wii U. They can also be used in different games in different ways.
Peach amiibo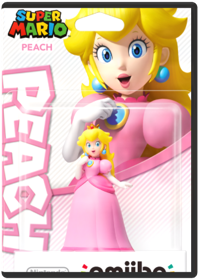 Nintendo
Discover amiibo, a brand new way to interact with your favorite characters and games. Tap amiibo figures to the Wii U GamePad controller and watch them come to life in Mario Party 10 for Wii U. They can also be used in different games in different ways.
Yoshi amiibo
Nintendo
Discover amiibo, a brand new way to interact with your favorite characters and games. Tap amiibo figures to the Wii U GamePad controller and watch them come to life in Mario Party 10 for Wii U. They can also be used in different games in different ways.
Puzzle & Dragons Z + Puzzle & Dragons: Super Mario Bros. Edition
Nintendo
Two puzzling RPG adventures-one has dragons. .. the other has Mario! Two puzzling RPG adventures await you! Rescue Princess Peach from Bowser or defeat the evil group Paradox by battling enemies with the awesome power of orbs. Drag and match orbs, or chain together combos to deal massive blows to your enemies. Then bolster your forces with hundreds of unique monsters in this two-in-one game pack. In Puzzle & Dragons Super Mario Bros. Edition, you get to travel to different worlds as you assemble a team of Mushroom Kingdom baddies, like Goombas or Koopa Troopas, and recruit much-loved Mario characters, including Toad and Yoshi! Or in Puzzle & Dragons Z, battle the 5 powerful sky dragons to rebuild the world and customize your team with a plethora of different monsters. Allies gained in both games have the chance to evolve into more advanced forms and learn powerful new skills.
Mario - Silver Edition amiibo
Nintendo
MarioTM never hesitates to leap into action when there's trouble in the Mushroom Kingdom. Known for saving the world (and Princess PeachTM) countless times from BowserTM, Mario is a true super star. He's got amazing jumping skills and makes use of a wide range of transformations. Mario has also powered up into countless roles: referee, doctor, sportsman, dancer, kart racer, and many more.
Dr. Mario amiibo
Nintendo
Dr. Mario Super Smash Brothers Series amiibo (US Version)!
Super Mario Maker (Idea Book Bundle)
The ultimate evolution of Super Mario Bros. is here!
Mario experience of your dreams has arrived and is bursting with creativity…including yours! Play a near-limitless number of intensely creative Super Mario levels from players around the world. It's easy enough to create your own levels with the Wii U GamePad controller that it may feel like you're simply sketching out your ideas on paper, but you can now bring enemies and objects into a playable course in
ways you could only dream of before. What was impossible in  traditional Mario games is now impossibly fun, so let your imagination run wild!

FEATURES:
Play a near-limitless number of Mario levels created by Nintendo and players around the world.Create your own Mario levels by using the Wii U GamePad controller touch screen to add enemies, blocks, pipes and more.Break the conventions of traditional Super Mario gameplay by blending enemies, traps and items into unexpected twists, like Piranha Plant-shooting cannons, power-up-tossing Lakitus, or even Hammer Bros. riding on Bowser while bouncing on trampolines..Touch control, instant editing and a robust online ranking and search system makes creating, playing and sharing a seamless process.Switch between four distinct themes, each with different art styles and features:Super Mario Bros., Super Mario Bros. 3, Super Mario World, and New Super Mario Bros. U.Transform into different characters at random with the new Mystery Mushroom item.Expand the roster of possible characters by completing 100 Mario Challenge mode or tapping compatible amiibo.Tap a 30th Anniversary Mario amiibo figure to the Wii U GamePad controller to add a Big Mushroom power-up to your course!Each retail copy of the game will come with a special booklet that offers fun ideas for designing courses.

System Requirements:Supported Platforms: Nintendo - Wii U         

Nintendo account required for game activation and installation
30th Anniversary Mario - Classic Color amiibo
Nintendo
30th Super Mario Bros. Series