Advance Wars: Dual Strike - Nintendo DS
Nintendo
Third installment of the popular SRPG series. First for the DS handheld.
Adventure Time: Hey Ice King! Why'd You Steal Our Garbage?!! (Collector's Edition)
D3 Publisher
Finn and Jake wake up one morning to find their trash stolen by the Ice King! Jake couldn't care less about half-eaten bananas, crumpled up math notes, and old chicken diapers – but when the Ice King uses these stolen goods to construct a Garbage Princess, our heroes embark on a fantastical adventure and teach him a lesson! Journey through the Land of Ooo in an offbeat adventure and discover perilous dungeons, unimaginable treasures, the true meaning of friendship, and never-ending fun! The Adventure Time Collector's Edition includes Custom package design of the Enchiridion, Premium SteelBook case, Limited edition replica stylus of Finn's Gold Sword, Exclusive Finn & Jake's Monster Manual, Bonus poster map of the Land of Ooo
Front Mission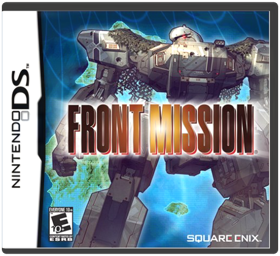 Square Enix
Front Mission focuses on the conflict over Huffman Island, located in the neutral zone between two superpowers known as the Oceania Cooperative Union (O.C.U.) and the Unified Continental States (U.C.S.). Tensions between the O.C.U. and the U.C.S. spark the First Huffman Conflict in 2070, a two-year war ending with a ceasefire agreement that divides the island into two territories. After many years of relative peace, the sudden destruction of a U.C.S. military factory triggers the Second Huffman Conflict in 2090. Experience the war from the perspective of Royd Clive, the leader of the O.C.U. mercenary outfit "Canyon Crows", or Kevin Greenfield, the commanding officer of the U.C.S. Special Forces squad "Black Hounds." Battle through missions against wanzers, tanks, attack helicopters, and giant mobile weapon platforms, and unravel the true motives behind the war over Huffman Island.

Features:Use the Nintendo DS Touch Screen functionality and stylus-driven controls to navigate through the menus with a tap of the screenDual screen presentation keeps gamers focused on the action while providing them with information at a glanceExperience a storyline that includes the addition of new missions and new wanzers, along with the appearance of characters from other titles in the Front Mission seriesChallenge others to wanzer battles through the multiplayer element accessible via DS Wireless PlayChoose a side in the warfare between the O.C.U. and the U.C.S. and experience both sides of the conflictYoshitaka Amano, character designer of the Final Fantasy franchise, provides the character illustrations
Golden Sun: Dark Dawn
Nintendo
Offering a planet-sized world of adventure to explore and conquer, Golden Sun: Dark Dawn puts the raw power of the elements in players' hands. Each of the game's playable characters is capable of carrying Djinn, spirits that imbue their owner with unique and powerful abilities. Players can collect more than 70 unique Djinn, granting them the ability to summon mighty deities who unleash devastating attacks that fill both Nintendo DS screens. Djinn powers can also be used to navigate puzzling dungeons and overworld environments that will have players flinging fireballs to burn away obstacles, freezing water to raise platforms, or summoning whirlwinds to create bridges out of floating objects. Taking place 30 years after the events of Golden Sun and Golden Sun: The Lost Age for the Game Boy Advance system, Golden Sun: Dark Dawn introduces a new generation of heroes that are struggling to survive in a radically changed world. What begins as a simple journey to rescue a lost friend turns into a dramatic quest to save the land from catastrophe as players are drawn into a world full of magical energy.
Kirby Canvas Curse
Nintendo
Kirby: Canvas Curse is Kirby's debut on the DS. In this 2D action game, you'll use your magic wand to guide the pink hero, stun enemies, and launch special attacks. An evil witch turns Dream Land into a "picture" world - but she left behind a magic paintbrush that draws rainbow paths. Help Kirby regain his shape and save Dream Land!
The Legend of Zelda: Phantom Hourglass
Nintendo
The Legend of Zelda: Wind Waker closed with Link and Tetra setting sail for waters unknown... but their story was just beginning, and it continues on the Nintendo DS. When a mysterious fog waylays their band of pirates and leaves Link alone on a strange island, an all-new adventure begins! ** Get in touch! All game control is via the Touch Screen, and the stylus makes controlling Link more natural than ever. Touch the screen to guide Link through the world, or sweep the stylus around him to swing his sword. You can even make notes on your map, chart routes for your boat, or draw paths for your boomerang! ** Adventure time! With Tetra missing, Link must enlist the aid of several fairies as he explores dangerous wilds, uncharted seas, and baffling dungeons. As he does, he meets an array of fascinating characters, hunts for powerful weapons, and collects sand for a mysterious artifact called the Phantom Hourglass. Over time, it will enable him to progress deeper and deeper into the ultimate dungeon. ** Link with a pal! Compete with a friend over local wireless or Nintendo WFC as you guide Link through special battle stages to capture Force Gems or command the forces that oppose him!
Mario Kart DS
Nintendo
The ultimate Mario Kart race is on…and online via your Nintendo Wi-Fi Connection in Mario Kart DS. Drawing on more than 30 courses and battle arenas from every game in the Mario Kart series - not to mention tons of new ones, Mario Kart DS allows you to play as Mario, Luigi, Princess Peach, Wario, Yoshi, Donkey Kong, Toad, Bowser and Shy Guy as you put the pedal to the go-kart metal, grab coins to max out your speed and blast rivals with the ever-popular arsenal of red, green and spiked Koopa shells in a race to finally put to rest the question of who is the true king of the Mushroom Kingdom racing circuit.

Race the Mushroom circuit
Mario is a veteran of the circuit.
View larger.
Choose your favorite character.
View larger.
Peach is a master drifter.
View larger.
Select the Kart you want.
View larger.
Bowser is the bruiser of the track.
View larger.
Watch your position in the pack.
View larger. Progressing Through the Game
Place first in Grand Prix circuits or clear skill-based missions to open up increasingly difficult and thrilling circuits. Of course, players can have multiplayer races on any open courses or battle in arenas.

Game Modes: At Least Five Ways to Play
Whether you prefer to race by yourself or to mix it up with friends, Mario Kart DS is a game with something for everyone. Features five different game modes, these include a 'VS' and 'Battle' mode that are available in multiplayer for up to eight players via local wireless connection while all modes are available singleplayer. See a complete list and description of the play modes below:

Grand Prix Mode: In Grand Prix Mode, the driver who earns the most points at the end of a four-course cup is the victor. Mario Kart DS features eight different cups, with each cup featuring four different tracks.Time Trial Mode: Your objective in Time Trial Mode is to get the fastest time that you can on a single track. . You can save your best runs as ghost data and share them with a friend.VS Mode: A competitive mode that can be either singleplayer. or multiplayer. In the singleplayer. version you'll race against computer-controlled karts, while in multiplayer you'll race against human opponents who play using their own Nintendo DS systems.Battle Modes: Mario Kart DS contains two battle modes.Balloon Battle Mode: Your goal is to pop your opponent's balloons by attacking/stealing them by colliding into an opponent via a mushroom boost, before your own balloons are popped.Shine Runners: In this mode the driver who collects the most Shine Sprites is the winner.Mission Mode: In this mode you are given sets of specific missions that you must clear in order to move on to the next set of missions. What could wait at the end?Special Powers, Weapons, Moves & Features
Turbo power-drifting and item tossing is the order of the day, whether players are racing around an obstacle-filled track or battling in an arena. Use familiar items taken from every game in the series like Green Shells, homing Red Shells, Bananas, Bombs, Lightning and the destructive Spiny Shell, not to mention new ones like the Blooper. The touch screen features a map that shows items being fired at players, who can even tap it with their fingers mid-race to zoom in or out.

Wireless Communication: Even More Ways to Play:
Mario Kart DS features three different forms of wireless game play: two kinds of local wireless game play and Nintendo Wi-Fi Connection online game play. Mario Kart DS offers two different options for LAN Wireless game play: DS Download Play, in which only one player has Mario Kart DS and all players have Nintendo DS systems, and Multi-Card Play, in which all players have Mario Kart DS and Nintendo DS systems.

DS Download Play
As with all DS Download multiplayer games, the DS Download Play in Mario Kart DS requires that only one player has a copy of the game. Unlike past DS games, however, DS Download Play in Mario Kart DS allows multiple players who have the game card to play with multiple players who do not have the game card. DS Download Play offers the following features:2-8 player simultaneous wireless game play.A choice of multiplayer racing, Balloon Battle, or Shine Runner modes.Players who own Mario Kart DS can choose their own characters and use personalized icons, while players who do not own Mario Kart DS must play as Shy Guy and cannot use personalized player icons.Track selection is limited to eight tracks for racing and three arenas for Balloon Battle and Shine Runner modes.DS Download Play is limited to the 100 cc engine classMulti-Card Play
Multi-Card Play requires all players to have their own copies of Mario Kart DS, giving players more options, modes and tracks to choose from. Multi-Card Play offers the following features:2-8 player simultaneous wireless game play.Your choice of multiplayer racing, Balloon Battle, or Shine Runner modes.Players can choose from different engine classes.No limits on character choice.No limits on track choice.Player's win/loss ratio is saved and tracked.Players who race locally are automatically added to each other's friend roster and then can race via Nintendo Wi-Fi Connection.Players can trade ghost data wirelessly, allowing them to race against each others' best times.Nintendo Wi-Fi Connection:
Nintendo Wi-Fi Connection is a free online game-play service provided by Nintendo to Nintendo DS owners. It offers seamless access to online game play and an environment that is welcoming to gamers of all skill levels. Features include: Whether it's the updated graphics that retain the side-scrolling feel of classic games in the Sonic franchise, an expansive world to race through and explore or the multiple and new ways to play, Sonic Unleashed offers something for players of any age or level of ability.2-4 players racing simultaneously.Choice of playing with:Friends only (players registered as Friends)Rivals (players with similar skills)Recent opponentsRegional racers (players in their country)World racers (players anywhere in the world)No limit on course choice, but each player votes for a course and the course with the most votes wins (in case of a tie, the course is chosen randomly)No limit on character choicePlayers can create and use personalized player iconsConnecting to the Nintendo Wi-Fi Connection will be quick, easy and seamless. Players can go to an official Nintendo hotspot and immediately go online and start playing. To use their home Wi-Fi routers, players first must configure the DS to connect to their routers by entering the router's network ID and optional security key or install the Nintendo Wi-Fi USB Connector on their PC and configure the DS to enable it to share the PC's broadband connection. After that, players can go online anytime without further configuration. Friends are registered to the friends roster either by exchanging and entering Friend Registration Keys or by playing local Multi-Card Multiplayer mode together.
Meteos
Nintendo
In Meteos you're the last line of defense, in a bad case of planetary overload. As blocks drop down on the lower screen, you must use the DS's stylus to match up blocks of the same color. Once you have enough blocks connected, they'll shoot back up into the sky to form planets on the upper screen.
Metroid Prime Hunters: First Hunt
Nintendo
This is the game Metroid Prime Hunters First Hunt, which is a demo to Metroid Prime Hunters.
New Super Mario Bros.
Nintendo
Old-School Platforming Fun - Jump, bounce and power-up through visually stunning side-scrolling worlds filled with Mushroom Kingdom madness. New Action - Grab a Mega Mushroom and grow to incredible proportions, or smash through your foes in a blue Koopa shell. 2 Distinct Multiplayer Modes - New Super Mario Bros. features competitive 2-player multiplayer and mini-game functionality supporting up to 4 players. A Classic Storyline - Bowser and Bowser Jr. have kidnapped Princess Peach, again, and only Mario and you can save her. Powerups Galore - You'll find classic power-ups, like the Super Mushroom and the Fire Flower in the game, as well as some all-new ones that let Mario explore the Mushroom Kingdom like never before. New Moves - New Super Mario Bros. expands Mario's arsenal of moves to include some very powerful advanced techniques. If you want to uncover every secret in the game, you'll have to master them all.
Pokémon HeartGold Version
Nintendo
Pokémon HeartGold Version and Pokémon SoulSilver Version return players to the scenic Johto region first introduced in the beloved original Pokémon Gold and Pokémon Silver games nearly a decade ago. The richly detailed adventure of Pokémon Gold and Pokémon Silver is now enhanced for the Nintendo DS and Nintendo DSi systems with updated graphics and sound, as well as new touch-screen features and a host of surprises. Pokémon HeartGold Version and Pokémon SoulSilver Version bring dozens of Pokémon characters back into the limelight for a new Pokémon generation - and longtime fans - to catch, train and battle.

The Pokéwalker Included:
The Pokéwalker is a special pedometer that you carry with you that lets you take Pokémon fun wherever you go! You can transfer a Pokémon onto the Pokéwalker accessory using an infrared connection between the Pokéwalker and your Game Card. Then as you Stroll around with your Pokémon, it'll earn Experience Points to gain a level. And you can even find items and special Pokémon while you're on the go! The Pokéwalker is small enough that you can keep it in your pocket and take wherever you go. It also has a clip to hook it on your belt, and a hole for attaching a strap. It's never been easier to take Pokémon with you!

Pokéwalker The Pokéwalker counts the number of steps you take as you walk around. The more steps you take, the more Watts you earn, which you can spend to find items and Pokémon!

When you transfer a Pokémon from your game into your Pokéwalker, you can select which Route you'd like to take your Pokémon along. Depending on which Route you take (such as in a grassland or by the sea), you'll encounter different wild Pokémon and find remarkable items. When you first begin your journeys with the Pokéwalker, the list of Routes you can select from is short. But, the more you take a Stroll with your Pokémon, the more Routes will appear and the more Pokémon and items you'll be able to get!

Catch Wild Pokémon!
After you've collected some Watts by going on a Stroll with your Pokémon, spend some of them to use the Poké Radar to catch wild Pokémon! If you see tall grass rustling after you use the Poké Radar, you know you've found a Pokémon. You have three options in the battle. You can attack, evade, or catch the wild Pokémon. By attacking, you can wear down the wild Pokémon to make it easier to catch. If you choose to evade when the wild Pokémon attacks, you'll perform a counterattack! And when you think the timing is right, throw a Poké Ball to catch the Wild Pokémon. You can keep up to three caught Pokémon in your Pokéwalker at a time. If you catch a fourth Pokémon, you must choose one of them to set free.

Find Items!
Use the Pokéwalker's Dowsing Machine to help find items. Like the Poké Radar, you use the Watts you earned while walking to use the Dowsing Machine. Some of the items you can find are quite uncommon! When you use the Dowsing Machine, you'll see six patches of tall grass, and one of them has a hidden item in it. You have only two chances to discover the item! Some of the items you can get are really hard to find and very valuable, so keep hunting!

Time to Transfer!
Once you've found Pokémon and items using your Pokéwalker, you can send them back to your Pokémon game. You can only keep up to three Pokémon and three items in your Pokéwalker at a time, so be sure to send them to your game when your inventory fills up! Remember, if you catch a fourth Pokémon in your Pokéwalker, you'll have to swap out one of the three Pokémon you've already caught.

The Pokéwalker Journal
After your Pokémon has spent some time in your Pokéwalker, you can get a recap in the Pokéwalker Journal. The journal tells of all the places the Pokémon has been and the things it has found while traveling inside your Pokéwalker! For example, if you catch a particular Pokémon while out on a Stroll, your Pokéwalker Journal will make note of it. It will also keep track of how your Pokémon has behaved while inside your Pokéwalker!

Pokéwalkers Communicate with Each Other!
The Pokéwalkers don't communicate only with Game Cards—they can also communicate with each other! When you connect Pokéwalkers with a friend, you'll both receive an item as a gift! You can connect two Pokéwalkers via infrared signal by pointing them at each other. When you do so, both players will receive an item! You can receive up to ten items by connecting to your friends, but you can get only one gift per person, per day.
Pokémon: Black Version
The Pokémon Company
A new world filled with never-before-seen Pokemon!
Pokémon: Diamond Version
The Pokémon Company
Nintendo Pokemon Diamond for Nintendo DS
In the Sinnoh region, there are two Pokemon that symbolize the region. They appear in the Sinnoh reigon's myths andold folklore. One is called Dialga, and is said to have the power to control time. The other is called Palkia, who is said to have the ability to distort space. The sinister organization called Team Galaxy is trying to rule the region by utilizing these two Pokemon's power. During your adventure tocomplete your Pokedex and become the Champion, these two Pokemon, and Team Galaxy, will intertwine into the story and lead you on a fantastic journeyacross the Sinnoh region.
Features:
* Worldwide battles and trading using WiFi.
* Real-time clock feature changes the time of day based onthe DS clock. The Pokemon you can catch vary based on the region and the time of day. Also, certainPokemon moves' power changes based on time.
* More elaborate Pokemon Contests. Players can use the accessories and dress up their Pokemon. Playersmake "Poffin" out of Berries to rasie their Pokemon's contest stats.
* New dual-type Pokemon, new/altered moves, and new special abilities add to the already deep strategy of Pokemon battling.
* 3-D enviornments and updated graphics.
Polarium
Nintendo
Polarium is a simple, stylish puzzle game you play entirely with the Nintendo DS touch screen and a stylus. Draw lines to flip black and white tiles and make patterns and puzzles disappear. Use the stylus to draw a stroke, flipping black and white tiles to change and match their color. Three game modes and scores of puzzles will put your puzzle-solving abilities and stylus skills to the test. Challenge a friend to a duel over a wireless connection.
Trace Memory
Nintendo
Piece Together the Traces of Your Past. Ten years ago, while researching human memory, your parents suddenly disappeared. Now a letter from your father provides the first clue in a strange adventure to the mysterious Blood Edward Island. But what could a memory-generating computer and a ghost named D have to do with your parents' disappearance? Blood Edward Island won't give up its secrets easily, so you'll have to trace the clues to find the truth.