The Adventures of Ichabod and Mr. Toad + Fun and Fancy Free 2-Movie Collection
Jack Kinney, Claude Geronimi, James Algar
Experience two classic Disney masterpieces, THE ADVENTURES OF ICHABOD AND MR. TOAD and FUN AND FANCY FREE, together for the very first time on Blu-ray(TM). Enjoy Disney animation's humorous retelling of two unforgettable classics, THE LEGEND OF SLEEPY HOLLOW and THE WIND IN THE WILLOWS, wonderfully narrated by Basil Rathbone and Bing Crosby, which come together in one magnificent adventure. Then have some fun with Mickey, Donald and Goofy in FUN AND FANCY FREE, as Jiminy Cricket brings to life the timeless tales of BONGO and MICKEY AND THE BEANSTALK. This was the last animated feature starring Walt Disney as the voice of Mickey Mouse. These classic films follow Disney's tradition of combining great storytelling, unforgettable characters, music and adventure to create fun you can share with the whole family. Includes Disney bonus cartoon classic, THE RELUCTANT DRAGON — only on Blu-ray!|Legend has it that the animator assigned to this film departed to serve in the Army during World War II, then returned four years later only to resume animating the exact same sequence he'd been working on!|Several of the characters from MR. TOAD appear in the 1983 short, "Mickey's Christmas Carol": Cyril, Toad (as Scrooge's first employer), Rat and Mole (as collectors for the poor), and two of the weasels (as gravediggers).|The film was originally titled TWO FABULOUS CHARACTERS.|Despite his huge nose, huge ears, and wispy red hair plaited tightly into a pigtail, Ichabod is portrayed as a ladies' man in the film.|"The Legend Of Sleepy Hollow" (ICHABOD) section of the movie is one of the few instances in a Disney film in which a bully — Brom Bones — gets the girl.
Aladdin: Diamond Edition
Bill Perkins, John Musker, Ron Clements
A peasant and thief finds a magical lamp deep in the desert. Upon rubbing the lamp, the peasant releases a talkative genie who is bound to grant him three wishes. The peasant wishes for the life of luxury and his world is turned upside down. As he courts the beautiful princess Jasmine, the evil Jafar becomes wise to the peasant in princely clothes and threatens to expose him if he doesn't step aside and allow him to marry Jasmine.
Alice In Wonderland
Walt Disney's Beloved Masterpiece Makes Its Breathtaking Blu-ray Debut!

Experience the magic and majesty of Alice In Wonderland with the ultimate collector's dream. For the first time, Walt Disney's timeless classic bursts into brilliance in Blu-ray Hi Definition! Featuring Disney Enhanced Home Theater Mix, this remarkable digital restoration boasts pristine sound and unparalleled picture quality. Plus, fascinating bonus features including "Through The Keyhole: A Companion's Guide To Wonderland" and an exciting interactive game, "Painting The Roses Red", have been specifically designed for this landmark release.

Join Alice as she chases the White Rabbit and journeys into a topsy-turvy world that gets "curiouser and curiouser" as her fantastical adventures unfold. Meet the Mad Hatter, March Hare, Tweedledee & Tweedledum, the Cheshire Cat, the Queen of Hearts and more unforgettable characters, all set against a backdrop of awe-inspiring splendor.

Filled with spectacular songs and animation, this 2-disc 60th Anniversary celebration of Alice In Wonderland is more wondrous than you ever could have imagined!
Beauty and the Beast
Gary Trousdale, Kirk Wise
Acclaimed and treasured like no other, Disney's beloved modern classic, the first animated feature film in the history of the Oscars® nominated for Best Picture (1991), is brilliantly transformed to a new level of entertainment through the magic of Blu-ray™ High Definition. The music you'll never forget, the characters who will fill your heart and the magical adventure about finding beauty within all come to spectacular life in Blu-ray. Plus, all-new, immersive bonus features will transport you even further into Belle's enchanted world. So be our guest and join the beloved, independent Belle and the Beast with the soul of a prince as they cast an enchanting spell like never before.
Big Hero 6
Chris Williams Don Hall
With all the heart and humor audiences expect from Walt Disney Animation Studios, BIG HERO 6 is an action-packed comedy adventure that introduces Baymax, a lovable, personal companion robot, who forms a special bond with robotics prodigy Hiro Hamada. When a devastating turn of events catapults them into the midst of a dangerous plot unfolding in the streets of San Fransokyo, Hiro turns to Baymax and his diverse group of friends — adrenaline junky Go Go Tomago, neatnik Wasabi, chemistry whiz Honey Lemon and fanboy Fred — who transform into a band of unlikely heroes. Bring home Disney's BIG HERO 6, featuring comic-book-style action and hilarious, unforgettable characters — it's fun for the whole family!
Cinderella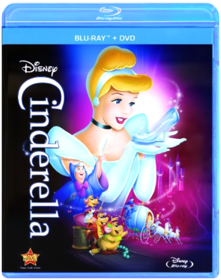 Clyde Geronimi, Hamilton S. Luske, Wilfred Jackson
Poor Cinderella meets her Prince Charming, thanks to her fairy godmother.
Disney's Aladdin
Sega Of America, Inc.
SEGA presents a Disney/Virgin Games co-production of Disney's Aladdin. Hang onto your carpet for action and fun! Aladdin slashes his shinning scimitar to fight through Agrabah, escape the Sultan's dungeon, survive the fiery Cave of Wonders, snatch the Genie's Lamp and save Princess Jasmine from the evil Jafar!
Dumbo
Ben Sharpsteen, Bill Roberts, Jack Kinney, Norman Ferguson, Samuel Armstrong
For the first time ever, in celebration of this landmark film's 70th anniversary, experience the daring adventures of the world's only flying elephant with a dazzling all-new digital restoration and brilliant Disney enhanced high definition theatre mix sound. The inspirational tale of Dumbo, the courageous baby elephant who uses his sensational ears to soar to fame with the help of his clever best friend Timothy Q. Mouse, will thrill and delight audiences of all ages. And now, the award-winning music and empowering messages about friendship and belief in yourself reach new heights in this must-have Blu-ray high-definition presentation of Walt Disney s animated classic Dumbo!
Escape to Witch Mountain
Clyde Geronimi, John Hough
A vehicle floats in midair ... a coat rack comes to life and attacks a sheriff ... and wild animals are putty in the hands of Tony and Tia Malone in Disney's thrilling fantasy adventure about the psychic powers of two young orphans. Their clairvoyance prompts evil millionaire Aristotle Bolt (Ray Milland) to lure them to his mansion to exploit their powers. While escaping, they meet a friendly camper (Eddie Albert) and begin to unravel the mystery of their origin. Soon, all three are fleeing townspeople who have branded the children witches. But then IT happens! Someone with even greater powers takes over and leads the children — and the audience — into a dazzling and unexpected experience ... one that is truly out of this world!
Flight of the Navigator
James Glennon, Randal Kleiser
David Freeman is an ordinary boy destined for a most extraordinary adventure — aboard a spectacular, futuristic spacecraft. After a mystifying disappearance, David returns, possessing vast, undiscovered knowledge about the farthest reaches of the universe. With these sudden navigational powers, David is able to take the fantastic flying machine anywhere he desires, accompanied by both its wisecracking robotic commander, Max, and an assortment of bizarre extraterrestrial creatures! Embark on a fun-filled, fast-paced journey of fantasy and adventure as David takes off on the flight of a lifetime!
Frozen
Jennifer Lee Chris Buck
Fearless optimist Anna teams up with Kristoff in an epic journey, encountering Everest-like conditions, and a hilarious snowman named Olaf in a race to find Anna's sister Elsa, whose icy powers have trapped the kingdom in eternal winter.
Hercules
John Musker, Ron Clements
The son of Zeus must prove he's a hero to regain his place among the other gods on Mt. Olympus.
Inside Out
Pete Docter
From an adventurous balloon ride above the clouds to a monster-filled metropolis, Academy Award(R)-winning director Pete Docter ("Monsters, Inc.," "Up") has taken audiences to unique and imaginative places. In DisneyoPixar's original movie "Inside Out," he will take us to the most extraordinary location of all—inside the mind. Growing up can be a bumpy road, and it's no exception for Riley, who is uprooted from her Midwest life when her father starts a new job in San Francisco. Like all of us, Riley is guided by her emotions - Joy (Amy Poehler), Fear (Bill Hader), Anger (Lewis Black), Disgust (Mindy Kaling) and Sadness (Phyllis Smith). The emotions live in Headquarters, the control center inside Riley's mind, where they help advise her through everyday life. As Riley and her emotions struggle to adjust to a new life in San Francisco, turmoil ensues in Headquarters. Although Joy, Riley's main and most important emotion, tries to keep things positive, the emotions conflict on how best to navigate a new city, house and school.
The Lion King
Rob Minkoff, Roger Allers
The Little Mermaid
Commentary by co-writers/directors John Musker and Ron Clements and composer Alan Menken Song selection Little Mermaid III musical sneak peek Deleted scenes and alternate ending with filmmaker introduction New "Kiss The Girl" music video performed by Ashley Tisdale Treasures Untold: The Making of The Little Mermaid Storm Warning: The Little Mermaid Special Effects Unit The Story Behind the Story: featurette on author Hans Christian Anderson Exclusive short: The Little Match Girl
The Little Mermaid
John Musker, Ron Clements
"NOTE:This ASIN will have 3 Discs packed out (3D BD+ 2D BD + DVD) along with multiple inserts that contain code for the digital copy of the movie as well as the soundtrack."

The codes for digital download of the sountrack doesn't expire until 10-1-2018THE LITTLE MERMAID, one of the most celebrated animated films of all time, is now spectacularly transformed for the first time on Blu-ray, with a state-of-the-art digitally restored picture and brilliant high-definition sound! Venture under the sea where Ariel, a free-spirited mermaid princess, longs to be part of the human world. After bravely striking a bargain with Ursula, a sneaky sea witch, Ariel embarks on the adventure of a lifetime. With Flounder and Sebastian at her side, Ariel will need all of her courage and determination to make things right in both her worlds.
The Little Mermaid II and Ariel's Beginning 2-Movie Collection
Jim Kammerud, Brian Smith
THE LITTLE MERMAID, one of the most celebrated animated films of all time, is now spectacularly transformed for the first time on Blu-ray, with a state-of-the-art digitally restored picture and brilliant high-definition sound! Venture under the sea where Ariel, a free-spirited mermaid princess, longs to be part of the human world. After bravely striking a bargain with Ursula, a sneaky sea witch, Ariel embarks on the adventure of a lifetime. With Flounder and Sebastian at her side, Ariel will need all of her courage and determination to make things right in both her worlds.
The Many Adventures of Winnie the Pooh
Many Adventures of Winnie the Pooh
Experience the very first time Tigger "pounces" Pooh; laugh out loud when Pooh's rumbly tumbly gets him stuck in a hilariously sticky situation... All your favorite Hundred Acre Wood characters come alive in this timeless motion picture overflowing with rich animation, masterful storytelling and unforgettable songs. Stuffed with extraordinary bonus features including the beloved theatrical short film "A Day For Eeyore," five "Mini Adventures Of Winnie The Pooh" shorts, Disney's groundbreaking "Intermission" activity and much more, The Many Adventures Of Winnie The Pooh: The Original Classic will make fans of all ages shout "Hip Hip Pooh-Ray!]Includes three Winnie the Pooh tales.]0]]John Lounsbery]Wolfgang Reithermann]]]]]]]]]]]
Mary Poppins: 50th Anniversary Edition
Robert Stevenson
Released from the Disney Vault in celebration of its 50th Anniversary, this beloved classic shines like never before on Blu-ray with an all-new digital restoration. Winner of five Academy Awards(R), including Best Actress (Julie Andrews), Best Song ("Chim Chim Cher-ee") and Best Visual Effects, Mary Poppins is a movie experience your family will enjoy over and over again.

"Practically Perfect In Every Way" Mary Poppins flies out of the windy London skies and into the home of two mischievous children. With the help of a carefree chimney sweep named Bert (Dick Van Dyke), the spirited nanny turns every chore into a game and every day into a "Jolly Holiday." Share the music, share the magic, share the joy of Mary Poppins with a whole new generation for the first time on Disney Blu-ray.The movie received 13 Academy Award(R) nominations and won 5 Oscars(R) for Best Actress, Best Song, Best Music Score, Best Film Editing, and Best Special Visual Effects. It also received a special scientific award for the creation and application of Color Traveling Matte Composite Cinematography, which helped make the combination of live action and animated actors in the film possible.
Mulan / Mulan II
Tony Bancroft, Barry Cook
Celebrate the 15th anniversary of Disney's critically-acclaimed masterpiece Mulan with this sensational 2-movie collection - presented for the first time in Blu-ray high definition. Mulan's triumphant tale of honor, courage, and family pride shines brighter than ever with new digitally mastered picture and sound! Disney's original animated classic magically transforms an ancient Chinese legend into a spectacular motion picture event. Relive all the wonder and excitement as Mulan breaks tradition by joining the Imperial army accompanied by her hilarious guardian dragon, Mushu. The adventure continues in Mulan II, as newly engaged Mulan and Shang journey to a distant city in a valiant quest to save their beloved empire. Your whole family will adore these two extraordinary films on Disney Blu-ray.

Related Products
Mulan Soundtrack
Oliver & Company: 25th Anniversary Edition
Dan Hansen, George Scribner
Celebrate the 25th anniversary of a Disney classic with the stunning Blu-ray debut of Oliver And Company, featuring perfect picture and sound. Relive this charming animated adventure, packed with excitement, fun and unforgettable songs by Billy Joel, Bette Midler and Huey Lewis. In the heart of New York City, Oliver, a mischievous orphaned kitten, is befriended by Dodger, a carefree pooch and his ragtag family of misfit mutts. Life gets even better for Oliver when he is adopted by a lonely little girl named Jenny. But when tough guy Sykes and his Doberman sidekicks try to keep Jenny and Oliver apart, the spirited kitten and his newfound friends discover the meaning of courage and find a home where they truly belong.
Pete's Dragon: 35th Anniversary Edition
Don Chaffey
For the first time ever on Blu-ray, you and your family can rediscover Disney's classic musical adventure — the 35th Anniversary Edition of PETE'S DRAGON in dazzling Blu-ray High Definition with an all-new digital restoration! When Pete, an orphan, and his best friend Elliott — an invisible green dragon — wander into the seaside village of Passamaquoddy, the townspeople think he's behind a slew of hilarious mishaps. But after a daring rescue, they change their tune and believe in Pete's fire-breathing buddy. Filled with friendship and fun, and featuring the Academy Award(R)-nominated "Candle On The Water" (Best Original Song, 1977), this family classic on Disney Blu-ray turns every viewing into a Brazzle Dazzle Day.
Peter Pan
Clyde Geronimi, Hamilton Luske, Wilfred Jackson
This is Disney's most magical musical animated adventure of all! An enchanting world where childhood last forever! Once you take heart to flight you never grow old!
Pirates of the Caribbean: Dead Man's Chest
Gore Verbinski
This sequel to the original stars Johnny Depp, Orlando Bloom and Keira Knightley. This 2-disc Special Edition's bonus features include "Bloopers of the Caribbean" and audio commentaries by writers, along with in-depth explanations of scene and characters,
Pirates of the Caribbean: The Curse of the Black Pearl
Gore Verbinski
A pirate and a proper lady team up to stop a dangerous band of pirates who are trying to break an ancient curse that keeps them trapped in between life and death.
The Princess and the Frog
Ron Clements, John Musker
Disney celebrates a modern-day classic from the directors of The Little Mermaid and Aladdin. Discover what really happened after the princess kissed the frog in an inspired twist on the world's most famous kiss. This hilarious adventure leaps off the screen with stunning animation, irresistible music and an unforgettable cast of characters. Enter Princess Tiana's world of talking frogs, singing alligators and lovesick fireflies as she embarks on an incredible journey through the mystical bayous of Louisiana. Spurred on by a little bit of courage and a great big dream, these new friends come to realize what's truly important in life...love, family and friendship. Overflowing with humor and heart, The Princess and the Frog is an incredible motion picture experience your whole family will want to enjoy again and again!

Bonus Content Includes: The Disney Legacy, The Princess Portraits Game, The Making Of A Princess, Conjuring The Villain, The Return To Hand-Drawn Animation, The Disney Legacy, Disney's Newest Princess, Bringing Life To Animation, Art Galleries, Music Video By Ne-Yo
The Rescuers: 35th Anniversary Edition
Wolfgang Reitherman
To commemorate the 35th anniversary of an original classic, Disney proudly presents a special 2-movie collection featuring all-time family favorites, THE RESCUERS and THE RESCUERS DOWN UNDER, for the first time ever on Blu-ray! Join two of the world's bravest mice — Bernard and Bianca — as they set out on two thrilling rescue missions full of comic adventure while soaring through the Devil's Bayou and flying sky high in the Australian outback. Buckle up for the ride of your life as these tiny heroes with great big hearts outrun and outwit their rivals to save the day. Brimming with lovable characters and unforgettable music, this 2-movie collection is high-flying fun for the entire family! Share the laughs and excitement for the first time on Disney Blu-ray.
Sleeping Beauty: Diamond Edition
Clyde Geronimi
Three good fairies and a handsome prince save Princess Aurora from a bad fairy's spinning-wheel curse.
Snow White & The Seven Dwarfs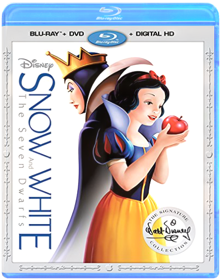 David Hand
Snow White flees the wicked Queen to the forest where she meets the Seven Dwarfs. Animated.
The Sword in the Stone
Wolfgang Reitherman
Dazzling color and brilliant animation bring the medieval legend of King Arthur to life
Tangled
Disney's CGI-animated comedy adventure retelling the classic fairy tale of Rapunzel. While hiding out in a seemingly abandoned tower deep in the forest, handsome young bandit Flynn Rider (voice of Zachary Levi) is surprised to discover that the tower does in fact have an occupant in the form of feisty long-haired teen Rapunzel (Mandy Moore). Rapunzel, who has been looking for a means of escape from the tower in which she has been grounded for her entire life, strikes a deal with the dashing outlaw and the unlikely pair soon find themselves caught up in the adventure of a lifetime as they face magic, monsters and villains in their quest for freedom.
The Jungle Book 2
Steve Trenbirth
Experience the wonder of this timeless tale as you reunite with your favorite characters and meet new friends too! Disney's beloved movie classic continues in THE JUNGLE BOOK 2 — wilder than ever. Now that Mowgli's living in the "man-village," he cherishes his new best friend and little brother, but he still has that jungle rhythm in his heart. He misses hanging out with happy-go-lucky Baloo the bear and Bagheera the panther. Yearning for freedom, Mowgli runs off into the jungle — and encounters his enemy Shere Khan! This time, he'll need both his new human family and his old jungle friends to help save the day. You'll go bananas for this thrilling musical adventure packed with humor, suspense and untamed fun for everyone!
Wall-E
Andrew Stanton
The highly acclaimed director of FINDING NEMO and the creative storytellers behind CARS and RATATOUILLE transport you to a galaxy not so far away for a new cosmic comedy adventure about a determined robot named WALL-E. After hundreds of lonely years of doing what he was built for, the curious and lovable WALL-E discovers a new purpose in life when he meets a sleek search robot named EVE. Join them and a hilarious cast of characters on a fantastic journey across the universe. Transport yourself to a fascinating new world with Disney-Pixar's latest adventure, now even more astonishing on DVD and loaded with bonus features, including the exclusive animated short film BURN-E. WALL-E is a film your family will want to enjoy over and over again. Bonus features include: BURN-E Hilarious, All-New Animated Short Bringing Light To The Galaxy...Eventual-E, BnL Shorts An Amusing Peek Into The Inner Workings Of The Buy n Large Corporation, Lots Of Bots Storybook This Imaginative Storybook Comes To Life Loaded With Fun Games, Making Of Featurettes, Bot Files Get To Know WALL-E's Robot Friends, Burn-E With Boards Picture-In-Picture Presentation, Cine-Explore With Director Andrew Stanton, Axiom Arcade A Retro Suite Of Video Games With A Twist, Geek Track, BD-Live Connect With Family And Friends Through This Innovative Movie-Watching Experience, DisneyFile Digital Copy, Presto Amazing Animated Theatrical Short Film, Deleted Scenes, Sneak Peek: WALL-E's Tour Of The Universe WALL-E Takes You On A Real Ride Through Space, Animation Sound Design: Building Worlds From The Sound Up Legendary Sound Designer Ben Burtt Shares Secrets Of Creating The Sounds Of WALL-E, Audio Commentary With Director Andrew Stanton, The Pixar Story By Leslie Iwerks n Award-Winning Filmmaker Tells The Riveting Story Of the Innovative Company That Revolutionized Hollywood, Additional Deleted Scenes, WALL-E's Treasures And Trinkets Hilarious Moments
Walt Disney Animation Studios Short Films Collection
Artist Not Provided
From Walt Disney Animation Studios comes an extraordinary new collection of award-winning and beloved short films featuring Disney's Frozen Fever, starring Anna, Elsa, Olaf, Sven and Kristoff, and the Oscar(R)-nominated Lorenzo (Best Animated Short, 2004). The Short Films Collection includes contemporary shorts starring classic characters, such as the groundbreaking 2013 Mickey Mouse cartoon, Get A Horse! And the holiday treat Prep & Landing: Operation: Secret Santa, as well as celebrated Oscar winners Paperman (2012) and Feast (2014). Enjoy them together for the first time in this must-own collection with all-new extras including an inside look at the Disney Animation shorts, featuring introductions and interviews with the acclaimed filmmakers themselves. Shorts (and filmmakers appearing in each Shorts Introduction): Frozen Fever (2015) - Chris Buck, Jennifer Lee, Peter Del Vecho, Aimee Scribner Feast (2014) - Academy Award(R) Winner, Patrick Osborne, Kristina Reed Get A Horse! (2013) - Academy Award(R) Nominated, Dorothy McKim, Eric Goldberg, Adam Green Paperman (2012) - Academy Award(R) Winner, Kristina Reed, John Kahr Tangled Ever After (2012) - Nathan Greno, Aimee Scribner, Mark Kennedy The Ballad of Nessie (2011) - Kevin Deters, Stevie Wermers-Skelton, Dorothy McKim Tick Tock Tale (2010) - Dean Wellins Prep & Landing: Operation Secret Santa (2010) - Kevin Deters, Stevie Wermers-Skelton, Dorothy McKim How to Hook Up Your Home Theater (2007) - Kevin Deters, Stevie Wermers-Skelton, Ian Gooding The Little Matchgirl (2006) - Academy Award(R) Nominated, Dave Bossert, Tom MacDougall Lorenzo (2004) - Academy Award(R) Nominated, Mike Gabriel John Henry (2000) - Mark Henn
Walt Disney Treasures - Mickey Mouse in Black and White
Ub Iwerks
Witness the birth of an American icon. This historic compilation chronicles Mickey Mouse's early career, from his landmark debut in 1928's "Steamboat Willie" to the last of his black-and-white shorts, "Mickey's Service Station," in 1935. Gain insights into Mickey's beginnings in new interviews with legendary Disney animators Frank Thomas and Ollie Johnston. See the earliest visuals on record showing the creative birth of animation's most historically significant cartoon as well as the only black-and-white cartoon pencil footage known to exist. All of this and more is revealed in this homage to the mouse who captured the imagination of the world. Featuring exclusive introductions by film historian Leonard Maltin, this is a timeless collection from generations past for generations to come.