Bioshock
Take 2
BioShock is an innovative role-playing shooter from Irrational Games who was named IGN's 2005 Developer of the Year. BioShock immerses players into a war-torn underwater utopia, where mankind has abandoned their humanity in their quest for perfection.
BioShock Infinite
Take-Two
BioShock Infinite PS3
Borderlands 2: Greatest Hits Edition
2K
Borderlands 2 furthers the distinct blending of First Person Shooter and Role Playing genres to create the true evolution of the Role Playing Shooter. Team up with up to three other players for four-player online goodness or go old-school with two-player split-screen couch sharing mayhem as you spend hours leveling up your character and equipping them with one of the millions of badass weapons. Borderlands 2 features a new visually stunning array of procedurally generated guns, shields, grenades, artifacts, enemies and more. Choose one of the four new character classes to be taken through a carefully crafted and connected story to all new and surprising environments across the living planet of Pandora. Make new friends, arm them to the teeth and fight alongside them on your relentless quest for revenge and redemption.
Dark Souls II
Namco
Developed by From Software, Dark Souls II is the highly anticipated sequel to the punishing 2011 breakout hit Dark Souls (9.5/10 Game Spot, 9.0/10 IGN). the unique old school action RPG experience captivated imaginations of gamers worldwide with incredible challenge and intense emotional reward. Dark Souls II brings the franchise's renowned difficulty and gripping gameplay innovations to both single and multiplayer experiences.
The Elder Scrolls IV: Oblivion
Bethesda
In The Elder Scrolls IV: Oblivion for PlayStation 3, the Emperor of Tamriel has been assassinated and the killer still runs loose- meanwhile, no heir sits on the throne. With no Emperor upon the throne, the gates of Oblivion open wide and demons invade. Your quest is to find the lost heir and place him on the throne, before demons destroy the land. Each character is in complete control of their own destiny in this single-player fantasy RPG, which features groundbreaking levels of non-player AI.
Fallout 3: Game of The Year Edition
Bethesda
Vault-Tec engineers have worked around the clock on an interactive reproduction of Wasteland life for you to enjoy from the comfort of your own vault. Included is an expansive world, unique combat, shockingly realistic visuals, tons of player choice, and an incredible cast of dynamic characters. Every minute is a fight for survival against the terrors of the outside world – radiation, Super Mutants, and hostile mutated creatures. From Vault-Tec, America's First Choice in Post Nuclear Simulation.
Fallout: New Vegas
Bethesda
Welcome to Vegas. New Vegas. It's the kind of town where you dig your own grave prior to being shot in the head and left for dead...and that's before things really get ugly. It's a town of dreamers and desperados being torn apart by warring factions vying for complete control of this desert oasis. It's a place where the right kind of person with the right kind of weaponry can really make a name for themselves, and make more than an enemy or two along the way. As you battle your way across the heat-blasted Mojave Wasteland, the colossal Hoover Dam, and the neon drenched Vegas Strip, you'll be introduced to a colorful cast of characters, power-hungry factions, special weapons, mutated creatures and much more. Choose sides in the upcoming war or declare "winner takes all" and crown yourself the King of New Vegas in this follow-up to the 2008 videogame of the year, Fallout 3. Enjoy your stay.
Grand Theft Auto V
Rockstar Games
Los Santos: a sprawling sun-soaked metropolis full of self-help gurus, starlets and fading celebrities, once the envy of the Western world, now struggling to stay afloat in an era of economic uncertainty and cheap reality TV. Amidst the turmoil, three very different criminals plot their own chances of survival and success: Franklin, a former street gangster, now looking for real opportunities and serious money; Michael, a professional ex-con whose retirement is a lot less rosy than he hoped it would be; and Trevor, a violent maniac driven by the chance of a cheap high and the next big score. Running out of options, the crew risks everything in a series of daring and dangerous heists that could set them up for life.

Grand Theft Auto V is the largest and most ambitious game Rockstar Games has yet created, and takes full advantage of every ounce of processing power available in the current generation of consoles. In order to provide the best possible experience for such a massive and detailed world, the game will have installation requirements on the PlayStation®3 system.

Grand Theft Auto V ships on one disc and will install content as soon as you insert the game. The install is roughly 8GB, and players will be able to play as soon as the install is complete.
Heavy Rain
Unknown
Heavy Rain is an interactive drama psychological thriller video game created by Quantic Dream exclusively for the PlayStation 3. The game is written and directed by Quantic Dream's founder and CEO David Cage. Heavy Rain's story is a dramatic thriller modeled after film noir, featuring four protagonists involved with the mystery of the Origami Killer, a serial killer who uses extended periods of rainfall to drown his victims.
The ICO and Shadow of the Colossus Collection
Sony Computer Entertainment
The ICO and Shadow of the Colossus Collection
The Last of Us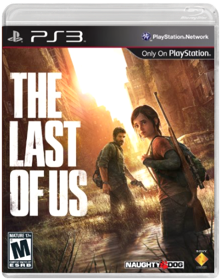 Sony Computer Entertainment
One of the Highest Rated Games of 2013

The Last of Us is a third-person Survival-Action game that utilizes choices in gameplay action to develop the game storyline, as well as the relationship between the two main characters, Joel and Ellie, made exclusively for the PS3 system. The game features a combination of combat, exploration, stealth, and platforming game mechanics. Although Joel and Ellie are both residents of a post-apocalyptic world, they have had different experiences that affect the way they see the world around them, and feel about what they see and do. Joel had a life before the pandemic, while the world of the pandemic is all that Ellie has ever known. As part of Joel's job to smuggle Ellie out of the quarantine zone, players have to make choices in how they deal with enemies, which include, roving gangs of human scavengers not unlike themselves, military elements and infected civilians.

Players also have an opportunity to interact together with elements of the world around them, which helps to build the bond between Joel and Ellie. Resources in the game are scarce, making overwhelming use of firepower unlikely and unwise in conflicts, and resource gathering missions. In addition, most other residents of the ruined world that are encountered are just trying to survive - blurring the line between good guys and bad guys. Finally, game AI react differently depending on the specifics of the player's actions, making choice in gameplay a major consideration. The Last of Us: Left Behind (Sold Separately)

Also coming soon is The Last of Us: Left Behind DLC where Ellie returns as new light is shed on her relationship with Riley, her best friend from the military boarding school they both grew up in. After inexplicably disappearing for weeks, Riley reemerges in Ellie's life with a surprising revelation. The two sneak out of their school for the last time, leading to a series of events that will forever change both of their lives. The Last of Us Signature Series Strategy Guide (Sold Separately)

The guide will point players in the right direction with game-tested strategies and tips and show how to best navigate this dangerous new world cast upon them. It will include a complete walkthrough, illustrated area maps, multiplayer maps and strategies, character bios and more. This resource will reveal all the necessary strategies without spoiling the story or the game! Complete walkthroughHighly detailed single-player and multiplayer mapsExpert tactics for every single aspect of multiplayer game playLearn about every and enemy item that Joel and Ellie will face during their travels
LEGO: Marvel Super Heroes
Warner Home Video - Games
Warner Bros. LEGO Marvel Super Heroes 1000381327 PlayStation 3 Games
Little Big Planet 2: Special Edition
Sony Computer Entertainment
PS3 LITTLE BIG PLANET 2:SPECIAL ED
LittleBigPlanet - Game of the Year Edition
Sony Computer Entertainment
Winner of over 80 multiple awards, including several Game of the Year awards, LittleBigPlanet returns with its signature "Play, Create and Share" experience plus irresistible new bonus content. Players can play 18 brand new levels, create their own experiences with bonus costume and level packs, then go online to share their levels with other players around the world or play over 1 Million user generated levels that have been uploaded since launch. There is no better time to join the world of LBP.
Mass Effect 2
Electronic Arts
The award winning makers of Mass Effect are bringing the Mass Effect franchise to Playstation 3. Two years after Commander Shepard repelled invading Reapers bent on the destruction of all organic life, a mysterious new enemy has emerged. On the fringes of known space, entire human colonies are vanishing. As Commander Shepard, you must assemble the galaxy's deadliest team and stop the most terrifying threat humanity has ever faced.
Mass Effect 3
Electronic Arts
Earth is burning. Striking from beyond known space, a race of terrifying machines have begun their destruction of the human race. As Commander Shepard, an Alliance Marine, your only hope for saving mankind is to rally the civilizations of the galaxy and launch one final mission to take back the Earth.
Metal Gear Solid HD Collection
Konami
From the critically acclaimed director, Hideo Kojima, Metal Gear Solid HD Collection offers a handful of the most popular Metal Gear Solid titles from the past in true HD for the first time ever. Featuring three complete games, Metal Gear Solid 2: Sons of Liberty, Metal Gear Solid: Snake Eater and Metal Gear Solid: Peace Walker, the HD Collection offers old and new fans a chance to experience the epic game play, design and storytelling of the MGS franchise. The "Metal Gear Solid (MGS)" series is the seminal work of Hideo Kojima, Japan's master game creator, and the progenitor of the stealth action game genre. The series has become a global phenomenon, with over 27 million copies sold worldwide. The player controls a secret agent from an elite special forces unit who is sent on solo sneaking missions through enemy installations, vast jungles, and sometimes even the thick of battle. Alone and surrounded by the enemy, even a special forces agent will find it tough to come out alive. But that is the secret behind the series' popularity-the cerebral challenge of figuring out how to avoid combat, and the thrill of sneaking through enemy territory undetected.The MGS series is also known for its storyline, which blends seamlessly with the gameplay. The scenarios are based on extensive research and incorporate the drama of actual developments in society. These elements have made MGS what it is today: a mature work of entertainment that transcends national borders and the confines of video games, and one of the leading products of the Japanese content business.
MLB 13 The Show
Sony Computer Entertainment
So Real, It's Unreal

MLB 13 The Show allows you to experience the MLB like never before. Its jaw-dropping realism doesn't just capture every detail and mechanic of the sport, it captures the raw emotion of Major League Baseball. Improvements to Diamond Dynasty, Franchise, and Road To The Show modes make MLB 13 The Show the most realistic baseball game ever, while the addition of all-new game modes expand gameplay options even further. View larger View larger View larger

If it can happen in baseball, you can experience it in The Show. Whether it's the moment you're called up to the majors, a sacrifice fly to left field, or crushing a walk-off homer to win it all, every big, emotional moment in baseball can be yours. And The Show delivers it with such realism, it's like it really happened. Features Multiple all-new game modes bring unique gameplay experiences to The ShowAll-New Playoff Mode includes an unparalleled in-stadium atmosphere that replicates the excitement and tension of October baseballRevamped Franchise and Road To The Show modes with expanded options and new gameplay experiencesCompletely-new beginner mode and instructional enhancements make The Show the best pick-up and play baseball experienceImproved Play Now mode streamlines gameplay for the option to play faster, simpler gamesNew commentary and a new voice in the booth provide updated analysis and color commentarySave files between the PS3 and the PS Vita via the PlayStation Network. Sync your Season, Franchise, and Road to the Show saves and load them on either platform to continue the action anywhere.
Portal 2
Valve
The highly anticipated sequel to 2007's Game of the Year, Portal 2 is a hilariously mind-bending adventure that challenges you to use wits over weaponry in a funhouse of diabolical science. Using a highly experimental portal device, you'll once again face off against a lethally inventive, power-mad A.I. named GLaDOS. And this time you won't be alone. Meet an expanded cast of characters as you think your way through dangerous, never-before-seen areas of Aperture Laboratories. Break the laws of spatial physics in ways you never thought possible, with a wider variety of portal puzzles and an expansive story that spans a single player and co-operative game mode.
Red Dead Redemption
Take 2 Interactive
Story Red Dead Redemption is a Western epic, set at the turn of the 20th century when the lawless and chaotic badlands began to give way to the expanding reach of government and the spread of the Industrial Age. A follow up to the 2004 hit Red Dead Revolver, this game tells the story of former outlaw John Marston, taking players on a great adventure across the American frontier. John Marston packing heat in Red Dead Redemption Choose to fight for honor or fame as former outlaw John Marston. View larger. Gameplay Red Dead Redemption is a third-person action-adventure game set a fictional open-world American Wild West environment for players to explore. Gameplay area types include frontier towns, rolling prairies teaming with wildlife, and perilous mountain passes - each packed with an endless flow of varied distractions. Along the way, players will experience the heat of gunfights and battles, meet a host of unique characters, struggle against the elements and animals of one of the world's last remaining wildernesses, and ultimately pick their own precarious path through an epic story about the death of the Wild West and the gunslingers that inhabited it. In their travels throughout the territories of the gameworld players partake in a morality system built on honor and fame, where they gain or lose points in each area based on their actions. The game features an easy to use cover system, a variety of mounts and period specific weapons including a cattleman revolver, a mauser pistol, a repeater rifle, a sawed-off shotgun, a throwing knife, a lasso and more. Western themed mini-games are also available, including showdowns, gambling, hunting bounties, cattle herding and five finger fillet.
Resistance 2
Sony Computer Entertainment
After a valiant struggle to stop the Chimera invasion in Europe, mankind must make its last stand on the shores of the United States. In the highly anticipated follow-up to the best-selling PLAYSTATION(R)3 game, Resistance 2(TM) places players in the heroic role of Sgt. Nathan Hale as he struggles against overwhelming odds to defend mankind from the unstoppable Chimera. While wrestling with this insidious war machine, Hale must also battle the virus raging inside of his own body that threatens to transform him into the very creatures he fights against. Powered by Insomniac Games' third-generation PLAYSTATION(R)3 technology, Resistance 2(TM) will deliver unprecedented console gaming breakthroughs with a stand-alone eight-player, class-based online co-op campaign (up to 8 players) and 60-player online competitive multiplayer. An epic single-player campaign will feature a new weapons arsenal to combat giant boss encounters that increase the scale of the conflict to new heights. And players will enjoy a new level of community support. Single-player campaign featuring large-scale conflict and epic boss battles take place across a variety of massive and unique environments in the United States Breakthrough, class-based 8-player online co-op featuring a separate story-driven campaign Unprecedented squad-based 60-player online competitive multiplayer battles Releasing Fall 2008
Resistance: Fall of Man
Sony Computer Entertainment
Resistance: Fall of Man PS3
Uncharted 2: Among Thieves
Sony Computer Entertainment
Uncharted 2: Among Thieves
Uncharted 3: Drake's Deception
Sony Computer Entertainment
A search for the fabled "Atlantis of the Sands" propels fortune hunter Nathan Drake on a trek into the heart of the Arabian Desert. When the terrible secrets of this lost city are unearthed, Drake's quest descends into a desperate bid for survival that strains the limits of his endurance and forces him to confront his deepest fears.