The Legend of Zelda: Majora's Mask
Nintendo
Made in Japan. For this game pak to operate, you must have an N64 expansion pak(sold separately installed in Your N64).
The Legend of Zelda: Ocarina of Time
Nintendo
The Legend of ZELDA- Ocarina of Time for NINTENDO 64 CLASSIC GAME!!!
Mario Kart 64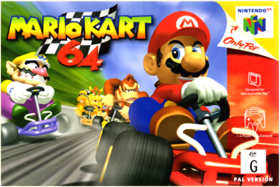 Nintendo
Mario Kart 64.
Mario Party
Nintendo
Mario and his friends return for a fun-filled party, and you're invited! Mario, Luigi, Donkey Kong, The Princess, Wario, and more return in this joyful party! The object of the game is simple: be the player who collects the most stars. You get stars by defeating any of the 56 mini-games that will challenge your gaming skills. Play in many classic Mario scenes, or keep on partyin' to rack up the most points and discover new play areas. MARIO PARTY features four-player multiplayer, the whole Mario gang, slammin' graphics, and pumpin' music. This is a party you don't want to miss!
Monopoly
HASBRO
Cartridge and hard plastic collector case with reprint of original case artwork - NO MANUAL - Front label is fully in tact. Game cartridge is in good condition but may show normal signs of age such as minor scratches, discoloration, or debris in creases. All games are tested before being put into our inventory.
San Francisco Rush Extreme Racing - Nintendo 64
SPIG
This is the game San Francisco Rush for the Nintendo 64.
Super Mario 64
Nintendo
KIDS DRIVING GAME
Super Smash Bros.
Nintendo
Four-player action fighter, starring 12 Nintendo mascots, including Mario, Luigi, Fox, Link, Samus, Pikachu, Jigglypuff and Captain Falcon. All the action takes place on one screen, from a zoomed out third-person perspective more reminiscent of old-school platformers than traditional fighting games. The premise is as simple as the controls. Beat up you opponents and knock them off the fighting platform to score a point. The more damage your opponents sustain, the farther you can throw them. Apart from the quick, but explosive mayhem that ensues when more than one player has at it, the game manages to bring back many fond gaming memories by bombarding players with familiar items, power-ups and many classic tunes.
Yoshi's Story
Nintendo
Cartridge and hard plastic collector game case with reprint of original cover art - cartridge is clean and tested with a fully intact label. However, cartridge may or may not show small signs of age including minor scuffs, very minimal debris in creases, and/or slight discoloration. All ClassicGameStore games are fully tested before being placed into our inventory, and we will stand behind our games if any issues do arise.