Activision Anthology
Aspyr
Activision Anthology is a jam-packed compilation with 40 arcade classics that older and younger gamers will love!
Advance Wars
Nintendo
Wage war on land, sea and air across more than 100 battlefields. Go through boot camp via an interactive tutorial that will teach you everything you need to know to achieve victory on the battlefield. Once you're commissioned as a CO in the Orange Army, you can dive into one of the game's many modes. A story-driven Campaign mode takes you through a series of increasingly challenging missions, leading to a showdown with an awesomely powerful enemy army. Even after you've waged multiple wars, the extremely shrewd artificial intelligence will continually surprise you. Multiplayer action includes Hot Seat mode, where up to 4 players each give orders to their units before passing the GBA to the next player to see the results.
Bubble Bobble Old & New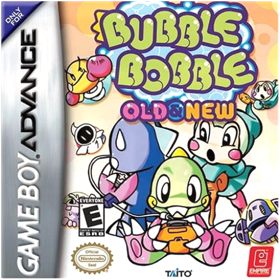 DESTINATION
Bubble Bobble is one of the classic puzzle games. Now that classic arcade original is perfectly recreated for GBA. You'll control Bub and Bob, twin baby dinosaurs stuck in a maze full of enemies. Use their unique bubble-blowing powers to trap your enemies and blow them away, to get through the maze!
Disney Princess
THQ
Play as Snow White, Cinderella, Ariel, Sleeping Beauty, Belle, and Jasmine as you search for the magical Tiara of Friendship to make sure that everyone lives happily ever after.
Excitebike: Classic NES Series
Nintendo
Re-released in celebration of the 25th anniversary of the Nintendo entertainment system console, ExciteBike is a high-flying, knee-scraping bike racing game offering 5 tracks plus a design-your-own-track option that was the first of its kind in a console game. Race against time or other bikers, save your high scores and enjoy a great classic from the early days of Nintendo. Comes in a standard Game Boy Advance box featuring the classic artwork of the original game.
Final Fantasy Tactics Advance
Square Enix
Enhanced graphics, favorite characters and a brand-new storyline deliver an unparalleled role-playing experience.
Game & Watch Gallery 4
SPIG
Enter the gallery and play some of your favorite old-school handheld games. Play faithful renditions of favorites like Donkey Kong 3, Mario's Cement Factory, Fire Attack and much more. Play these games in Classic mode or in Modern mode, which combines the simple movements of classic games with new graphics and additional levels. Join all of your favorite Nintendo characters like Mario, Toad, Donkey Kong Jr., Wario and Princess Peach. Get high scores to earn stars and unlock even more fun games.
Golden Sun
Nintendo
This role-playing adventure for 1 to 4 players lets you plunge deep into a new world of fantasy and wonder, and experience the dawning of a new series. Your quest is to recover a powerful artifact that was stolen from your remote village and now threatens the world with total destruction. You will make use of psychic powers, magical spells and the lost art of alchemy to undo the evil that has befallen the land. Gather the four elements-fire, water, wind and earth-and use them in different combinations to master new, more complex spells. New interactive possibilities are possible with the Multiplayer mode that allows 2 to 4 players to quest together (requires Game Boy Advance Game Link cable).
Golden Sun: The Lost Age
Nintendo
Two-player simultaneous play through GameLink cable
Kirby: Nightmare in Dream Land
Nintendo
He's pink, he's tough and he's about to take on the evil King Dedede in Kirby: Nightmare in Dream Land. The residents of Dream Land have lost the power to dream. It's up to you to spring into action and recover the stolen Star Rod. The source of power for the Fountain of Dreams has been stolen by the evil King Dedede. It's been broken up and its pieces have been given to his underlings.
The Legend of Zelda: A Link to the Past & Four Swords
Nintendo
THE LEGEND OF ZELDA - A Link to the Past - 4 Swords: Got Game Boy Advance friends and a Game Link Cable? Legend of Zelda: A Link to the Past is a retelling of the venerable series' first game with a quest for up to four players—all from one cartridge. The game is a mix of action and puzzles where Link must travel between the Light and Dark worlds to rescue Princess Zelda. Product Description Legend Of Zelda: Link To The Past takes you back to the original adventure in the world of Hyrule! ================== PITFALL - The Lost Expedition: Gamers assume the role of Harry, a fearless, rough-and-ready treasure seeker who battles evil using his athletic ability and a knapsack filled with adventure gear. Harry must race against a rival explorer to find hidden treasures, which in the wrong hands could spell doom for him and his friends. The vast landscape, ranging from forests to ancient ruins to subterranean mines, provides players with countless game options as they face the consequences of their decisions. Crossing treacherous jungle terrain and dark areas filled with puzzles, tricks and traps, players swing on vines, avoid crocodiles and dodge rolling logs as they unearth artifacts and use their cunning to defeat dangerous foes. Product Description Deep in the Peruvian Jungle, assume the role of Pitfall Harry, a fearless treasure seeker who battles evil using his athletic ability and a knapsack filled with adventure gear. Your mission: race against a rival explorer to find hidden treasures, which in the wrong hands could spell doom for you and your friends. Featuring over 50 perilous levels, including lush rainforests, creature-ridden caves, and vast glacial mountains, you are challenged to explore a dynamic, obstacle-filled world.
Mario & Luigi Superstar Saga
Nintendo
Join Mario and Luigi as they team up in a strange new land for an action-packed quest to retrieve Princess Peach's stolen voice.
Mario Kart: Super Circuit
Nintendo
Fasten your seat belts and start your engines, because the original Kart racer is back for the ultimate Grand Prix! Choose from Mario, DK, Bowser and five other characters and race on 20 all-new tracks! Collect coins to unlock even more tracks, race against your own best time in Time Trials, or link up for Single Pak and Multi-Pak multiplayer modes. Whether you're racing in the GP or taking your road rage out on a friend in one of four battle courses, you'll need Game Boy Advance for the craziest kart racing to date!

One game pak, four players! Up to four players can choose from multiple tracks for fast and furious Kart-racing action, complete with all your favorite items! All you need is a single game pak, plus a Game Boy Advance system and a Game Boy Advance Game Link Cable for each additional player.
Metroid Fusion
Nintendo
In Metroid Fusion, Samus Aran returns in a nonstop, action-packed side-scrolling game in which her toughest enemy turns out to be herself. While on her way to explore a strange alien planet, her spaceship is attacked by a mysterious life form. A parasitic creature attacks Samus and begins to gnaw at her body.
Pac-Man Collection
Namco
Play 4 classic Pac-Man games right on your Game Boy Advance. Play the original Pac-Man and gobble up those dots as you progress through levels of difficulty. Play Pac-Mania and venture into the realm of 3D Pac-Man. He can now jump to avoid ghosts. Pac-Man Arrangement features smarter ghosts and more challenging gameplay. Pack-Attack features fast and furious Tetris-like play as you gobble up ghosts to make room for game pieces.
Pokémon: Emerald Version
The Pokémon Company
This is Nintendo Game Boy Advance game, plays for Game Boy Color, Game Boy Advance SP and DS Lite.
Pokémon: LeafGreen Version
The Pokémon Company
Pokemon Leaf Green is a new adventure in the Pokemon world, set in the calssic Kanto region where Pokemon first took root and exploded. You'll become an 11-year-old boy or girl, starting a journey from Pallet Town to become a master Pokemon trainer. Professor Oak has given you a Pokedex to aid you, as you catch, raise and train Pokemon for battle. Battle across games as you face Pokemon from otehr games — and do it wirelessly, for freedom of movement while you play! You can also exchange game challenges, talk battle strategy or just shoot the breeze with up to five people in a chat session - or send text messages to other trainers in the Union Rooms.
Pokémon: Ruby Version
The Pokémon Company
Edit By BS Editor: The gameplay is mostly unchanged from the previous games; the player controls the main character from an overhead perspective, and the controls are largely the same as those of previous games. As with previous games, the main objectives are to catch all of the Pokémon in the games and defeat the Elite Four (a group of Pokémon trainers); also like their predecessors, the games' main subplot involves the main character defeating a criminal organization that attempts to take over the region. New features, such as double battles and Pokémon abilities, have been added. As the Game Boy Advance is more powerful than its predecessors, four players may be connected at a time instead of the previous limit of two. Additionally, the games can be connected to an E-Reader or other advanced generation Pokémon games.
Pokémon: Sapphire Version
The Pokémon Company
Pokémon Sapphire will take you on a journey through the land of Hoenn. Your quest is to become the ultimate Pokémon Master through collecting, battling and trading. Pokémon Sapphire offers incredible graphics, varied gameplay and more than 100 new characters.
Sigma Star Saga
Namco
Humanity is struggling to survive against the Krill onslaught. Under constant attack, Allied Earth Federation intercepts a Krill communication that singles out six planets in the galaxy that they have taken particular interest in. Sent in as a double agent, you must discover the mystery of the six planets and help to defeat the Krill from within before humanity's time runs out!
Sonic Advance
Sega Of America, Inc.
If you've played and loved the original, you'll be able to pick up where you left off. If you're new to the game, don't worry-you'll have a lot of fun. Sonic Advance is a third-person action-adventure game that involves lots of searching, exploring lush environments on your quest for emeralds, and having run-ins with tons of interesting characters who move the story line along. You can play as either Sonic, Knuckles, Tails or his evil twin. In addition to the character of Sonic, you can play as 4 villains: Shadow, Rouge, Dr. Robotnik or Dr. Eggman. As Sonic, your goal is find the chaos emerald and succeed in foiling Dr. Robtnik and his dastardly plan to destroy the world.
Sonic Advance 2
"Sega of America, Inc."
Join Sonic, Tails, Knuckles and their new friend, Cream the Rabbit as they take off on a fast quest to dodge Dr. Eggman's gamplan. Zip through space age metal labyrinths and other new locales. Unfasten special features and stages by collecting Emeralds
Super Mario Advance
Nintendo
Super Mario Advance is a combination of a souped-up version of Super Mario Bros. 2 and an action-packed 4-player version of the original Mario Bros. arcade game. Whether you're playing alone or with 3 of your friends, Super Mario Advance is the perfect game to break in your new Game Boy Advance! Mario, Luigi, Peach and Toad adventure through an incredible fantasy world on a quest to save the day, with little more than vegetables with which to defend themselves. Unlike other Mario games where Mario defeats enemies by jumping on their heads, in this game Mario and pals have to pick up items and hurl 'em at their adversaries. Even enemies can be picked up and tossed across the screen, such as Princess Peach's ability to hover longer than any other character.
Super Mario Advance 4: Super Mario Bros 3
Nintendo
Players can add cool new features with the Card e-Reader or link up with friends for multiplayer adventures with the original Mario Bros. game.
The Legend of Zelda - Classic NES Series
Nintendo
In 1987, Nintendo players were introduced to Link, a brave hero who had been summoned to the land of Hyrule to find the eight pieces of the Triforce of Wisdom and save the Princess Zelda from the evil Gannon. Players never imagined this magical quest would be the first of many for Link and Zelda, and now they can relive it all over again on the Game Boy Advance as part of Nintendo's Classic NES Series. Graphically, musically, and gameplay-wise, Nintendo has reproduced the classic LEGEND OF ZELDA on the Game Boy Advance, perfect for on-the-go gamers. The plot is fairly straight-forward: as Link, you must defeat a variety of enemies as you search for the hidden pieces of the Triforce. Once all eight are reassembled, you can enter Gannon's lair, defeat him, and save Zelda. Along the way, Link will pick up different items to help him in his quest, including a boomerang, bow and arrows, a raft, and some bombs. Once Gannon has been defeated, players get the option to start a new quest and play through ha remixed version of the game. For older gamers who have fond memories of slaying dragons with Link, here's your chance to turn back time. Fans of the more recent ZELDA games should take this opportunity to see where it all began. And for gamers who have never joined Link on a quest, pick up LEGEND OF ZELDA and experience a whole new gaming world.
The Legend of Zelda - The Minish Cap
Nintendo
Another chapter in the popular ongoing Legend of Zelda series, for the Gameboy Advance handheld.
WarioWare, Inc: Mega Microgame$
Nintendo
Packs over 200 lightning-quick microgames into one title delivering non-stop fun that's impossible to put down.
Yoshi's Island: Super Mario Advance 3
Nintendo
One of the most memorable games of all time comes to the Game Boy Advance! In this picture-perfect port of the Super NES classic Super Mario World 2: Yoshi's Island, the unlikely duo of brave Yoshi and baby Mario must together brave the beautiful yet treacherous wilds of Yoshi's Island. Richly varied gameplay, brilliant graphics and precision control perfectly meld in an adventure you won't be able to put down!
Zelda II: The Adventure of Link - Classic NES Series
Nintendo
Zelda II: The Adventure Of Link was an instant classic when it was first released on the NES. Now it's available in its original form for your Game Boy Advance! The game takes place years after the original Legend Of Zelda — Link is now a young man and Zelda has fallen into a magical sleep. To wake her up, Link will have to restore long-lost crystals to six ancient temples.