[Citation Needed]: The Best of Wikipedia's Worst Writing
Conor Lastowka, Josh Fruhlinger
Do you need help telling the difference between a Renaissance Pope and an oracular octopus? Do you need details on what inappropriate body parts the attendees at Wing Bowl expose to one another? Do you need an accounting of which movies in the Air Bud series contain the fewest fart jokes? Fortunately, all these facts are lovingly recorded on Wikipedia, thus fulfilling the dreams of generations of scholars who worked towards a compendium of the world's most vital information.

But how can you find these details, hidden as they are among boring facts about science and history and stuff? Fear not: For nearly two years, the blog [Citation Needed] has sifted through The Best of Wikipedia's Worst Writing. A thousand entries later, Conor Lastowka and Josh Fruhlinger have handpicked over 200 of their favorite examples of putrid prose and collected them here. Each entry features hilarious commentary from the authors, but they're confident you'll already be laughing by the time you get to it.

Praise for [Citation Needed]

"Wikipedia has long been my favored source of dubious scholarship, unverified assertions, press-release hagiography, and confusing recaps of comic books in long run-on sentences. It is not merely that this material is USEFUL to a writer of fake trivia. There is also a strange pleasure that comes in witnessing very bad writing and wondering at the human mind that conceives it, and why that mind is so preoccupied with the drama behind the scenes of House Party 4. I am just glad that I now have the best of the worst, all hilariously annotated by Fruhlinger and Lastowka, and all bound in one non-internet volume such that I can enjoy these bits of grim, awkward human poetry without feeling tempted to get into a huge online fight over the weight of Mr. Belvedere." -John Hodgman

"You will not be surprised to discover many of Wikipedia's worst writing comes from entries with nerdy subjects, include Care Bears (and their suspect genders), Adult Diaper fetishes, bizarre assumptions about He-Man characters, and more. I'm convinced Topless Robot readers will love the hell out of it...Frulinger and Lastowka are not nearly as mean-spirited as I am and about five million times funnier. The book is available here at Amazon for $11. If you have a Kindle, the ebook is only $1, which is the most absurd entertainment value I've seen in quite some time." -Rob Bricken, ToplessRobot.com
Antarctica
Kim Stanley Robinson
From the award-winning author of the Mars Trilogy comes a thrilling new novel....

Kim Stanley Robinson, author of the Hugo and Nebula award-winning Mars trilogy, is one of the most original and visionary writers of fiction today. Now, in his latest novel, he takes us to a harsh, alien landscape covered by a sheet of ice two miles deep. This is no distant planet—it is the last pure wilderness on earth.

A stark and inhospitable place, its landscape poses a challenge to survival; yet its strange, silent beauty has long fascinated scientists and adventurers. Now Antarctica faces an uncertain future. The international treaty that protects the continent is about to dissolve, clearing the way for Antarctica's resources and eerie beauty to be plundered. As politicians and corporations move to determine its fate from half a world away, radical environmentalists carry out a covert campaign of sabotage to reclaim the land. The winner of this critical battle will determine the future for this last great wilderness....
The Areas of My Expertise
John Hodgman
In the great tradition of the American almanac, The Areas of My Expertise is a brilliant and hilarious compendium of handy reference tables, fascinating trivia, and sage wisdom on all topics large and small. Although bestsellers such as Poor Richard's Almanack and The Book of Lists were certainly valuable, they also were largely true. Here is a different kind of handy desk reference, one in which all of the historical oddities and amazing true facts are sifted through the singular, illuminating imagination of John Hodgman—which is the nice way of saying: He made it all up.

John Hodgman brings his considerable expertise to bear in answering all of the questions book buyers have been asking:

-What are the mottoes of the 51 United States?

THE ANSWER IS PROVIDED

-Who were the U.S. presidents who had hooks for hands?

THE ANSWER IS PROVIDED

-What role does the Yale secret society "Skull and Bones" play in the secret world government?

THERE IS NO SECRET WORLD GOVERNMENT

-What was the menu at the first Thanksgiving, and did it include eels?

Technically, that is two questions, but do not apologize, for John Hodgman shall answer them both... LATER.

-Aside from a compendium of fake trivia, what is the best kind of book to write?

A SIMPLE TABLE OF THE 55 MOST DRAMATIC LITERARY SITUATIONS PROVIDES THE ANSWER, and John Hodgman is the author of that table.

Imagine if The Book of Lists had been rewritten by Peter Cook and Jorge Luis Borges under the pseudonym of "John Hodgman" and then renamed The Areas of My Expertise, and you will only begin to have a sense of the dizzying, uproarious, sublimely weird, and strangely wise journey that is contained within this book (along with all the pages and words).

Perfect for anyone who thirsts for knowledge, and especially for collectors of books of fake trivia, The Areas of My Expertise offers through absurdity a better understanding of the world we share—and recognizes that while the truth may be stranger than fiction, it is never as strange as lies...or as true. Watch a QuickTime trailer for this book.
More Information Than You Require
John Hodgman
The bestselling author of The Areas of My Expertise— also known as The Daily Show's "Resident Expert" and the PC in the iconic Mac ads—picks up exactly where his first book left off. Exactly.

Like its predecessor, MORE INFORMATION THAN YOU REQUIRE compiles incredibly handy made up facts into brief articles, overlong lists, frighteningly complex charts, and beguiling narratives on new and familiar themes such as:
THE PAST (because there is always more)
THE FUTURE (because they say there is still some left to discuss)
THE METHOD BY WHICH WE "ELECT" OUR PRESIDENTS (as this will be happening soon)
THE STRANGE OKAPI (an actual animal) GAMBLING: THE SPORT OF THE ASTHMATIC MAN (includes hermit crab racing)
HOW TO BE A FAMOUS MINOR TELEVISION PERSONALITY (hint: go on television)
PLUS: 700 MOLE-MAN NAMES (and their occupations)

Yes. HODGMAN MAY HAVE BEEN BRIEFLY ABSENT FROM YOUR LIFE, but with this volume he is ready to pick up exactly where THE AREAS OF MY EXPERTISE left off—specifically AT PAGE 237.
That Is All
John Hodgman
John Hodgman-bestselling author, The Daily Show's "Resident Expert", minor television celebrity, and deranged millionaire-brings us the third and final installment in his trilogy of Complete World Knowledge.

In 2005, Dutton published The Areas of My Expertise, a handy little book of Complete World Knowledge, marked by the distinction that all of the fascinating trivia and amazing true facts were completely made up by its author, John Hodgman. At the time, Hodgman was merely a former literary agent and occasional scribbler of fake trivia. In short: a nobody.

But during an interview on The Daily Show with Jon Stewart, an incredible transformation occurred. He became a famous minor television personality. You may ask: During his whirlwind tornado ride through the high ether of minor fame and outrageous fortune, did John Hodgman forget how to write books of fake trivia? The answer is: Yes. Briefly. But soon, he remembered!

And so he returned, crashing his Kansas farmhouse down upon the wicked witch of ignorance with More Information Than You Require, a New York Times bestseller containing even more mesmerizing and essential fake trivia, including seven hundred mole-man names (and their occupations).

And now, John Hodgman completes his vision with That Is All, the last book in a trilogy of Complete World Knowledge. Like its predecessors, That Is All compiles incredibly handy made-up facts into brief articles, overlong lists, and beguiling narratives on new and familiar themes. It picks up exactly where More Information left off-specifically, at page 596-and finally completes COMPLETE WORLD KNOWLEDGE, just in time for the return of Quetzalcoatl and the end of human history in 2012.
Beyond Flour: A Fresh Approach to Gluten-free Cooking and Baking
Marie Porter
How many times have you come across a gluten-free recipe claiming to be "just as good as the normal version!", only to find that the author must have had some skewed memories on what the "normal" version tasted, looked, and/or felt like?

How many times have you felt the need to settle for food with weird after-taste, gummy consistency, or cardboard-like texture, convinced that this is your new lot in life?

Most gluten-free recipes are developed by taking a "normal" recipe, and swapping in a simulated "all purpose" gluten-free flour... whether store bought, or a homemade version.

"Beyond Flour" takes a bit of a different approach: developing the recipe from scratch. Rather than just swapping out the flour for an "all purpose" mix, Marie Porter uses various alternative flours as individual ingredients - skillfully blending flavours, textures, and other properties unique to each flour - not making use of any kind of all-purpose flour mix. Supporting ingredients and different techniques are also utilized to achieve the perfect end goal ... not just a "reasonable facsimile".

   
Think about it:

- Fresh pasta! Yes, you can have ravioli again - Gyoza too!
- Homemade "Chinese takeout", BETTER than the real thing!
- Deep dish pizza that's crispy outside & tender inside... like pizza is SUPPOSED to be!
- Chewy, delicious cookies that *everyone* will want to eat!
- Never having to present a dish with an apology for it being Gluten-Free.
- Indulging some of your deepest, darkest guilty pleasure cravings... safely and joyously!

Make no mistake - this is NOT a healthy cookbook. You will find yourself gorging on foods that you thought would never cross your lips again. You'll probably gain some weight, and you'll definitely need to learn how to defend your gluten-free food from invasion by your non-GF friends and family. (Well, or make enough for everyone!)
Billions & Billions: Thoughts on Life and Death at the Brink of the Millennium
Carl Sagan
In the final book of his astonishing career, Carl Sagan brilliantly examines the burning questions of our lives, our world, and the universe around us. These luminous, entertaining essays travel both the vastness of the cosmos and the intimacy of the human mind, posing such fascinating questions as how did the universe originate and how will it end, and how can we meld science and compassion to meet the challenges of the coming century? Here, too, is a rare, private glimpse of Sagan's thoughts about love, death, and God as he struggled with fatal disease. Ever forward-looking and vibrant with the sparkle of his unquenchable curiosity, Billions & Billions is a testament to one of the great scientific minds of our day.
Bone: The Complete Cartoon Epic in One Volume
Jeff Smith
After being run out of Boneville, the three Bone cousins, Fone Bone, Phoney Bone and Smiley Bone are separated and lost in a vast uncharted desert. One by one they find their way into a deep forested valley filled with wonderful and terrifying creatures. It will be the longest - but funniest - year of their lives.

Winner of 11 Harvey Awards and 10 Eisner Awards including Best Cartoonist and Best Humor Publication, as well as being named Best Comic Book by the National Cartoonists Society. BONE has also won multiple international awards in Italy, France, Germany, Spain, Finland and Norway.
Breakfast of Champions: A Novel
Kurt Vonnegut
In Breakfast of Champions, one of Kurt Vonnegut's  most beloved characters, the aging writer Kilgore Trout, finds to his horror that a Midwest car dealer is taking his fiction as truth. What follows is murderously funny satire, as Vonnegut looks at war, sex, racism, success, politics, and pollution in America and reminds us how to see the truth.
Predators and Prey
Joss Whedon
Buffy's world goes awry when former-classmate-turned-vampire Harmony Kendall lands her own reality TV show, Harmony Bites, bolstering bloodsucking fiends in the mainstream. Humans line up to have their blood consumed, and Slayers, through a series of missteps, misfortunes, and anti-Slayer propaganda driven by the mysterious Twilight, are forced into hiding.

In Germany, Faith and Giles discover a town where Slayers retreat from a world that has turned against them, only to find themselves in the arms of something far worse. A rogue-Slayer faction displaces an entire Italian village, living up to their tarnished reputation as power-hungry thieves. And finally, with the help of a would-be demon lover, Dawn addresses her unfaltering insecurities.

* Collects issues #21-#25 and the short stories "Harmony Bites" and "Vampy Cat Play Friend" from MySpace Dark Horse Presents!

* A New York Times bestseller!
Retreat
Joss Whedon
Buffy Season Eight Volume 6 showcases the first retreat of the Slayer legion. Vampires have solid footing at the top of the totem and Slayers have been crushed to the bottom — in short, no one likes Buffy anymore... least of all this season's mysterious Big Bad, Twilight, who is hot on her magical trail!

Now that it's the world against Slayers, Buffy must find a way to return the status quo to... status quo — and keep her girls alive long enough to do it! Enter Oz, the only person/werewolf Buffy knows who is down with the suppression of magic, and can take the Slayer army off of Twilight's magic-specific radar.

With Oz's assistance, the Slayers and Wiccans try to become "normal" through meditation and hard labor — although, not everyone sees the advantage of being magicless, namely, Willow, Giles, and Andrew. And they could be right. After all, is a peaceful life for a Slayer even possible?

* Oz appears in Buffy Season Eight!

* Collects issues #26-#30 of the ongoing series.

* The first three volumes of Buffy the Vampire Slayer Season Eight have combined to sell over 220,000 copies!

A New York Times bestseller!
Twilight
Joss Whedon
Buffy Summers and her Slayer army have suffered heavy losses throughout Season Eight and faced scores of threats new and old, but the one mystery connecting it all has been the identity of the Big Bad-Twilight!

In this penultimate volume of Season Eight, New York Times best-selling novelist and comics writer Brad Meltzer (The Book of Lies, Identity Crisis) joins series artist Georges Jeanty in beginning the buildup to the season finale in the story line that finally reveals the identity of Twilight! In the aftermath of the battle with Twilight's army, Buffy has developed a host of new powers, but when will the other shoe drop, and will it be a cute shoe, or an ugly one? Still reeling from the losses of war, Willow goes looking for missing allies, and discovers a horrifying truth about several of the Slayer army's recent ordeals. Adding to the mayhem is the unexpected return of Angel, in his Season Eight debut!

This volume also features two stories from series creator and executive producer Joss Whedon!

* Collects Buffy Season Eight #31 — #35, and the Willow one-shot.
Last Gleaming
Joss Whedon
The Season Finale is here, and Buffy must face the ultimate betrayal! Seems like a perfect time for Spike to come back.Series creator Joss Whedon writes the final story arc of Buffy Season 8, taking his greatest characters to places only he can! Teamed with series artist Georges Jeanty, Joss reunites the dysfunctional gang of Buffy, Angel, and Spike, in the thick of it together for the first time since Season 3, and gives the Scoobies their gravest challenge ever — defending reality itself from an onslaught of demons. It's the biggest Buffy finale ever!
Freefall
Joss Whedon
Season 8 ended with a bang that cut the world off from magic culminating in another set of world-ending problems. Buffy has left her best friend, Willow, powerless, and brought an end to a millennia-long tradition of superpowered girls. By day, Buffy is a twenty-something waitress with no real direction, and even though magic is gone, she ís still a vampire Slayer by night. Bigger problem? Vampires are becoming an epidemic... of zompires! Collects Buffy the Vampire Slayer Season 9 #1 - #5.

* Written by series creator Joss Whedon and Andrew Chambliss of ABC's One Upon a Time!

Buffy Season 9 begins!
Burgers: 50 Recipes Celebrating an American Classic
Rebecca Bent, Tom Steele
Burgers presents the blue jeans of American cuisine in all their glory, from simple and comforting to sophisticated and elegant. With fifty delicious, highly original recipes, beautiful photographs, and authoritative information on ingredients and techniques, this book will give you a different burger for every night of the week–in fact, for every night of the month. Rebecca Bent has scoured the country looking for the best that burgers have to offer, and here are not only her own superb creations, but also those from such renowned chefs as:

• Bobby Flay: Mesa Grill Burger with Double Cheddar Cheese
• Roy Yamaguchi: Japanese-Hawaiian-influenced Mama Burger with Chopped Mushrooms
• Jonathan Waxman: Bacon Burger with Onion Rings
• Suzanne Goin of Los Angeles's Lucques: Grilled Lamb Burger with Cumin Yogurt
• David Waltuck of New York's Chanterelle: Venison Burger au Poivre
• Norman Van Aken: Tuna Burger with Mojo

There are beef burgers and cheeseburgers, naturally, but also lamb, game, turkey, seafood, and vegetarian burgers. Plus there are recipes for the perfect sides and condiments: homemade ketchup and french fries, of course, but also the likes of Dean Fearing's (of Dallas's Mansion on Turtle Creek) Tobacco Onion Rings, Geoffrey Zakarian's (of New York City's Town) Gingered Cole Slaw, plus such classics as potato salad, homemade mayo, and mac and cheese.

Burgers addresses everything you need to know to make perfectly simple traditional burgers and their accompaniments, while also providing dozens of showstopping variations. So pull on a pair of jeans, and cook some burgers.
The Complete Calvin and Hobbes
Bill Watterson
They're back! This eagerly awaited four-volume slipcased paperback edition of the original groundbreaking collection features the adventures of Calvin and his pet tiger, Hobbes. 

Calvin and Hobbes is unquestionably one of the most popular comic strips of all time. The imaginative world of a boy and his real-only-to-him tiger was first syndicated in 1985 and appeared in more than 2,400 newspapers when Bill Watterson retired on January 1, 1996. The entire body of Calvin and Hobbes cartoons published in a truly noteworthy tribute to this singular cartoon in The Complete Calvin and Hobbes. Composed of three hardcover, four-color volumes in a sturdy slipcase, this New York Times best-selling edition includes all Calvin and Hobbes cartoons that ever appeared in syndication. This is the treasure that all Calvin and Hobbes fans seek.

Calvin and Hobbes one of the few universally admired by other cartoonists." —Charles Solomon, Los Angeles Times Book Review
The Complete Persepolis
Marjane Satrapi
Here, in one volume: Marjane Satrapi's best-selling, internationally acclaimed memoir-in-comic-strips.

Persepolis is the story of Satrapi's unforgettable childhood and coming of age within a large and loving family in Tehran during the Islamic Revolution; of the contradictions between private life and public life in a country plagued by political upheaval; of her high school years in Vienna facing the trials of adolescence far from her family; of her homecoming—both sweet and terrible; and, finally, of her self-imposed exile from her beloved homeland. It is the chronicle of a girlhood and adolescence at once outrageous and familiar, a young life entwined with the history of her country yet filled with the universal trials and joys of growing up.

Edgy, searingly observant, and candid, often heartbreaking but threaded throughout with raw humor and hard-earned wisdom—Persepolis is a stunning work from one of the most highly regarded, singularly talented graphic artists at work today.
Cordelia's Honor
Lois McMaster Bujold
When enemies become mare that friends they win. In her first trial by fire, Cordelia Naismith captained a throwaway ship of the Betan Expeditionary Force on a mission to destroy an enemy armada. Discovering deception within deception, treachery within treachery, she was forced into a separate peace with her chief opponent, Lord Aral Vorkosigan he who was called 'The Butcher of Komarr' and would consequently become an outcast on her own planet and the Lady Vorkosigan on his. Sick of combat and betrayal, she was ready to settle down to a quiet life, interrupted only by the occasion ceremonial appearances required of the Lady Vorkosigan. But when the Emperor died, Aral became guardian of the infant heir to the imperial throne of Barrayar and the target of high-tech assassins in a dynastic civil war that was reminiscent of Earth's Middle Ages, but fought with up-to-the minute biowar technology. Neither Aral nor Cordelia guessed the part that their cell-damaged unborn would play in Barrayar's bloody legacy. Publisher's Note: Cordelia's Honor is comprised of two parts: Shards of Honor and Barrayar. Together they form a continuous story following the life of Cordelia Vorkosigan nee Naismith from the day she met her then-enemy Lord Aral Vorkosigan through the boyhood of her son Miles. Barrayar won the Hugo Award for best science fiction novel of the year.
Cosmos
Carl Sagan
The best-selling science book ever published in the English language, COSMOS is a magnificent overview of the past, present, and future of science. Brilliant and provocative, it traces today's knowledge and scientific methods to their historical roots, blending science and philosophy in a wholly energetic and irresistible way.
The Cult of Mac
Leander Kahney
No product on the planet enjoys the devotion of a Macintosh computer. Famously dedicated to their machines, many Mac fans eat, sleep and breathe Macintosh. In The Cult of Mac, Wired News managing editor Leander Kahney takes an in-depth look at Mac users and their unique, creative, and often very funny culture. From people who get Mac tattoos and haircuts, to those who furnish their apartments out of empty Mac boxes, the book details Mac fandom in all of its forms. This paperback edition includes an all-new chapter about the iPod, updates throughout, and new photos that reflect current Apple technology.
Dinotopia
James Gurney
When James Gurney's Dinotopia: A Land Apart from Time first appeared in 1992, it was immediately hailed as a fully imagined world of the caliber of J. R. R. Tolkien's. Gurney's premise — of an undiscovered island where a race of mystical humans co-exists in harmony with intelligent dinosaurs — has been since reiterated over and over in numerous films and by scores of other writers. Now, Calla Editions brings Gurney's spectacular artistry to a new generation in this 20th anniversary edition. Digitally re-rendered from the original transparencies, Gurney's dramatic panoramas of Dinotopia and close-up character studies of its inhabitants — both human and saurian — take on new vitality. And as a tale of high adventure and discovery told as entries and sketches in journal form, Dinotopia presents a shipwrecked visitor's glimpse into an imagined social order, a culture, and even a cooperative interspecies technology that will satisfy lovers of fantasy and science fiction of all persuasions. This edition includes a new Afterword written by author James Gurney as well as a special section of behind-the-scenes studies and maquettes he used in developing his paintings.
Doctor Who: The Shakespeare Notebooks
Justin Richards
Newly discovered entries and drawings in William Shakespeare's journals reveal for the first time the astounding relationship between the great Bard and the Doctor.

Since his first adventure in 1963, the Doctor has enjoyed many encounters with William Shakespeare. Now, BBC Books has rediscovered notebooks, long thought lost, compiled by the Bard in which he divulges the influential role the Doctor played in his creative life. Here are the original notes for Hamlet, including a very different appearance by the ghost; early versions of great lines ("To reverse or not to reverse the polarity of the neutron flow"); the true story of how the faeries of A Midsummer Night's Dream were first imagined; stage directions for plays adjusted to remove references to a mysterious blue box; and much, much more.
Dollhouse Volume 1: Epitaphs
Andrew Chambliss
The Rossum Corporation's Dollhouse technology has gone viral with a synchronized phone call that wiped the minds of everyone it reached, turning them into mindless killers. Those who avoided the call—including show favorites Echo, Alpha, Mag, Zone, and Griff—must try to survive in the sudden apocalypse and be wary of Rossum's expansive technological reach. This is only the beginning! Collects the complete miniseries.

* Created by Joss Whedon!

* Written by series writers Andrew Chambliss, Maurissa Tancharoen, and Jed Whedon!

* Fan-favorite show continues in comics!
Dr. Horrible and Other Horrible Stories
Zack Whedon
Based on the Emmy Award-winning web series Dr. Horrible's Sing-Along Blog, this collection of stories written by Zack Whedon (Deadwood, Fringe) chronicles some of the earliest adventures in the lives of archenemies Captain Hammer and Dr. Horrible.

This anthology solves many unanswered questions left over from the show. For instance: What event inspired Dr. Horrible to become the world's greatest criminal mastermind? Why is Penny, the beautiful girl from the Laundromat, still single? How can you, the reader, be like blustering do-gooder Captain Hammer? And why is Horrible's sidekick, Moist, so... um... well, you'll find out!

* Collects the first issue of Dr. Horrible with all three digital comics from MySpace Dark Horse Presents.

* Includes a never-before-seen sixteen-page story, about the top secret organization The Evil League of Evil.

* Dark Horse's Dr. Horrible iTunes app rose to number one in twenty-four hours, Beating out the Bible and Dr. Seuss!
The Fault in Our Stars
John Green
Despite the tumor-shrinking medical miracle that has bought her a few years, Hazel has never been anything but terminal, her final chapter inscribed upon diagnosis. But when a gorgeous plot twist named Augustus Waters suddenly appears at Cancer Kid Support Group, Hazel's story is about to be completely rewritten.
Forty Signs of Rain
Kim Stanley Robinson
The bestselling author of the classic Mars trilogy and The Years of Rice and Salt returns with a riveting new trilogy of cutting-edge science, international politics, and the real-life ramifications of global warming as they are played out in our nation's capital—and in the daily lives of those at the center of the action. Hauntingly realistic, here is a novel of the near future that is inspired by scientific facts already making headlines.

When the Arctic ice pack was first measured in the 1950s, it averaged thirty feet thick in midwinter. By the end of the century it was down to fifteen. One August the ice broke. The next year the breakup started in July. The third year it began in May. That was last year.

It's an increasingly steamy summer in the nation's capital as Senate environmental staffer Charlie Quibler cares for his young son and deals with the frustrating politics of global warming. Charlie must find a way to get a skeptical administration to act before it's too late—and his progeny find themselves living in Swamp World. But the political climate poses almost as great a challenge as the environmental crisis when it comes to putting the public good ahead of private gain.

While Charlie struggles to play politics, his wife, Anna, takes a more rational approach to the looming crisis in her work at the National Science Foundation. There a proposal has come in for a revolutionary process that could solve the problem of global warming—if it can be recognized in time. But when a race to control the budding technology begins, the stakes only get higher. As these everyday heroes fight to align the awesome forces of nature with the extraordinary march of modern science, they are unaware that fate is about to put an unusual twist on their work—one that will place them at the heart of an unavoidable storm.

With style, wit, and rare insight into our past, present, and possible future, this captivating novel propels us into a world on the verge of unprecedented change—in a time quite like our own. Here is Kim Stanley Robinson at his visionary best, offering a gripping cautionary tale of progress—and its price—as only he can tell it.

From the Hardcover edition.
Fractured Fairy Tales
A.J. Jacobs
Long before Politically Correct Bedtime Stories invaded bookstores, Americans were getting their giggles from Fractured Fairy Tales, those delightfully twisted parables brought to us between the cliffhanger adventures of our favorite cartoon heroes, Rocky & Bullwinkle. This collection, illustrated with classic art from the animated series includes the comical retelling of 25 classics such as Pinocchio (who starred in his own variety show "The Pinocchio Doody Show"), Jack and the Beanstalk (did you know that Jack grew a beanstalk in the outfield so he could catch fly balls for his baseball team?), or King Midas (who became a dentist so he could give his patients gold fillings). This satirical humor loved for so long by so many, is a must-have for fans of the show and anyone who loves classic fairy tales—with a twist.
Galapagos: A Novel
Kurt Vonnegut
Galápagos takes the reader back one million years, to A.D. 1986. A simple vacation cruise suddenly becomes an evolutionary journey. Thanks to an apocalypse, a small group of survivors stranded on the Galápagos Islands are about to become the progenitors of a brave, new, and totally different human race. In this inimitable novel, America's master satirist looks at our world and shows us all that is sadly, madly awry–and all that is worth saving.
Guns, Germs, and Steel: The Fates of Human Societies
Jared M. Diamond
"Fascinating.... Lays a foundation for understanding human history."—Bill GatesIn this "artful, informative, and delightful" (William H. McNeill, New York Review of Books) book, Jared Diamond convincingly argues that geographical and environmental factors shaped the modern world. Societies that had had a head start in food production advanced beyond the hunter-gatherer stage, and then developed religion —as well as nasty germs and potent weapons of war —and adventured on sea and land to conquer and decimate preliterate cultures. A major advance in our understanding of human societies, Guns, Germs, and Steel chronicles the way that the modern world came to be and stunningly dismantles racially based theories of human history. Winner of the Pulitzer Prize, the Phi Beta Kappa Award in Science, the Rhone-Poulenc Prize, and the Commonwealth club of California's Gold Medal.
The Happiest Days of Our Lives
Wil Wheaton
Readers of Wil Wheatonâ€TMs website know that he is a masterful teller of elegant stories about his life. Building on the critical success of Dancing Barefoot and Just A Geek, he has collected more of his own favorite stories in his third book, The Happiest Days of Our Lives. These are the stories Wil loves to tell, because they are the closest to his heart: stories about being a huge geek, passing his geeky hobbies and values along to his own children, and vividly painting what it meant to grow up in the '70s and come of age in the '80s as part of the video game/D&D/BBS/Star Wars figures generation
I Am America
Stephen Colbert
I AM AMERICA (AND SO CAN YOU!) is Stephen Colbert's attempt to wedge his brain between hardback covers. In plain conversational language, not to mention the occasional grunt and/or whistle, Stephen explains his take on the most pressing concerns of our culture: Faith, Family, Politics...Hygiene.
The Iliad
Homer
The Iliad, by Homer, is part of the Barnes & Noble Classics series, which offers quality editions at affordable prices to the student and the general reader, including new scholarship, thoughtful design, and pages of carefully crafted extras. Here are some of the remarkable features of Barnes & Noble Classics:New introductions commissioned from today's top writers and scholarsBiographies of the authorsChronologies of contemporary historical, biographical, and cultural eventsFootnotes and endnotesSelective discussions of imitations, parodies, poems, books, plays, paintings, operas, statuary, and films inspired by the workComments by other famous authorsStudy questions to challenge the reader's viewpoints and expectationsBibliographies for further readingIndices & Glossaries, when appropriateAll editions are beautifully designed and are printed to superior specifications; some include illustrations of historical interest. Barnes & Noble Classics pulls together a constellation of influences—biographical, historical, and literary—to enrich each reader's understanding of these enduring works.

The epic song of Ilion (an old name for Troy), The Iliad recreates a few dramatic weeks near the end of the fabled Trojan War, ending with the funeral of Hector, defender of the doomed city. Through its majestic verses stride the fabled heroes Priam, Hector, Paris, and Aeneas for Troy; Achilles, Ajax, Menelaus, Agamemnon, Patroclus, and Odysseus for the Greeks; and the beautiful Helen, over whom the longstanding war has been waged. Never far from the center of the story are the quarreling gods: Zeus, Poseidon, Apollo, Hera, Athena, and Aphrodite.

The Iliad is the oldest Greek poem and perhaps the best-known epic in Western literature, and has inspired countless works of art throughout its long history. An assemblage of stories and legends shaped into a compelling single narrative, The Iliad was probably recited orally by bards for generations before being written down in the eighth century B.C. A beloved fixture of early Greek culture, the poem found eager new audiences when it was translated into many languages during the Renaissance. Its themes of honor, power, status, heroism, and the whims of the gods have ensured its enduring popularity and immeasurable cultural influence. Bruce M. King studied at the University of Chicago, and has taught classics and humanities at Columbia University, Reed College, and the University of Chicago. Recently a Fellow at the Center for Hellenic Studies, King focuses on archaic and classical Greek literature and philosophy. He is currently a Blegen Research Fellow at Vassar College.
Isaac Asimov: The Complete Stories, Vol. 1
Isaac Asimov
The first book of the definitive three-volume collection of short stories by the prolific Isaac Asimov, whose tales have delighted countless fans for over half a century—a must for every science fiction bookshelf.
Listen at Home with Octopus Pie
Meredith Gran
Lost At Sea
Bryan Lee O'Malley
Raleigh doesn't have a soul. A cat stole it - or at least that's what she tells people - or at least that's what she would tell people if she told people anything. But that would mean talking to people, and the mere thought of social interaction is terrifying. How did such a shy teenage girl end up in a car with three of her hooligan classmates on a cross-country road trip? Being forced to interact with kids her own age is a new and alarming proposition for Raleigh, but maybe it's just what she needs - or maybe it can help her find what she needs - or maybe it can help her to realize that what she needs has been with her all along.
The Mac Bathroom Reader
Owen Linzmayer
Amaze your friends with your in-depth knowledge of Macintosh's history. This book of trivia, anecdotes, quotes, and more includes a complete list of Apple's code names for all its products, published here for the first time.
Macgyver: Fugitive Gauntlet TP
David Lee Zlotff, Tony Lee
Welcome to the long-awaited return of Macgyver, co-written by his creator! When an old friend calls for help, Mac becomes involved in a web of industrial espionage, murder, and a white-knuckle pursuit across the globe with a million-dollar hit on his head and a beautiful woman by his side! Can he live long enough to save the world - or has his luck finally run out?
Macintosh... The Naked Truth
Scott Kelby
An irreverent, off-the-wall, PC-slammin', totally-biased look at Apple, and what it's like to be a Mac user stuck in a Windows dominated world. Macintosh...The Naked Truth is definitely not another Mac how-to book; it's a mass-market, personality book about a computer platform and the people who love it, and the love/hate relationship they have with Apple. It's about what you feel, how you're treated (and mistreated), and what it's really like living life in the computing minority.The book, based upon the author's hugely popular magazine column, takes a humorous, evangelical look at Apple Computer and what it's like to be a Macintosh user living in a PC-dominated world. The success of Kelby's column lies in the fact that although it makes serious points about Apple's shortcomings, and what it's really like being a Mac user, it presents them in a humorous, often sarcastic, and occasionally sophomoric way that Mac users love. It's brash, unapologetic, insightful, controversial, outspoken, and often hilarious, peppered with 100% Macintosh attitude. Although it pokes light-hearted fun at everyone from Apple CEO Steve Jobs to the PC users manning the Apple section of CompUSA, each chapter contains an underlying message of Apple evangelism, and it can often be as inspiring as it is funny.
The Madness Underneath: Book 2
Maureen Johnson
Don't miss this New York Times bestselling sequel to the Edgar Award-nominated THE NAME OF THE STAR!

After her near-fatal run-in with the Jack the Ripper copycat, Rory Devereaux has been living in Bristol under the close watch of her parents. So when her therapist suddenly suggests she return to Wexford, Rory jumps at the chance to get back to her friends. But Rory's brush with the Ripper touched her more than she thought possible: she's become a human terminus, with the power to eliminate ghosts on contact. She soon finds out that the Shades—the city's secret ghost-fighting police—are responsible for her return. The Ripper may be gone, but now there is a string of new inexplicable deaths threatening London. Rory has evidence that the deaths are no coincidence. Something much more sinister is going on, and now she must convince the squad to listen to her before it's too late.

In this follow-up to the Edgar Award-nominated THE NAME OF THE STAR, Maureen Johnson adds another layer of spectacularly gruesome details to the streets of London that will keep you on the edge of your seat until the very end.
Memories of the Future, Vol. 1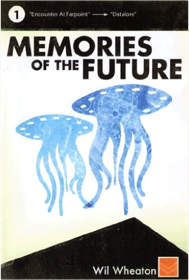 Wil Wheaton
From Encounter at Farpoint to Datalore, relive the first half of Star Trek: The Next Generation's unintentionally hilarious first season through the eyes, ears and memories of cast member and fan Wil Wheaton (Wesley Crusher) as he shares his unique perspective in the episode guide you didn't even know you were dying to read. ENJOY snarky episode recaps! EXPAND your Technobabble vocabulary! AMUSE your friends with quotable dialog! BOLDLY go behind the scenes!
Ms. Marvel Volume 1: No Normal
Marvel Comics
Marvel Comics presents the all-new Ms. Marvel, the groundbreaking heroine that has become an international sensation! Kamala Khan is an ordinary girl from Jersey City - until she is suddenly empowered with extraordinary gifts. But who truly is the all-new Ms. Marvel? Teenager? Muslim? Inhuman? Find out as she takes the Marvel Universe by storm! As Kamala discovers the dangers of her newfound powers, she unlocks a secret behind them as well. Is Kamala ready to wield these immense new gifts? Or will the weight of the legacy before her be too much to handle? Kamala has no idea either. But she's comin' for you, New York! It's history in the making from acclaimed writer G. Willow Wilson (Air, Cairo) and beloved artist Adrian Alphona (Runaways)!

COLLECTING: MS. MARVEL 1-5, MATERIAL FROM ALL-NEW MARVEL NOW! POINT ONE
The Mystery Science Theater 3000 Amazing Colossal Episode Guide
Trace Beaulieu, Paul Chaplin, Jim Mallon, Kevin Murphy, Michael J. Nelson, Mary Jo Pehl
What is the mystery of Mystery Science Theater 3000?

You may have asked yourself, "What the heck are these talking shadows doing in the corner of my TV screen, riffing away with plucky—and hilarious—abandon in the face of some really bad movies?" Or something similar.  The answer, my friend, is right in this here official, 100%-MST3K-sanctioned book.

Or maybe you know all about the adventures of Joel, Mike, and the 'bots in the not-too distant future.  Then you can skip those pages.  Really.  We won't tell.  You still need this book.  Because it's got more cool stuff from the writers and performers of MST3K.

More of what you'll find in the  Mystery Science Theater 3000 Amazing Colossal Episode Guide

*       More than 120 synopses of the more than 120 episodes of the Peabody Award-winning show

*       More fascinating, outrageous facts and tidbits about the making of each episode

*       More photos than your average issue of Tiger Beat

*       More of the most disgusting things ever seen on-screen by the MST3K writers

*       More than 49 (50, to be exact) of the most obscure wisecracks

*       More quizzes, worksheets, and a ten-step plan to help you gain control of your finances and your life (well, not really...)

*       More about your Area and what it can do for you

*       More Beverly Garland! Miles and Miles O'Keefe!

*       And much, much more!
A Princess of Mars
Edgar Rice Burroughs
Virginia gentleman John Carter, unexpectedly transported to the perilous red planet, Mars, finds himself captured by the loveless Green Men of Thark. As Carter struggles to win his freedom—and the affections of fellow captive Dejah Thoris, princess of the rival clan of Helium—the fate of the entire planet hangs in the balance: warring Martian tribes collide and the beleaguered Atmosphere Factory grinds to a suffocating halt. Ray Bradbury, reminiscing on the enduring thrill of Burroughs's Martian adventure, writes, "I stood on the lawns of summer, raised my hands, and cried for Mars, like John Carter, to take me home. I flew to the Red Planet and never returned."
Redshirts: A Novel with Three Codas
John Scalzi
Ensign Andrew Dahl has just been assigned to the Universal Union Capital Ship Intrepid, flagship of the Universal Union since the year 2456. It's a prestige posting, with the chance to serve on "Away Missions" alongside the starship's famous senior officers.

Life couldn't be better…until Andrew begins to realize that 1) every Away Mission involves a lethal confrontation with alien forces, 2) the ship's senior officers always survive these confrontations, and 3) sadly, at least one low-ranking crew member is invariably killed. Unsurprisingly, the savvier crew members belowdecks avoid Away Missions at all costs.

Then Andrew stumbles on information that transforms his and his colleagues' understanding of what the starship Intrepid really is…and offers them a crazy, high-risk chance to save their own lives.   Redshirts is the winner of the 2013 Hugo Award for Best Novel.
Blame the Sky
John Allision
Girl Spy
John Allison
Looks, Brains & Everything - A Scary Go Round Collection
John Allison
Scott Pilgrim, Vol. 1: Precious Little Life
Bryan Lee O'Malley
Scott Pilgrim's life is totally sweet. He's 23 years old, he's in a rockband, he's ""between jobs,"" and he's dating a cute high school girl. Nothingcould possibly go wrong, unless a seriously mind-blowing, dangerouslyfashionable, rollerblading delivery girl named Ramona Flowers starts cruisingthrough his dreams and sailing by him at parties. Will Scott's awesome life getturned upside-down? Will he have to face Ramona's seven evil ex-boyfriends inbattle? The short answer is yes. The long answer is Scott Pilgrim, Volume 1:Scott Pilgrim's Precious Little Life.
Scott Pilgrim, Vol. 1: Precious Little Life (Color Edition)
Bryan Lee O'Malley
Just when you thought you knew all there was to know about Scott Pilgrim comes Scott Pilgrim Color Hardcover Volume 1: Precious Little Life! The first in a series of brand-new hardcover editions, this remastered, 6"x9" hardcover presents Scott's first "evil ex" battle as you've never seen it before - in full-color! Plus, previously unpublished extras and bonus materials make this mighty tome one that's required reading for Scottaholics everywhere!
Scott Pilgrim, Vol. 2: Scott Pilgrim vs. the World
Bryan Lee O'Malley
Does Scott and Ramona's burgeoning relationship have a future? Isn't Scott still supposedly dating Knives Chau? Who is Ramona's second evil ex-boyfriend, and why is he in Toronto? Who are The Clash At Demonhead, and what kind of bizarre art-punky music do they play? Who's their hot girl keyboardist, and what is Scott's relation to her? Why are they Knives Chau's new favourite band? Fights! Drama! Secrets revealed! The answers to all these questions and more!
Scott Pilgrim, Vol. 2: Vs. The World (Color Edition)
Bryan Lee O'Malley
Presented in full color for the first time, this gorgeous package includes new bonus materials, as well as remastered artwork and lettering! The second volume in Bryan Lee O'Malley's epic, Scott Pilgrim vs. The World, sees Mr. Pilgrim face off against another of Ramona's exes - Hollywood icon and skateboard enthusiast Lucas Lee!
Scott Pilgrim, Vol. 3: & the Infinite Sadness
Bryan Lee O'Malley
- Ramona's third evil ex-boyfriend, Todd Ingram, is currently dating the former love of Scott Pilgrim's life! Envy Adams broke Scott's heart a year and a half ago. Now she and her evil art-rock band are back, and they're getting Scott's band to open a show two days from now! That's just enough time for Scott to fight Todd, keep Ramona happy, fend off demented ex-girlfriends, and practice that new setlist. Right?? Don't miss the latest chapter in the graphic novel saga The Globe and Mail calls "Canada's answer to Tank Girl!"
Scott Pilgrim, Vol. 4: Scott Pilgrim Gets It Together
Bryan Lee O'Malley
- That's right, folks! Put down the video game controller! Skip that rehearsal for your band! Make whatever sacrifices you must to those comic gods you hold so dear! Just make sure you're ready because Bryan Lee O'Malley and Scott Pilgrim are back! Well, a couple months have passed since the last time we caught up with our intrepid hero, but what can change in a few short months? Well, not much has... Scott's still living with his roommate Wallace Wells. He's still playing in a mediocre rock band named Sex Bob-omb. And most importantly, he's still dating the lovely Ramona Flowers while working his way through the gaggle of superpowered, superstylish, superevil ex-boyfriends determined to take him down. But something is different. Don't look now, but Scott Pilgrim may actually be getting it together. And it's a good thing, too, because Scott is about to confront Ramona's most intimidating ex yet!
Scott Pilgrim, Vol. 5: Scott Pilgrim vs The Universe
Bryan Lee O'Malley
- Scott Pilgrim just turned 24, and things couldn't possibly be better! This means things are about to get infinitely worse! Suddenly, TWO of Ramona's evil ex-boyfriends are in town, and they're playing dirty. His band is in turmoil, and his own exes aren't making things any easier. And what's up with Ramona, anyway? She's been acting kinda weird ever since they moved in together! Scott's precious little life is coming back around to bite him in the butt, and it may not be pretty!
Scott Pilgrim, Vol. 6: Scott Pilgrim's Finest Hour
Bryan Lee O'Malley
- It's finally here! Six years and almost one-thousand pages have all led to this epic finale! With six of Ramona's seven evil exes dispatched, it should be time for Scott Pilgrim to face Gideon Graves, the biggest and baddest of her former beaus. But didn't Ramona take off at the end of Book 5? Shouldn't that let Scott off the hook? Maybe it should, maybe it shouldn't, but one thing is for certain - all of this has been building to Scott Pilgrim's Finest Hour!
The Screwtape Letters
C. S. Lewis
The Screwtape Letters by C.S.  Lewis is a classic masterpiece of religious satire that entertains readers with its sly and ironic portrayal of human life and foibles from the vantage point of Screwtape, a highly placed assistant to "Our Father Below." At once wildly comic, deadly serious, and strikingly original, C.S. Lewis's The Screwtape Letters is the most engaging account of temptation—and triumph over it—ever written.
Seconds: A Graphic Novel
Bryan Lee O'Malley
#1 NEW YORK TIMES BESTSELLER • NAMED ONE OF THE BEST BOOKS OF THE YEAR BY USA TODAY AND THE DAILY PLANET

The highly anticipated new standalone full-color graphic novel from Bryan Lee O'Malley, author and artist of the hugely bestselling Scott Pilgrim graphic novel series

Katie's got it pretty good. She's a talented young chef, she runs a successful restaurant, and she has big plans to open an even better one. Then, all at once, progress on the new location bogs down, her charming ex-boyfriend pops up, her fling with another chef goes sour, and her best waitress gets badly hurt. And just like that, Katie's life goes from pretty good to not so much. What she needs is a second chance. Everybody deserves one, after all—but they don't come easy. Luckily for Katie, a mysterious girl appears in the middle of the night with simple instructions for a do-it-yourself do-over:
 
1. Write your mistake
2. Ingest one mushroom
3. Go to sleep
4. Wake anew
 
And just like that, all the bad stuff never happened, and Katie is given another chance to get things right. She's also got a dresser drawer full of magical mushrooms—and an irresistible urge to make her life not just good, but perfect. Too bad it's against the rules. But Katie doesn't care about the rules—and she's about to discover the unintended consequences of the best intentions.
 
From the mind and pen behind the acclaimed Scott Pilgrim series comes a madcap new tale of existential angst, everyday obstacles, young love, and ancient spirits that's sharp-witted and tenderhearted, whimsical and wise.

Praise for Seconds
 
"The cartoonist, best known for the Scott Pilgrim series, delivers one of the most enjoyable reads I've had all year with this magical graphic novel. I dare you to not read it all in one sitting."—Whitney Matheson, USA Today
 
"Seconds arrives with high expectations, and it meets them all, delivering the style and humor of [Bryan Lee] O'Malley's past works with greater emphasis on mood, detail, and complex character relationships."—The A.V. Club

"Richly imagined and vibrantly drawn, Seconds is a funny, surprising, and enchanting read."—Publishers Weekly

"In Seconds, Bryan Lee O'Malley plays the angst of youth against the fabric of a larger epic. In doing so, he enriches both. A great ride!"—Guillermo del Toro

"Bryan Lee O'Malley's Seconds is adorable, haunting, funny, and beautiful. A perfect recipe for a great graphic novel."—Scott McCloud, author of Understanding Comics
The Secret History of Wonder Woman
Jill Lepore
A riveting work of historical detection revealing that the origin of one of the world's most iconic superheroes hides within it a fascinating family story—and a crucial history of twentieth-century feminism

Wonder Woman, created in 1941, is the most popular female superhero of all time. Aside from Superman and Batman, no superhero has lasted as long or commanded so vast and wildly passionate a following. Like every other superhero, Wonder Woman has a secret identity. Unlike every other superhero, she has also has a secret history.

Harvard historian and New Yorker staff writer Jill Lepore has uncovered an astonishing trove of documents, including the never-before-seen private papers of William Moulton Marston, Wonder Woman's creator. Beginning in his undergraduate years at Harvard, Marston was influenced by early suffragists and feminists, starting with Emmeline Pankhurst, who was banned from speaking on campus in 1911, when Marston was a freshman. In the 1920s, Marston and his wife, Sadie Elizabeth Holloway, brought into their home Olive Byrne, the niece of Margaret Sanger, one of the most influential feminists of the twentieth century. The Marston family story is a tale of drama, intrigue, and irony. In the 1930s, Marston and Byrne wrote a regular column for Family Circle celebrating conventional family life, even as they themselves pursued lives of extraordinary nonconformity. Marston, internationally known as an expert on truth—he invented the lie detector test—lived a life of secrets, only to spill them on the pages of Wonder Woman.

The Secret History of Wonder Woman is a tour de force of intellectual and cultural history. Wonder Woman, Lepore argues, is the missing link in the history of the struggle for women's rights—a chain of events that begins with the women's suffrage campaigns of the early 1900s and ends with the troubled place of feminism a century later.
Serenity Volume 3: The Shepherd's Tale
Joss Whedon
One of Serenity's greatest mysteries is finally revealed in The Shepherd's Tale, filling in the life of one of the show's most beloved characters—Shepherd Book!

Who was Book before meeting Mal and the rest of the Serenity crew? How did he become one of their most trusted allies? And how did he find God in a bowl of soup? Answers to these and more questions about Book's past are uncovered in this original graphic novel by rising stars Zack Whedon (Dr. Horrible, Terminator, Fringe) and Chris Samnee (Blackest Night: Tales of the Corps, Daredevil). A pivotal chapter in the ongoing Serenity saga, The Shepherd's Tale is also a rollicking, action-packed epic in its own right!

• "Dark Horse's Serenity displays the key ingredients of the series in a substantial and entertaining way."—BrokenFrontier.com
Super Graphic: A Visual Guide to the Comic Book Universe
Tim Leong
The comic book universe is adventurous, mystifying, and filled with heroes, villains, and cosplaying Comic-Con attendees. This book by one of Wired magazine's art directors traverses the graphic world through a collection of pie charts, bar graphs, timelines, scatter plots, and more. Super Graphic offers readers a unique look at the intricate and sometimes contradictory storylines that weave their way through comic books, and shares advice for navigating the pages of some of the most popular, longest-running, and best-loved comics and graphic novels out there. From a colorful breakdown of the DC Comics reader demographic to a witty Venn diagram of superhero comic tropes and a Chris Ware sadness scale, this book charts the most arbitrary and monumental characters, moments, and equipment of the wide world of comics.
Thank You for Smoking: A Novel
Christopher Buckley
Nobody blows smoke like Nick Naylor. He's a spokesman for the Academy of Tobacco Studies–in other words, a flack for cigarette companies, paid to promote their product on talk and news shows. The problem? He's so good at his job, so effortlessly unethical, that he's become a target for both anti-tobacco terrorists and for the FBI. In a country where half the people want to outlaw pleasure and the other want to sell you a disease, what will become of the original Puff Daddy?
Ticket to Ride Europe Board Game
Days of Wonder
Ticket To Ride: Europe
To Be or Not To Be
Ryan North
To Be or Not To Be is a choose-your-own-path version of Hamlet by New York Times best-selling author Ryan North. Play as Hamlet, Ophelia, or King Hamlet—if you want to die on the first page and play as a ghost. It's pretty awesome! Readers can follow Yorick skull markers to stick closely to Shakespeare's plot, or go off-script and explore alternative possibilities filled with puzzles and humor.

Each ending in the book is accompanied by a full-color, full-page illustration by one of the 65 most excellent artists working today, so each rereading yields new surprises and rewards. Ryan's prose is, as always, colloquial and familiar but full of clever references, vivid imagination, and only the most choice of jokes. Inventive devices like a book-within-a-book (to mirror Hamlet's play-within-a-play) take full advantage of the gamebook medium and liven up the original story for even the most disinterested of Shakespeare readers!

To Be or Not to Be became a sensation when it launched: over 15,000 people backed the book in just one month, and it became the number-one most funded publishing project ever on Kickstarter.com when it launched.

To be, or not to be: that is the adventure!
Trial of the Clone: An Interactive Adventure!
Zach Weinersmith
Trial of the Clone is a choosable pathway gamebook that allows the reader to make choices, interact with the world, and otherwise navigate through over 500 scenes and thousands of potential pathways. Readers can choose to simply read through the story or interact more fully with the book's game by keeping track of statistics, items, and battles. Readers are incentivized to reread the book many times to explore other pathways or to catch some of the many secrets the author has hidden throughout the book.

The reader plays as a clone who sets out to find his place in the world, solving challenging puzzles and fighting monsters along the way. Weinersmith's writing is characteristically irreverent and satirical, painting a dystopian future world filled with comical, colorful characters and clever surprises. Trial of the Clone is Zach Weinersmith's first full-length book, and is evident of his sprawling understanding of literature, science, logic, philosophy, and technology. Weinersmith is the sole creator behind Saturday Morning Breakfast Cereal, a daily comic that boasts over 250,000 daily readers and served more than 500,000,000 comics in 2011.

This book is published by Breadpig, whose publisher profits will be donated to Fight for the Future.
The Ultimate Hitchhiker's Guide
Douglas Adams
This outrageous volume contains six zany, out-of-this-world adventure stories by this incomparable novelist. From the very first to the very latest—all best sellers—includes The Hitchhiker's Guide to the Galaxy; The Restaurant at the End of the Universe; Life, the Universe and Everything, So Long and Thanks for all the Fish; Young Zaphod Plays it Safe; and Mostly Harmless. 768 pages.
The Zombie Survival Guide: Complete Protection from the Living Dead
Max Brooks
The Zombie Survival Guide is your key to survival against the hordes of undead who may be stalking you right now. Fully illustrated and exhaustively comprehensive, this book covers everything you need to know, including how to understand zombie physiology and behavior, the most effective defense tactics and weaponry, ways to outfit your home for a long siege, and how to survive and adapt in any territory or terrain.

Top 10 Lessons for Surviving a Zombie Attack

1. Organize before they rise!
2. They feel no fear, why should you?
3. Use your head: cut off theirs.
4. Blades don't need reloading.
5. Ideal protection = tight clothes, short hair.
6. Get up the staircase, then destroy it.
7. Get out of the car, get onto the bike.
8. Keep moving, keep low, keep quiet, keep alert!
9. No place is safe, only safer.
10. The zombie may be gone, but the threat lives on.

Don't be carefree and foolish with your most precious asset—life. This book is your key to survival against the hordes of undead who may be stalking you right now without your even knowing it. The Zombie Survival Guide offers complete protection through trusted, proven tips for safeguarding yourself and your loved ones against the living dead. It is a book that can save your life.